Next Old North Qualifier is this coming weekend on Falls Lake out of Ledgerock May 7th! This is the makeup date for the April 8th Qualifier we postponed. If you paid for April 8th we moved your entry to this weekend! A team has to enter 4 2023 Old North Spring Qualifier to be eligible to enter the 2023 Old North Final!
The 2023 Old North Point Winners will receive free entry to all 2024 Old North Spring Qualifier! 
We are a few weeks away from the 2023 CATT Academy Championship on Kerr Lake May 20-21! $10,000 GUARANTEED to 1st Place but your winnings can be a lot more! 2020 Winners took home $24,000.00! 2021 Winners took home $17,00.00! 2022 Winners took home $29,000.00! Tap on the link to view details!
2023 CATT Academy Championship – Carolina Anglers Team Trail (cattteamtrail.com)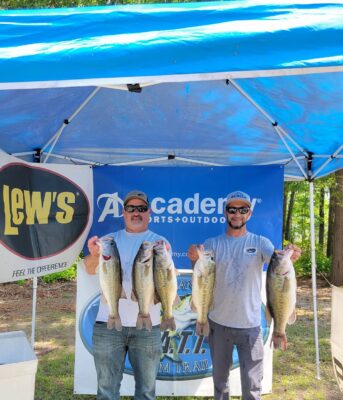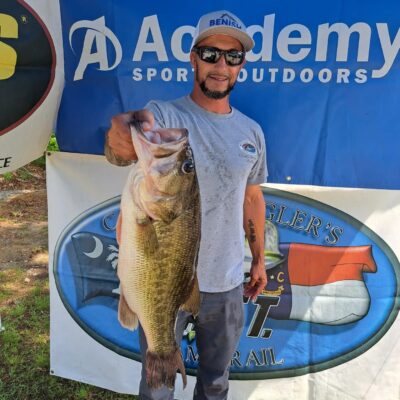 Lucas Lobaugh & Jeremy Moody brought in 5 bass weighing 22.78 lbs anchored by a 7.07 lb bass at Jordan Lake taking 1st Place & $3,000.00!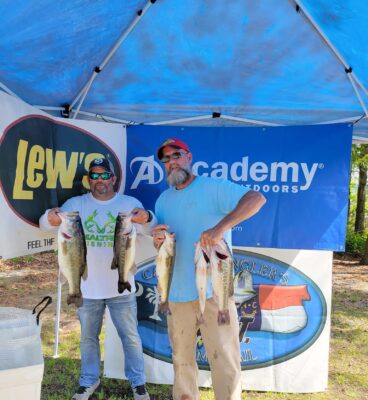 Timmy Ferrell & Howard Bohannon claimed 2nd Place with 5 bass weighing 22.59 lbs worth $1,600.00!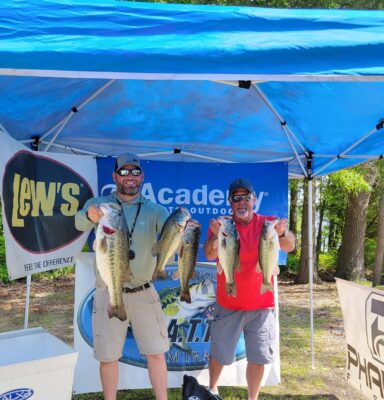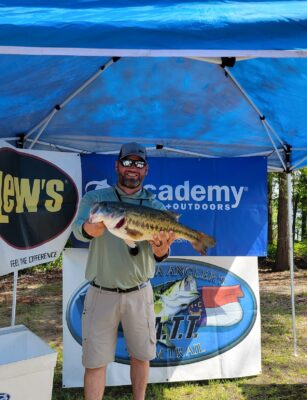 Seth Ellis & Doug Stallings claimed 3rd with 5 bass weighing 22.48 lbs! They also weighed in the Academy BF at 9.43 lbs and took home $1,050.00!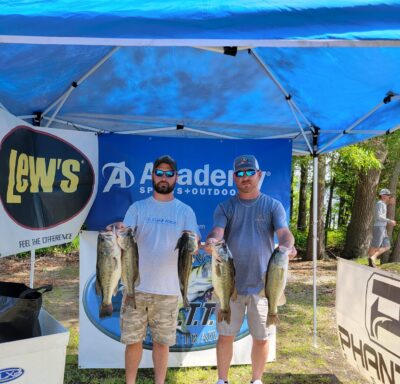 Jonathan Holloway & Brian West 4th with 22.36 lbs!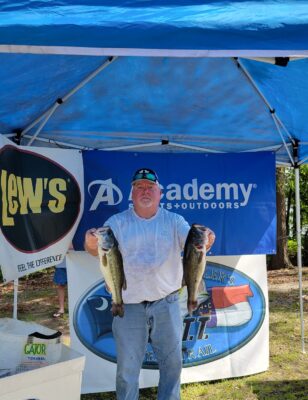 Billy Bledsoe & Brian McDonald 5th 21.98 lbs!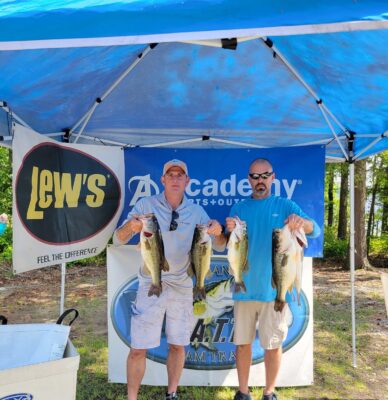 Scott Woodson – Todd Staker 6th 20.53 lbs!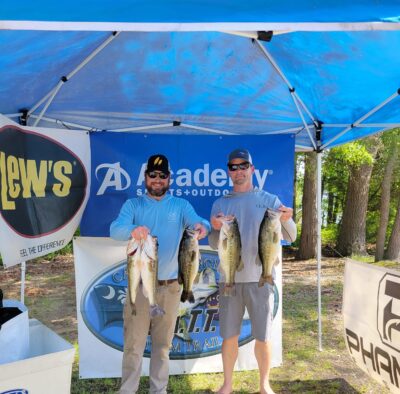 John Michenfelder and Daniel Love 7th 19.94 lbs!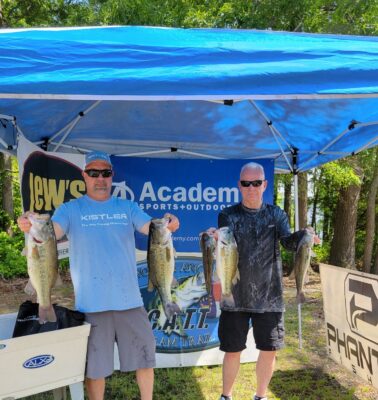 John McClelland – Larry Godfrey 8th Place 18.83 lbs!
| | | | | |
| --- | --- | --- | --- | --- |
| Team | BF | Weight | Winnings | Points |
| Lucas Lobaugh – Jeremy Moody | 7.07 | 22.78 | $3,000.00 | 110 |
| Timmy Ferrell – Howard Bohannon | 6.66 | 22.59 | $1,600.00 | 109 |
| Doug Stallings – Seth Ellis | 9.43 | 22.48 | $1,050.00 | 108 |
| Jonathan Holloway – Brian West | 5.79 | 22.36 | $370.00 | 107 |
| Billy Bledsoe – Brian McDonald | 5.02 | 21.98 | $280.00 | 106 |
| Scott Woodson – Todd Staker | 0.00 | 20.53 | $210.00 | 105 |
| John Michenfelder – Daniel Love | 0.00 | 19.94 | $175.00 | 104 |
| John McClelland – Larry Godfrey | 6.01 | 18.83 | $135.00 | 103 |
| Jeff Beasley – Park Beasley | 7.55 | 18.58 | $130.00 | 102 |
| Matthew Jones – Sonny Tindale | 6.46 | 17.58 | | 101 |
| Mike Marchant – Bradley McLaurin | 4.42 | 17.09 | | 100 |
| Travis Watson – Shannon Stewart | 6.41 | 16.94 | | 99 |
| David Farmer – Matt Deese | 6.24 | 16.48 | | 98 |
| Jacob Moore – Austin Woody | 6.98 | 16.46 | | 97 |
| Anthony Fofi – Mark Mohler | 5.63 | 16.03 | | 96 |
| Mark Williams – Tim Goad | 0.00 | 15.99 | | 95 |
| Craig Leff – Thomas Sheffer | 6.14 | 15.91 | | 94 |
| Alec Lower – Richard Lower | 0.00 | 15.79 | | 93 |
| Jerry Marshburn – Chuck Byrd | 5.22 | 15.61 | | 92 |
| Larry Hipps – Dean Larson | 0.00 | 15.14 | | 91 |
| Preston Jacobs – Adam Bessette | 5.69 | 14.44 | | 90 |
| Park Mills – Brock Rouse | 0.00 | 14.22 | | 89 |
| James Richmond – Tyler Richmond | 0.00 | 13.92 | | 88 |
| Michael Alverson – Alan Michaux | 6.38 | 13.91 | | 87 |
| Dale Delaney Jr – Mike Salguero | 0.00 | 13.43 | | 86 |
| Todd Sumner – Rich Z | 0.00 | 13.41 | | 85 |
| Rick Sossaman – Steve Upchurch | 4.68 | 13.40 | | 84 |
| Michael Hartley – Steve Hartley | 6.60 | 13.06 | | 83 |
| Owen Pinhollow – Ethan Goss | 0.00 | 11.23 | | 82 |
| Andy Williams – Alan Williams | 0.00 | 10.94 | | 81 |
| Brian Benish – Terry Hobbs | 0.00 | 10.30 | | 80 |
| DJ MYSLINSKI – DEAN MYSLINKSI | 0.00 | 6.05 | | 79 |
| Scott Canady – Jamie Pate | 0.00 | 5.61 | | 78 |
| Justin Rhew – Roger Clary | 0.00 | 5.11 | | 77 |
| Eric Schell – Todd Smith | 0.00 | 3.31 | | 76 |
| Mike & Jonathan Rhew | 0.00 | 1.62 | | 75 |
| Calton Hall – Jason Suggs | 0.00 | 0.00 | | 65 |
| David Walton – Joey Stephens | 0.00 | 0.00 | | 65 |
| Ricky Parker – Brett Winborn | 0.00 | 0.00 | | 65 |
| Chris Mote – Tanner Morgan | 0.00 | 0.00 | | 65 |
| Justin McBrayer | 0.00 | 0.00 | | 65 |
| Justin Ingle – Lee Gay | 0.00 | 0.00 | | 65 |
| Bo Adams – Todd Massey | 0.00 | 0.00 | | 65 |
| Dennis Allen – Keith Allen | 0.00 | 0.00 | | 65 |
| Dennis Reedy – Scott Smith | 0.00 | 0.00 | | 65 |
| Total Entrys | | | $6,020.00 | |
| BONUS $ | | | $1,850.00 | |
| Total Paid At Ramp | | | $6,950.00 | |
| Old North 2023 Spring Final Fund | | | $820.00 | |
| CATT | | | $50.00 | |
| 2023 CATT Championship Fund | | | $50.00 | |
| 2023 Old North Spring Final Fund Total | | | $3,950.00 | |