What a year we had at Smith Mtn Lake! Thanks to Kevin and Joey Dawson for running a great trail! After the checks were handed out at the 2021 SML Fall Final the total payback on SML for 2021 totaled up to $49,510.00! 

This is the tentative 2022 Spring SML schedule! Once the permits are secured we will post on the SML Division page on the CATT website!
February 13
February 27
March 6
Final April 10
Guys check out the $$ the SML CATT Trail is paying out and come join us in 2022!
Matt Powers and Brock Anderson claimed the top spot with 5 bass weighing 18.69 lbs! They took home $3,500.00! Great job!
Brandon & Ben Reynolds took 2nd with 5 bass weighing a limit weighing 17.40 lbs!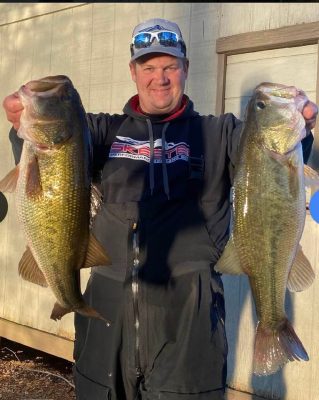 Bryan Harlow & Greg Chestnut finished 3rd with 16.98 lbs worth $2,090.00!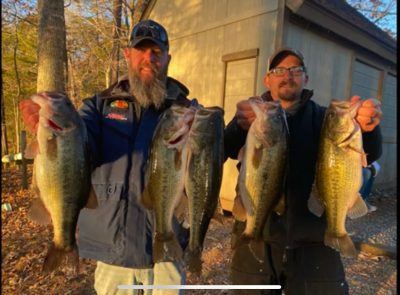 | | | | | |
| --- | --- | --- | --- | --- |
| 2021 SML FALL FINAL | BIG | BIG | Total | Total |
| 49 TEAMS | SM | LM | Weight | Winnings |
| Matt Powers/Brock Anderson | 3.69 | 4.73 | 18.69 | $3,500.00 |
| Brandon Reynolds/Ben Reynolds | 2.28 | 5.50 | 17.40 | $2,090.00 |
| Greg Chestnutt/Bryan Harlow | 0.00 | 4.06 | 16.98 | $1,260.00 |
| Jeff Ross/Clay Ross | 0.00 | 4.25 | 16.75 | $500.00 |
| Landon Siggers/Jacob Johnson | 0.00 | 4.63 | 15.44 | $400.00 |
| Bryant Copley/Steve Woodroof | 0.00 | 7.43 | 15.13 | $550.00 |
| David Peters/Mike Bozeman | 0.00 | 5.31 | 14.67 | $250.00 |
| Chad Pilson/Elliott Pilson | 0.00 | 4.57 | 14.60 | $200.00 |
| Bryan Calloway/Tony Toombs | 0.00 | 4.21 | 13.98 | $175.00 |
| Brody Luckey/Mike Luckey | 0.00 | 4.73 | 13.78 | |
| Joey Dawson/Kevin Dawson | 0.00 | 6.58 | 13.57 | |
| Charlie Davis/Scotty Howard | 3.19 | 0.00 | 12.88 | |
| Dustin Guthrie/Chip Woody | 0.00 | 4.55 | 12.44 | |
| Aaron Falwell/Steven Coleman | 0.00 | 3.37 | 12.09 | |
| Ryan Mace/Wayne Mace | 0.00 | 3.29 | 11.80 | |
| Daniel Smathers/Ryan Suhy | 0.00 | 4.20 | 11.77 | |
| John Robinson/Kenneth Haley | 0.00 | 0.00 | 11.77 | |
| Craig Blankenship/Jimmy Blankenship | 0.00 | 4.56 | 11.62 | |
| Kenny Reynolds/Ryan Reynolds | 0.00 | 0.00 | 10.90 | |
| Rick Tilley Jr./Rick Tilley Sr. | 0.00 | 0.00 | 10.79 | |
| Geoff Tuck/Mark Tuck | 0.00 | 5.99 | 9.35 | |
| Mark Cooper/Steve Roberts | 0.00 | 5.31 | 9.10 | |
| Ryan Parnell/CJ Hagerty | 0.00 | 0.00 | 9.03 | |
| Zach Hall/Roy Morgan | 0.00 | 6.45 | 8.89 | |
| Matt Harmon/Jesse Argenbright | 0.00 | 3.53 | 8.73 | |
| Kenneth Sterne/Brett Will | 0.00 | 6.64 | 8.43 | |
| Jerame Edwards/Chris Dawson | 0.00 | 4.61 | 6.48 | |
| Hunter Weikle | 0.00 | 6.35 | 6.35 | |
| Daryl Wright/Mike Burchett | 3.26 | 0.00 | 3.26 | |
| Chad Green/Johnny Martin | 0.00 | 0.00 | 0.00 | |
| Chris Eads/Ben Eads | 0.00 | 0.00 | 0.00 | |
| Billy Kohls/Will Petty | 0.00 | 0.00 | 0.00 | |
| Johnny Cole/Jay Nicely | 0.00 | 0.00 | 0.00 | |
| Daryl Wyatt | 0.00 | 0.00 | 0.00 | |
| Scott Stiltner/Lewis Williams | 0.00 | 0.00 | 0.00 | |
| Josh Fisher/Graham South III | 0.00 | 0.00 | 0.00 | |
| Mike Toney/Robert Rice | 0.00 | 0.00 | 0.00 | |
| Adrian Moore/Matt Williamson | 0.00 | 0.00 | 0.00 | |
| Larry Witt/Jessie Cofflin | 0.00 | 0.00 | 0.00 | |
| Wasena Muse | 0.00 | 0.00 | 0.00 | |
| Shaun Hunter/Tony Walker | 0.00 | 0.00 | 0.00 | |
| Robert Barton Sr./Robert Barton Jr. | 0.00 | 0.00 | 0.00 | |
| Paul Gring/Mike Poling | 0.00 | 0.00 | 0.00 | |
| Donnie Wyatt/Matt Kleunder | 0.00 | 0.00 | 0.00 | |
| Jody Thompson/Tony Allgeier | 0.00 | 0.00 | 0.00 | |
| Randy Rose/Tim Rose(Kyle Smith) | 0.00 | 0.00 | 0.00 | |
| Matt Atkins/Stephen Costa | 0.00 | 0.00 | 0.00 | |
| Mike Massie | 0.00 | 0.00 | 0.00 | |
| Tyler Calloway/Kevin Powell | 0.00 | 0.00 | 0.00 | |
| Total Entrys | | | | $5,760.00 |
| Final Fund | | | | $1,455.00 |
| 2021 Smith Mtn Final Total Payback | | | | $8,925.00 |
| 2021 Smith Mtn FALL Total Payback | | | | $25,375.00 |
| 2021 GRAND TOTAL Smith Mtn Payback | | | | $49,510.00 |