Mark your calendar guys! 2022 CATT Championship brought to you by Academy Sports is May 21-22 at Kerr! $10,000 MINIMUM to 1st Place!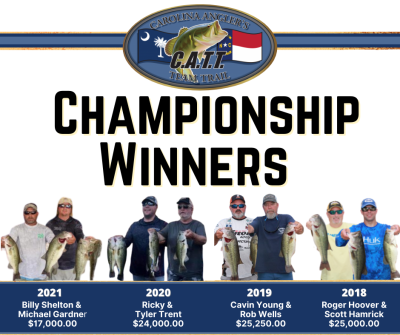 Tap on the link for full info!
Next CATT Old North is March 12 at Jordan Lake!
50 Teams blasted out of Flemingtown Landing this past Saturday with a purse of $7,295.00 on the line! Great crowd guys! Let's keep it going at Jordan Lake March 12th!!
Eddie Glassock & Billy Dunn got the job done with 5 bass weighing 17.26 lbs! They collected the 1st Place $2,000.00 prize  plus 1st Side Pot of $770.00 money for a total take home pay of $2,770.00!
Tim Nobles & Kevin Hayslett finished 2nd with 5 bass weighing 16.9 lbs! They brought in the 1st BF at 5.52 lb plus the 2nd Side Pot Money! Total take home was $1,835.00!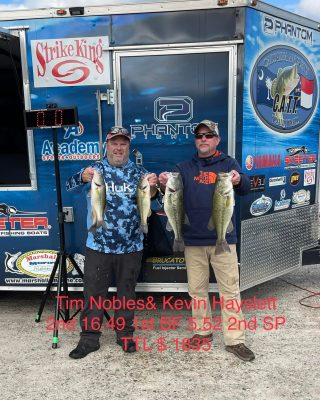 Roger Clary & Justin Rhew earned $845.00 by finishing 3rd with 16.47 lbs!
Ellis Jones & Bryan Cottrel collected $475.00 with 15.48 lbs taking home $15.48 lbs!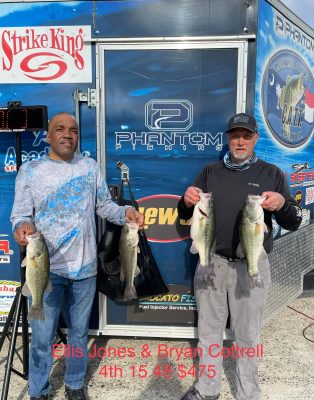 5th went to John McClelland & Eric Schell with 14.45 lbs worth $350.00!
That's our top 5! We paid back 10 places! Check out the pictures form Saturday and we'll see you at Jordan Lake!
| | | | | |
| --- | --- | --- | --- | --- |
| Team | Bf | Weight | Winnings | Points |
| Eddie Glasscock / Billy Dunn | 4.81 | 17.26 | $2,770.00 | 110 |
| Tim Nobles / Kevin Hayslett | 5.52 | 16.49 | $1,835.00 | 109 |
| Roger Clary / Justin Rhew | 4.10 | 16.47 | $845.00 | 108 |
| Bryan Cottrel / Ellis Jones | 3.31 | 15.48 | $475.00 | 107 |
| John McClelland / Eric Schell | 3.82 | 14.45 | $350.00 | 106 |
| Bryson Peed / Josh Fletcher (sub) | 3.62 | 14.32 | $250.00 | 105 |
| Mike & Jonathan Rhew | 2.95 | 14.11 | $200.00 | 104 |
| Lonnie Whitfield / Phillip Smith | 3.77 | 13.82 | $160.00 | 103 |
| Stump Bledsoe / Glen Elliott | 3.46 | 13.69 | $140.00 | 102 |
| Doug Stallings / Seth Ellis | 3.20 | 13.13 | $120.00 | 101 |
| Elton & Rick Clements | 3.10 | 13.12 | | 100 |
| Ryan Roller / Gary Colwell | 2.81 | 13.11 | | 99 |
| Rick Dunstan / Mike Farrell | 3.87 | 11.79 | | 98 |
| Bryan Welch / Troy Searcy | 3.49 | 11.76 | | 97 |
| Claiborn Cox / Randy Goss | 5.14 | 11.49 | $150.00 | 96 |
| Stephen Lasher / Chad Fara | 4.27 | 11.35 | | 95 |
| Johnny Wilder / Mike Harris | 2.59 | 11.32 | | 94 |
| James & Delores Davis | 2.96 | 11.18 | | 93 |
| Ronnie & Dillon Britt | 2.85 | 10.95 | | 92 |
| Drew & Chris Johson | 3.14 | 10.79 | | 91 |
| Billy Bledsoe / Brian McDonald | 0.00 | 10.34 | | 90 |
| Fred Lingenfelter / KC Choosakul | 4.75 | 10.02 | | 89 |
| Tim Goad / Mark Williams | 4.17 | 9.93 | | 88 |
| Tony & Chase Stanley | 4.13 | 9.82 | | 87 |
| Dennis & Dalton Allen | 3.53 | 9.64 | | 86 |
| Jordan & Mark Young | 4.00 | 9.63 | | 85 |
| Johnny & William Howard | 3.71 | 8.87 | | 84 |
| Jeff Brown / Trey Hannig | 3.76 | 7.54 | | 83 |
| Alec & Richard Lower | 4.81 | 6.78 | | 82 |
| Calton Hall / Jason Riggs | 3.06 | 6.68 | | 81 |
| DJ & Dean Myslinski | 3.95 | 5.85 | | 80 |
| Mark Willis / Mike Eggers | 0.00 | 5.71 | | 79 |
| Jerry & Rob Dean | 3.48 | 5.30 | | 78 |
| Matthew Jones / Sonny Tindal | 3.28 | 3.28 | | 77 |
| Ronald & Zackery Johnson | 2.82 | 2.82 | | 76 |
| Ernest & Elay'ja Howell | 0.00 | 2.49 | | 75 |
| Michael & Allen Britt | 1.62 | 1.62 | | 74 |
| Timmy Blair / Jeremy Wright | 1.49 | 1.49 | | 73 |
| Derek & Neil Humble | 0.00 | 0.00 | | 63 |
| Larry Hipps / Dean Lairson | 0.00 | 0.00 | | 63 |
| Tim & Pam Stanton | 0.00 | 0.00 | | 63 |
| Charles Stewart / Matt Dean | 0.00 | 0.00 | | 63 |
| Matthew Little / Derek Bowden | 0.00 | 0.00 | | 63 |
| Scott Canady / Chad Ellis | 0.00 | 0.00 | | 63 |
| Brian West / Jonathan Holloway | 0.00 | 0.00 | | 63 |
| Mike Marchant / Brad McLaurin | 0.00 | 0.00 | | 63 |
| Alden Patterson / Zack Smith | 0.00 | 0.00 | | 63 |
| Allen White / Mike Vaughn | 0.00 | 0.00 | | 63 |
| Hal Blackwelder / Clift Swann | 0.00 | 0.00 | | 63 |
| Chris McDaniel / Matt Kite | 0.00 | 0.00 | | 63 |
| Clay Ausley – Michael Minken | 0.00 | 0.00 | | 63 |
| Total Entrys | | | $6,860.00 | |
| BONUS $ | | | $1,650.00 | |
| Total Paid At Ramp | | | $7,295.00 | |
| Old North 2022 Spring Final Fund | | | $980.00 | |
| 2022 CATT Championship Fund | | | $50.00 | |
| 2022 Old North Spring Final Fund Total | | | $980.00 | |