Next Old North CATT is at Jordan Lake March 28 launching out of Farrington Point! At this time we are still on!
We had 64 teams how up at Kerr and paid back over 11,000.00! What a payday! Thanks for fishing with us! The fishing was outstanding and several good bags were brought in! 2 bass over 7 lbs were brought to the scales!
Tommy Marrow & Dennis Reedy win BIG on Kerr with 5 bass weighing 19.57 with the 2nd BF in their bag weighing up at 5.87 lbs! They took home $4,329.00 plus another $300.00 in Phoenix First Flight cash for a total of $4,629.00!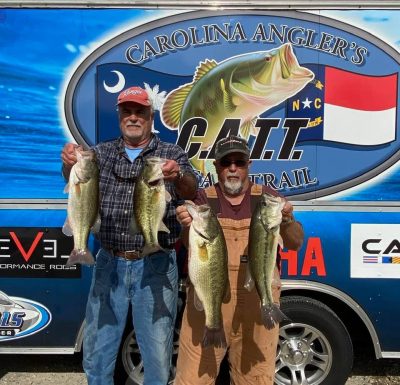 2nd Place with 18.19 lbs was the team of Roger Clary & Justin Rhew! They weighed in the BF at 7.19 lbs and collected $1,606.00!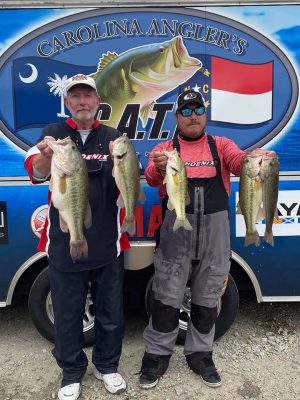 Robbie & Ross Kennon 3rd with 18.09 lbs and took home $1,575.00!
4th Place went to Marty Warren & Lynn Fox with 17.71 lbs! They earned $1,010.00!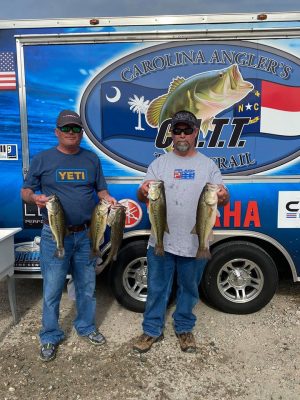 David Bullock & Jimmy Henderson claimed 5th with 17.18 lbs and they received $550.00!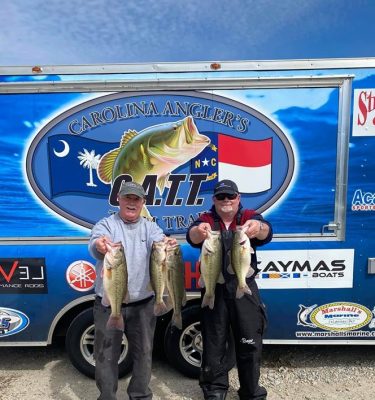 Plenty more pictures on Facebook! Search the CATT FB page and give it a "like" 

| | | | | |
| --- | --- | --- | --- | --- |
| 64 Teams | BF | Weight | Winnings | Points |
| Dennis Reedy / Tommy Morrow | 5.87 | 19.57 | $4,629.00 | 110 |
| Roger Clary / Justin Rhew | 7.19 | 18.19 | $1,606.00 | 109 |
| Robbie & Ross Kennon | 5.25 | 18.09 | $1,575.00 | 108 |
| Marty Warren / Lynn Fox | 4.83 | 17.71 | $1,010.00 | 107 |
| David Bullock / Jimmy Henderson | 4.36 | 17.18 | $550.00 | 106 |
| Lee Allred / Eric Massey | 4.89 | 17.04 | $500.00 | 105 |
| J. Stewart Adams / J. Scott Dunn | 3.79 | 17.02 | $450.00 | 104 |
| Jon Williams / Brandon Hendricks | 4.62 | 16.88 | $350.00 | 103 |
| Calton Hall / Jason Suggs | 4.63 | 16.40 | $330.00 | 102 |
| Johnny Wilder / Michael Harris II | 3.44 | 16.16 | $250.00 | 101 |
| Ryan Roller / Gary Colwell | 3.75 | 15.80 | $220.00 | 100 |
| Jonathan & Mike Rhew | 5.64 | 15.52 | $200.00 | 99 |
| Richard Cooper / Tim Grein | 4.18 | 15.11 | | 98 |
| John McLelland / Eric Schell | 4.85 | 14.86 | | 97 |
| Jeff Staton / David Glenn | 4.48 | 14.81 | | 96 |
| Keith & Dennis Allen | 3.40 | 14.66 | | 95 |
| Billy Orr / Jon Parson | 5.35 | 14.65 | | 94 |
| Gerald Beck / Rodney Sorrell | 2.99 | 14.09 | | 93 |
| Stump Bledsoe / Glen Elliott | 4.22 | 13.92 | | 92 |
| Gordon Griffin / Danny Moss | 0.00 | 13.78 | | 91 |
|  Drew & Chris Johnson | 3.27 | 13.60 | | 92 |
| Cullen Ports / Bobby Williams (sub) | 2.77 | 13.59 | | 90 |
| Matt Dean / Charles Stewart | 0.00 | 13.40 | | 89 |
| Rick Dunstan / Josh Huff | 3.22 | 13.34 | | 88 |
| Donnie Avant / Randy Waterman | 3.16 | 13.30 | | 87 |
| Billy Bledsoe / Dillon Bledsoe | 3.02 | 13.23 | | 86 |
| Jay Fogleman / Robert Perkins | 0.00 | 13.15 | | 85 |
| Paul Worthington / Ben Whittenton | 4.19 | 13.10 | | 84 |
| Rich Szczerbala / /Jamie Olive | 0.00 | 13.04 | | 83 |
| Bryan & Brandon Cottrell | 3.12 | 12.97 | | 82 |
| Scott Canady / Jamie Pate | 3.59 | 12.95 | | 81 |
| Ashley Ivey / Keith Morris | 3.59 | 12.95 | | 80 |
| Travis Watson / Brian Benish | 0.00 | 12.91 | | 79 |
| Eddie Glascock / Billy Dunn | 3.54 | 12.83 | | 78 |
| Chase & Tony Stanley | 3.31 | 12.63 | | 77 |
| Brian West / Jonathan Holloway | 3.12 | 12.56 | | 76 |
| Danny Wicker / Doug Washburn | 0.00 | 12.46 | | 75 |
| Daniel & Danny Wood | 3.17 | 12.44 | | 74 |
| Paul Rigsbee / Cory Leonard | 0.00 | 12.44 | | 73 |
| Jake Harris / Chad James | 5.31 | 12.32 | | 72 |
| Bryson Peed / Jonathan Jones | 0.00 | 12.30 | | 71 |
| Alec Lower / Kolby Clark (sub) | 3.15 | 12.04 | | 70 |
| Brad McLauren / Mike Marchant | 3.01 | 11.80 | | 69 |
| Jordan & Mark Young | 2.67 | 11.76 | | 68 |
| Jason Kopp / Daniel Jenkins | 0.00 | 11.39 | | 67 |
| Burke Hutchen / Jon Provost | 3.12 | 11.38 | | 66 |
| Billy West / Shannon Stewart | 2.48 | 11.20 | | 65 |
| Jeff Shaw / James Richmond | 2.37 | 11.15 | | 64 |
| Kenneth McNeill / Al Greco (sub) | 2.31 | 11.00 | | 63 |
| Tim Nobles / Kevin Hayslett | 0.00 | 10.84 | | 62 |
| Michael & Austin Watson | 0.00 | 10.71 | | 61 |
| Todd Staker / Scott Woodson | 0.00 | 10.24 | | 60 |
| Randy Black / Mikey Anderson | 2.43 | 10.13 | | 59 |
| Jeff Hodges / Jonathan Phillips | 0.00 | 9.55 | | 58 |
| Tate Fogleman / Cade Currin | 0.00 | 9.52 | | 57 |
| Ronnie Hatem / Alan Darden | 2.22 | 9.23 | | 56 |
| Gary Johnson / Chris Inscoe | 0.00 | 8.76 | | 55 |
| David Newell / Christopher Moss | 0.00 | 6.98 | | 54 |
| Johnny & William Howard | 0.00 | 0.00 | | 53 |
| Greg Taylor / Adam Haithcock | 0.00 | 0.00 | | 53 |
| Jeff Brown / Ron Johnson | 0.00 | 0.00 | | 53 |
| James & Delores Davis | 0.00 | 0.00 | | 53 |
| Frank Grimsley | 0.00 | 0.00 | | 53 |
| Doug Stallings / Seth Ellis | 0.00 | 0.00 | | 53 |
| Total Entrys | | | $10,080.00 | |
| BONUS $ | | | $2,200.00 | |
| Total Paid At Ramp | | | $11,670.00 | |
| Old North 2020 Spring Final Fund | | | $710.00 | |
| 2020 CATT Championship Fund | | | $50.00 | |
| 2020 Old North Spring Final Fund Total | | | $590.00 | |
| 2020 CATT Championship Fund Total | | | $3,090.00 | |