Next up is the June 29th Old North Final! $5,000 1st Place! Guys you cannot get this deal with other trails! You pay $35 and you can fish for THOUSANDS of dollars…loads of Spring Qualifiers to choose from, Old North Final and the CATT Championship! You paying for each event what amounts to $2 to $3! CATTs format is way ahead of the trails who take up to $25 at EACH event!
Adam & Blake Richardson win this past Saturday at Kerr with 5 bass weighing 17.48 lbs and took home $1,910.00!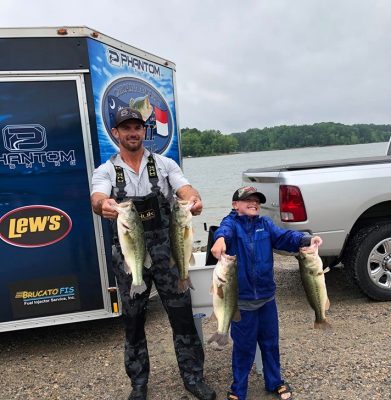 2nd went to Brian West and Ronnie Hatem subbing for Jonathan Holloway! They brought in 17.22 lbs and took home $1,039.00! Brian & Jonathan also won the Old North Points and will fish all 2020 Old North Qualifiers free & blast off #1!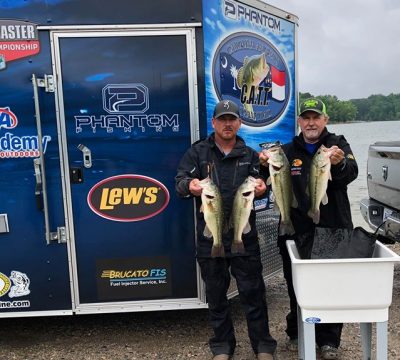 Stump Bledsoe & Glenn Elliott took 3rd with 15.47 lbs and earned $656.00!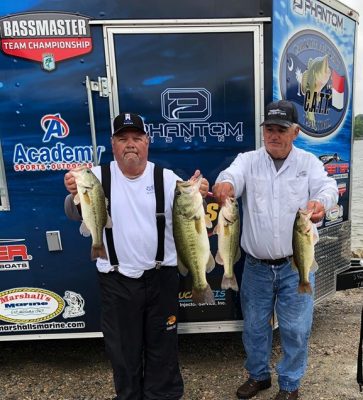 | | | | | |
| --- | --- | --- | --- | --- |
| 24 Teams | BF | Weight | Winnings | Points |
| Adam & Blake Richardson | 4.36 | 17.48 | $1,910.00 | 110 |
| Brian West – Jonathan Holloway | 4.44 | 17.22 | $1,039.00 | 109 |
| Stump Bledsoe – Glenn Elliott | 6.62 | 15.47 | $656.00 | 108 |
| Tony Stanley – Keith Allen | 3.71 | 15.15 | $225.00 | 107 |
| Kevin & Brandon Aleman | 3.56 | 14.30 | | 106 |
| Billy Bledsoe – Brian McDonald | 4.29 | 14.01 | | 105 |
| Clay Ausley – Ken McNeil | 1.74 | 13.13 | | 104 |
| Eddie Glascock – Billy Dunn | 4.23 | 12.57 | | 103 |
| Terry Amen – Chuck Darden | 3.11 | 12.28 | | 102 |
| Randy Black – Mikey Anderson | 3.24 | 11.95 | | 101 |
| Jesse Stanley | 4.28 | 11.86 | | 100 |
| Justin Hendricks – Paul Worthington | 4.19 | 11.42 | | 99 |
| Jaime Fajardo – Josh Hooks | 3.49 | 10.72 | | 98 |
| Charles & Chuck Stewart | 3.06 | 10.78 | | 97 |
| Hunter & Richard Petty | 2.51 | 10.23 | | 96 |
| John McClelland – Eric Schell | 0.00 | 9.38 | | 95 |
| Todd Staker – Scott Woodson | 2.64 | 9.12 | | 94 |
| Jeff Brown – Ron Johnson | 1.38 | 8.08 | | 93 |
| James and Delores Davis | 2.30 | 7.64 | | 92 |
| Johnny Wilder – Mike Harris | 3.75 | 7.40 | | 91 |
| Jordan & Mark Young | 0.00 | 0.00 | | 90 |
| Rick Dunstan – Josh Huff | 0.00 | 0.00 | | 90 |
| Johnny & William Howard | 0.00 | 0.00 | | 90 |
| Jay Fogleman – Jonathan Rhew | 0.00 | 0.00 | | 90 |
| Total Entrys | | | $3,840.00 | |
| BONUS $ | | | $900.00 | |
| Total Paid At Ramp | | | $3,830.00 | |
| Old North 2019 Spring Final Fund | | | $410.00 | |
| 2019 CATT Championship Fund | | | $50.00 | |
| 2019 Old North Spring Final Fund Total | | | $3,560.00 | |
| 2019 CATT Championship Fund Total | | | $1,405.00 | |