**Remember guys you have to enter 3 CATT Qualifiers to be able to enter the June 2-3 CATT Championship on Kerr $10,000 1st Place! You can make your 3 by having fished any FALL 2017 CATT Trails and by fishing any SPRING CATT Trails—the 3 don't have to be in the same Division!
**Also to be eligible to enter the 2018 Old North Final —-You only had to enter 1 Old North Qualifier! The Old North Final is June 23 at Falls! $3,000 1st Place!

The last Old North Qualifier was this past Saturday at Kerr! The Old Eddy Glasscock & Billy Dunn win with 18.27 lbs!
David Wilson & Hal Blackwelter win the points and will fish the Old North Qualifiers Free in 2019!
Check out the winners and hope to see you this coming weekend!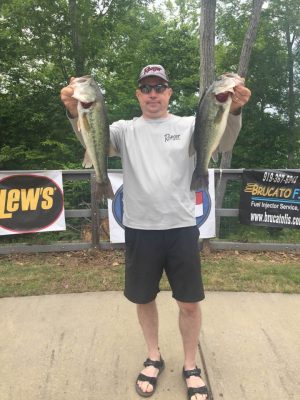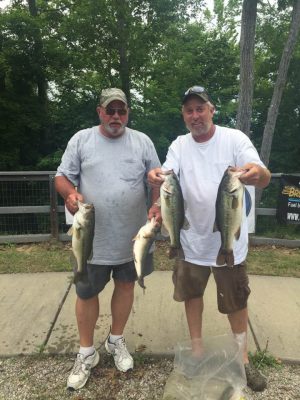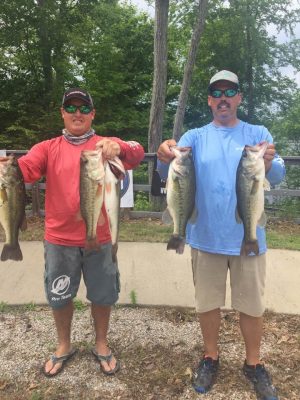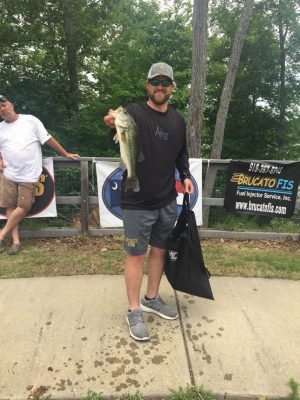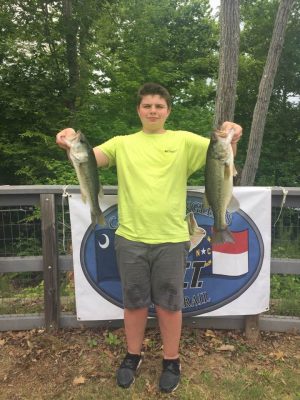 | | | | | |
| --- | --- | --- | --- | --- |
| 51 Teams | Big | Total | Total | |
| Name | Fish | Weight | Winnings | Points |
| Eddy Glascock – Billy Dunn  1st BONUS $ $ 2nd BF | 4.41 | 18.27 | $2,895.00 | 220 |
| Rick Ohlson- Randy Parker  2nd BONUS $ | 4.07 | 17.57 | $1,430.00 | 218 |
| Stephen Griggs – Tim Parker    3rd Bonus $ | 4.00 | 17.27 | $810.00 | 216 |
| Anthony Shawler – Scott Davies | 3.97 | 16.70 | $480.00 | 214 |
| Richard Cooper – Brian Grady | 3.55 | 15.38 | $340.00 | 212 |
| Tyler Torey – Trent Torey   1st BF | 4.80 | 15.25 | $610.00 | 210 |
| Dennis Reedy&Tommy Marrow | 3.88 | 15.18 | $200.00 | 208 |
| Rich Szczerbala – Storm Rutcho | 3.85 | 14.63 | $165.00 | 206 |
| Stump Bledsoe – Glenn Elliott | 4.28 | 13.97 | $145.00 | 204 |
| Brian Calloway – William Hubbard | 0.00 | 13.84 | $125.00 | 202 |
| Scott Woodso – Jeff Hodges | 3.29 | 13.45 | | 200 |
| Scott Smith – Lee Williams | 3.36 | 13.34 | | 198 |
| David Wilson – Hal Blackweldon | 3.58 | 13.13 | | 196 |
| Mark Young – Jordan Young | 3.84 | 12.93 | | 194 |
| Jason Suggs – Britton Oquin | 0.00 | 12.86 | | 192 |
| Heath Pait – Daniel Davis | 0.00 | 12.75 | | 190 |
| Cody Amen – Collin Ford | 3.47 | 12.64 | | 188 |
| Derrek Bowden – Matthew Little | 4.06 | 12.42 | | 186 |
| Vern Fleming – Glenn Long | 0.00 | 12.34 | | 184 |
| Jay Fuhr – Tim Wiltfong | 2.98 | 12.18 | | 182 |
| Todd Sumner – Keith Harrison | 0.00 | 11.92 | | 180 |
| Dan Jackson – Manley Jones | 3.95 | 11.54 | | 178 |
| Steve Vann – Richard Lewis | 0.00 | 11.53 | | 176 |
| Larry Moody – Kenny Amen | 0.00 | 11.49 | | 174 |
| Mark Antonelli – Chris Inscoe | 3.02 | 11.40 | | 172 |
| Scott Canady – Jamie Pate | 0.00 | 11.40 | | 170 |
| Terry Amen | 0.00 | 11.40 | | 168 |
| Billy Poar – John Parson | 0.00 | 11.37 | | 166 |
| Bryson Pedo – Jonathan Jones | 0.00 | 11.36 | | 164 |
| K.C. Choosakul & Tim Pinhollow | 3.66 | 11.36 | | 162 |
| Bryan Welch – Mark Inman | 0.00 | 11.34 | | 160 |
| Billy Bledsoe – Tanner Bledsoe | 0.00 | 11.30 | | 158 |
| Tony Stanley – Chase Stanley | 0.00 | 11.25 | | 156 |
| Bill Goodrich – Leigh Ann Clegg | 0.00 | 11.22 | | 154 |
| Clay Ausley – Ken Mcneil | 0.00 | 11.07 | | 152 |
| Elton Clement – Rick Clement | 0.00 | 10.99 | | 150 |
| Seth Ellis – Cody Alward | 2.99 | 10.95 | | 148 |
| Jason Rue – Roger Clary | 3.74 | 10.90 | | 146 |
| Rick Dunstan – Josh Huff | 3.69 | 10.82 | | 144 |
| Keith Allen – Dennis Allen | 2.34 | 10.77 | | 142 |
| Vinson Nettles – Mike Cole | 0.00 | 10.55 | | 140 |
| Charles Stewart – Chuck Stewart | 2.42 | 10.00 | | 138 |
| John Mcleland – Eric Schell | 2.26 | 9.77 | | 136 |
| Kevin Bridges – Rodney Price | 3.09 | 9.74 | | 134 |
| James Davis – Deloris Davis | 0.00 | 9.71 | | 132 |
| Daniel Jenkins | 3.57 | 9.33 | | 130 |
| Marty Warren | 0.00 | 9.29 | | 128 |
| Paul Watson – Melissa Watson | 2.94 | 6.71 | | 126 |
| Mark Lowe – Cliff Swan | 0.00 | 3.29 | | 124 |
| Doug Parker | 0.00 | 0.00 | | 122 |
| Joe Smith – James Sutton | 0.00 | 0.00 | | 122 |
| Lawrence Gunn – Hal Caldwell | 0.00 | 0.00 | | 122 |
| Andrew Staple – Arthur Clark | 0.00 | 0.00 | | 122 |
| Total Entrys | | | $6,000.00 | |
| BONUS $ | | | $1,710.00 | |
| Total Paid At Ramp | | | $7,200.00 | |
| Old North 2018 Spring Final Fund | | | $460.00 | |
| 2018 CATT Championship Fund | | | $50.00 | |
| 2018 Old North Spring Final Fund Total | | | $2,355.00 | |
| 2018 CATT Championship Fund Total | | | $5,075.00 | |