We had a great Spring on the Old North Trail! After we wrapped up the Final the Old North Total Payback for the 2022 Spring Trail totaled up to $50,785.00! We will hold a Fall Old North Trail and the schedule will be out soon. Keep in mind CATT has a Fall membership which will allow you to enter any CATT Fall Trail!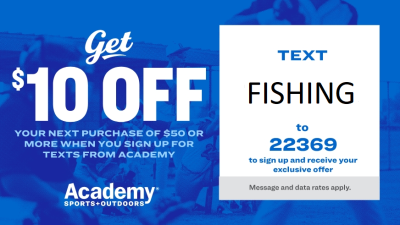 Jamie Fajardo & Josh Hooks had a BIG DAY on Jordan Lake fishing the CATT Old North Spring Final! They weighed in 5 bass at 31.59 lbs and brought in the 2nd BF at 8.35 lbs! Jamie & Josh collected $8,000.00 for 1st Place and $650.00 for 1st Place Side Pot! Add in the Skeeter Real Money cash of $5,000.00 and they collected $13,985.00!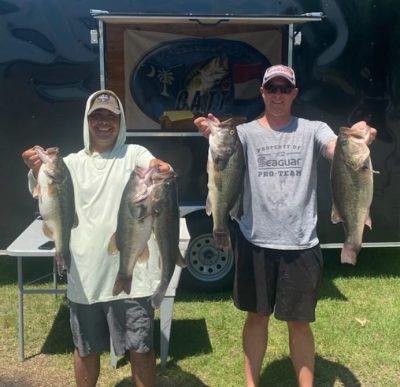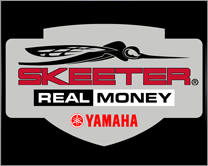 Michael Britt & Seth Hartley claimed 2nd Place with 5 bass weighing 30.50 lbs worth $1,820.00!
3rd went to Dennis Allen & Dalton Allen with 27.75 lbs and they took home $1,180.00!
Check out the rest of the money winners!
| | | | |
| --- | --- | --- | --- |
| Team | BF | Weight | Winnings |
| Jamie Fajardo – Josh Hooks * | 8.35 | 31.59 | $13,985.00 |
| Michael Britt – Seth Hartley * | 7.83 | 30.50 | $1,820.00 |
| Dennis Allen – Dalton Allen | 0.00 | 27.73 | $1,180.00 |
| Todd Summer – Rich Z * | 0.00 | 26.87 | $600.00 |
| Steven Lasher – Chad Fara | 0.00 | 26.72 | $500.00 |
| Derick Wright – Dane Butler * | 7.64 | 25.73 | $400.00 |
| Paul Owens – Tyler Faggart * | 0.00 | 25.27 | $250.00 |
| John McClelland – Eric Schell * | 7.33 | 24.83 | $200.00 |
| Matt Fuhr – Adam Daniel * | 9.13 | 24.75 | $465.00 |
| Craig Leff – Thomas Sheffler * | 7.29 | 24.36 | |
| Jonathan Phillips – Josh Whitford * | 0.00 | 24.36 | |
| Derek Humble – Neil Humble | 7.43 | 24.15 | |
| Andy Williams – Hunter Williams | 0.00 | 22.88 | |
| Clay Ausley – Michael Minken * | 0.00 | 22.86 | |
| Matthew Jones – Sonny Tindall * | 0.00 | 22.35 | |
| Timmy Blair – Charlie Schmidt * | 0.00 | 22.13 | |
| Dennis Reedy – Scott Smith | 0.00 | 21.06 | |
| Chris Sorrell – Dustin Hess * | 0.00 | 19.40 | |
| Tony Stanley – Chase Stanley * | 0.00 | 19.31 | |
| Brian Martin – Brad Mcclarin | 0.00 | 19.19 | |
| Jeff Brown – Trey Hannig  * | 0.00 | 18.74 | |
| Roby Wyatt – Mike Prytula * | 6.11 | 18.74 | |
| Johnny Anton – Bryce McClenney * | 0.00 | 18.67 | |
| Rick Sossaman – Steve Upchurch * | 0.00 | 18.55 | |
| Chad Craven – Ben Cannon | 0.00 | 18.00 | |
| Larry Hipps – Dean Larrison * | 0.00 | 17.76 | |
| Mark Williams – Tim Goad | 0.00 | 17.02 | |
| Scott Gatlin – Jamie Baynard | 0.00 | 16.56 | |
| Todd Massey – Bo Adams  * | 0.00 | 15.90 | |
| Ricky Parker – Chuck Bolt | 0.00 | 15.59 | |
| Scott Woodson – Todd Staker * | 0.00 | 14.51 | |
| Mike Salgarro – Sal Delaney | 0.00 | 13.86 | |
| Rick Dunstan – Mike Farrell * | 5.77 | 12.75 | |
| Alec Lower – Richard Lower * | 0.00 | 12.60 | |
| Roy Blackwood – Tommy Blackwood * | 0.00 | 11.40 | |
| David Hall – Chris Waggoner * | 0.00 | 5.28 | |
| David Farmer – Matt Deese * | 0.00 | 0.00 | |
| Jeff Shaw – James Richmond | 0.00 | 0.00 | |
| Jonathan Holloway – Brian West * | 0.00 | 0.00 | |
| Johnny Howard – William Howard * | 0.00 | 0.00 | |
| Britten OQuinn – Eddie Autry * | 0.00 | 0.00 | |
| Mike Powers – Seth Myko * | 0.00 | 0.00 | |
| Jason Suggs – Calton Hall * | 0.00 | 0.00 | |
| Ronald Johnson – Zachery Johnson  * | 0.00 | 0.00 | |
| Jordan Young – Mark Young * | 0.00 | 0.00 | |
| Billy Bledsoe – Brian Mcdonald | 0.00 | 0.00 | |
| Terry Aman – Casey Johnson | 0.00 | 0.00 | |
| Total Entrys | | | $6,300.00 |
| BONUS $ | | | $1,150.00 |
| Old North Spring Final Fund | | | $6,740.00 |
| Total Paid At Ramp | | | $14,400.00 |
| Grand Total Paid Spring 2022 Old North3 lbs and they took home $ | | | $50,785.00 |