Next up on the James River is the Fall Final launching from Rt5! 8am blast off 4 pm weigh in!
Jared Williams & Alex Richard win the James River Fall Points and will fish the 2022 James River Fall Qualifiers Free!
Trip Mistr & Richard Mistr win at the Pamunkey River with 5 bass weighing 17.64 lbs!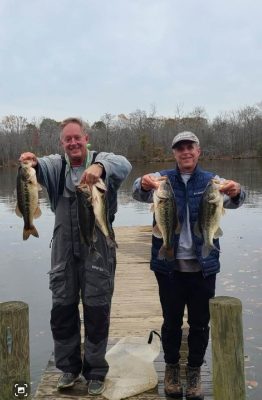 2nd Place went to Mike Williams & Walter Hill with 16.38 lbs!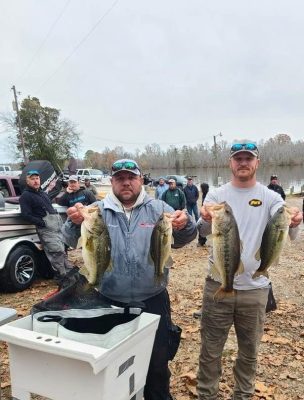 | | | | | |
| --- | --- | --- | --- | --- |
| Names | BF | Weight | Winnings | Points |
| Tripp Mistr, Richard Mistr | 3.89 | 17.64 | $533.00 | 110 |
| Mike Williams, Walter Hill | 5.01 | 16.38 | $322.00 | 109 |
| Ryland Adams, Chris Powell | 3.44 | 13.13 | $90.00 | 108 |
| Bobby Harris, Conner Harrison | 0.00 | 12.12 | | 107 |
| Jared Williams, Alex Richard | 3.87 | 11.99 | | 106 |
| Dave Carnery, John Dunn | 2.85 | 11.72 | | 105 |
| Mike Gunn, Frankie Pridemore | 0.00 | 10.63 | $225.00 | 104 |
| Ray Hogge, Donnie Daniel | 0.00 | 10.13 | | 103 |
| Garrett Geouge, Dustin Webb | 0.00 | 10.08 | | 102 |
| Les Forrest, Steve Webb | 0.00 | 9.95 | | 101 |
| Doug Wharton, Conner Wharton | 0.00 | 9.53 | | 100 |
| Chuck Schultz, Clyde Baldwin | 0.00 | 8.90 | | 99 |
| Jeremy Maye, Parish Malone | 2.84 | 8.61 | | 98 |
| Jeffrey Valentin, Moose Wells | 0.00 | 8.08 | | 97 |
| Charles Ramer, Ernest Revels | 0.00 | 6.82 | | 96 |
| Roger & Renee Walters | 0.00 | 6.74 | | 95 |
| Total Entrys | | | $1,280.00 | |
| BONUS $ | | | $225.00 | |
| Total Paid At Ramp | | | $1,170.00 | |
| James River 2021 Fall Final Fund | | | $250.00 | |
| 2021 CATT Championship Fund | | | $35.00 | |
| 2021 James River Fall Final Fund Total | | | $1,000.00 | |