Check out the remaining Phantom Outdoor Invitationals for 2022! Tap on the Phantom Logo for more info and to view the 2022 Phantom Outdoors Invitational Schedule!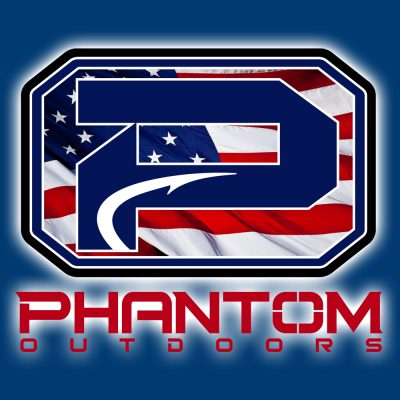 Also you can visit the Phantom Outdoors website and shop for some great outdoor gear! Use PHANTOMCATT15 at check out and earn 15% off your order! Tap on the Phantom Caps to start shopping!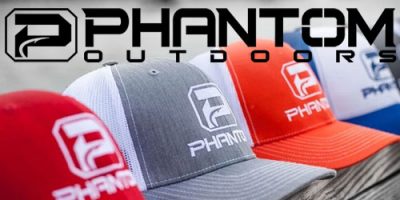 Check out the 2 HAWGS Mike Caul is holding!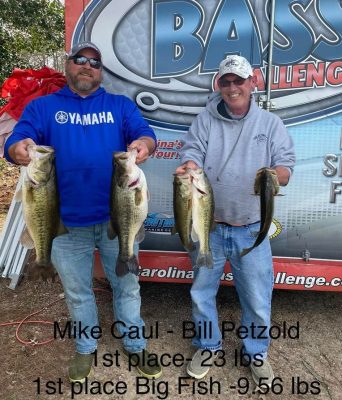 Mike Caul & Bill Petzold took 1st Place with 5 bass weighing 23.00 lbs worth $3,500.00! They weighed in 2 WHOPPERS and the heaviest weighed 9.56 lbs!
Thanks for fishing guys and we plan on making this a yearly event!

| | | | |
| --- | --- | --- | --- |
| Team | BF | Weight | Winnings |
| Mike Caul – Bill Petzold | 9.56 | 23.00 | $3,500.00 |
| Marshall Johnson – Ryan Lachinet | 7.58 | 22.34 | $1,900.00 |
| Ray Hogg – Donnie Daniel | 0.00 | 22.25 | $1,700.00 |
| Mike Martinez – William Allen | 0.00 | 21.70 | $725.00 |
| Jeff Hamelton – Jason Bishop | 7.86 | 21.66 | $300.00 |
| Steve Colgin – Sammy Yates | 8.84 | 21.26 | $100.00 |
| Paul Martin – Francis Martin | 7.53 | 19.66 | |
| Keving Morford – Joshua Wright | 7.97 | 19.07 | |
| Rick Rodriguez – Chuck Rackley | 0.00 | 19.02 | |
| Clay Lewis – Greg cooper | 7.12 | 18.90 | |
| Chris Bryant – Matt Dunnigan | 0.00 | 18.76 | |
| Luke Nickert – Jared Bass | 0.00 | 16.92 | |
| James Condry – Jimmy Condry | 8.47 | 16.33 | |
| Justin Dodson – Jason Dodson | 5.77 | 16.02 | |
| Bo Bolts – Mickey Andrews | 0.00 | 15.77 | |
| Rob Uzzle – Donnie Harper | 0.00 | 15.34 | |
| Mike Rowe – Andy Walker | 6.10 | 15.16 | |
| Clyde Baldwin – Jeff Davis | 0.00 | 14.73 | |
| Timothy Howard Auston | 0.00 | 14.61 | |
| Garrett Geouge – Mike Grogan | 0.00 | 14.37 | |
| Tommy Little – Robert Bruguiere | 0.00 | 13.88 | |
| Jacob Kupselaitus – Kayla Kupselaitus | 0.00 | 13.04 | |
| Kyle Owen – David Owen | 0.00 | 12.81 | |
| Brian Brooks | 0.00 | 11.82 | |
| Stacy vassar – James Tilley | 0.00 | 10.80 | |
| Jeffrey Valentin – Daryl Moody | 0.00 | 10.77 | |
| BJ Boothe – Alex Buckhorn | 0.00 | 10.52 | |
| Aaron Lucy | 0.00 | 9.79 | |
| Matt Kite – Chris Mcdaniel | 0.00 | 9.40 | |
| Bryan Keane – Kevin Davis | 0.00 | 8.49 | |
| Joey Cooke – Hall Justin | 0.00 | 8.02 | |
| Neil Jernigan – Kaiden Little | 0.00 | 7.93 | |
| Barry Brandt JR – Zoe Strouse | 0.00 | 0.00 | |
| Joseph Krevonick – Andrew Bell | 0.00 | 0.00 | |
| Timmy Sheridan – Dash Halloway | 0.00 | 0.00 | |
| Mike Hinkely – Bobby Davis | 0.00 | 0.00 | |
| Wayne Vaughan – Ryan Proznic | 0.00 | 0.00 | |
| Harvey Reece – Travis West | 0.00 | 0.00 | |
| Robert Sutton – Mark Adams | 0.00 | 0.00 | |