Next Phantom Outdoors Invitational in South Carolina will be at Waccamaw River July 24 Bucksport Marina!
Wyman Brannon & AJ Dipietro took 1st with 5 bass weighing 19.83 lbs! They took home $2,500.00!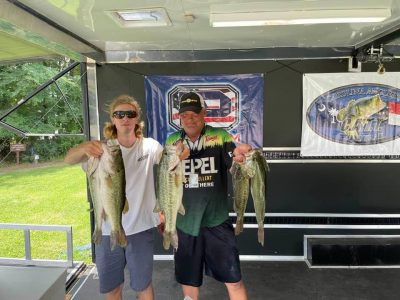 2nd Place went to Phillip Anderson & Andy Lake with 5 bass weighing 17.73 lbs plus the BF at 6.08 lbs worth $2,32500! They also received a $100 Lews/Strike King!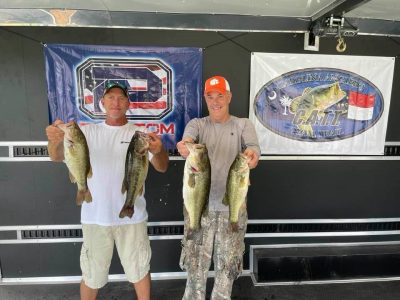 Meredith Havaird finished 3rd with 17.16 lbs!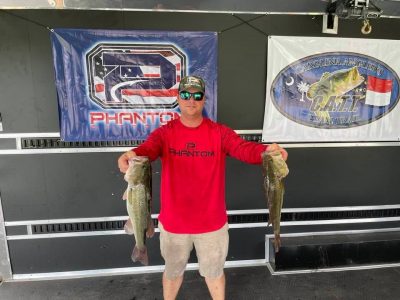 Todd and Gibson Huntley with th 2nd BF at 5.57 lbs!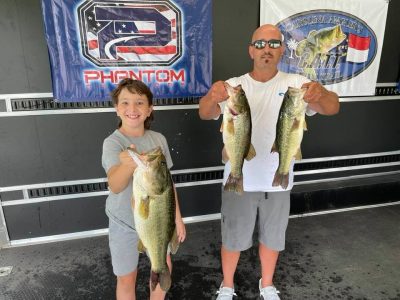 | | | | |
| --- | --- | --- | --- |
| Team | BF | Weight | Winnings |
| Wyman Brannon – AJ Dipietro | 4.70 | 19.83 | $2,500.00 |
| Andy Lake – Phillip Anderson | 6.08 | 17.73 | $2,325.00 |
| Meredith Havaird | 3.65 | 17.16 | $300.00 |
| Kevin Fulmer – Tim Sox | 4.20 | 17.00 | $300.00 |
| Chad Hastings – Eric Jeter | 5.36 | 16.98 | |
| Clay Riddle – Dave Franklin | 4.79 | 16.43 | |
| Todd Huntley – Gibson Huntley | 5.57 | 15.88 | |
| Rodney Cromer – Roger Farr | 4.66 | 15.38 | |
| Trey Shultz – Tanner Shultz | 3.34 | 15.06 | |
| Donald Poteat – Dwayne Canipe | 3.93 | 13.13 | |
| Benn Lee – Anna Lee | 2.80 | 10.61 | |
| Kenny Brice – Earl McElveen | 4.31 | 8.71 | |
| Scott Farmer – Samuel Freeman | 3.46 | 6.59 | |
| Stacy James – Tallen Lith | 0.00 | 0.00 | |
| Keaton Owens – Jontahn Hpkins | 0.00 | 0.00 | |
| Russ Padgett – Brittin Padgett | 0.00 | 0.00 | |
| Shane Crawford – Bryant Clary | 0.00 | 0.00 | |
| Britt Long – Lance Rodgers | 0.00 | 0.00 | |
| Justin McGrady | 0.00 | 0.00 | |
| George Berry – Daniel Howell | 0.00 | 0.00 | |