Our first ever event at Roanoke Rapids Lake saw 21 teams battling the weather and the fish! From the looks of the pictures we are going to see some fat Spotted Bass in the future weighed in! To view the Roanoke Rapids Lake Points go to the Roanoke Rapids Division page and  scroll all the way down!
Next Roanoke Rapids Lake CATT is April 3rd! For more info visit the Roanoke Rapids Lake Division Page under Tournaments!

Keep in mind by fishing only 2 CATT events you will be eligible to enter the 2022 CATT Academy Championship on Kerr Lake May 21-22, 2022! $10,000 1st Place!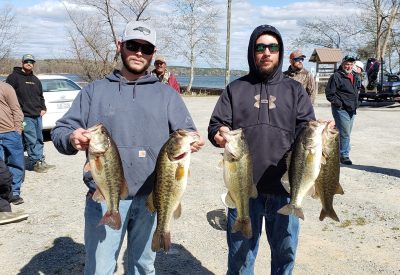 Justin Miles & Alex Barnes took 1st Place with 5 bass weighing up at 22.74 lbs! They also weighed in the 2nd BF at 6.12 lbs and took home $983.00!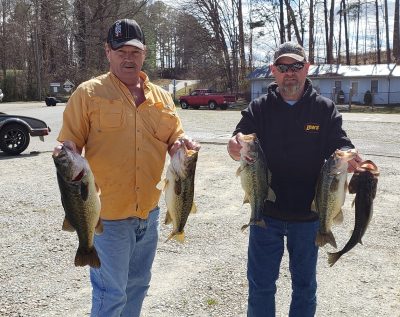 Danny Smith & Scott Golden claimed 2nd with 21.76 lbs!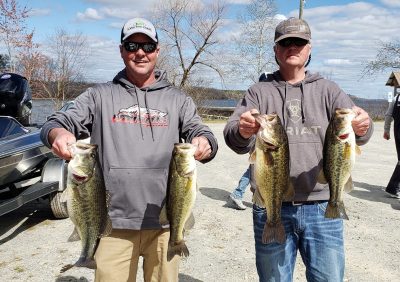 Scott Griffin & Jay Allen 3rd with 19.58 lbs!
Check out these nice uns!
| | | | | |
| --- | --- | --- | --- | --- |
| Team | BF | Weight | Winnings | Points |
| Justin Miles Alex Barnes | 6.12 | 22.74 | $983.00 | 110 |
| Scott Golden Danny Smith | 5.42 | 21.76 | $300.00 | 109 |
| Scott Griffin Jay Allen | 5.18 | 19.58 | $430.00 | 108 |
| Bryan Edwards Nate Kilgore | 0.00 | 19.34 | $100.00 | 107 |
| Robby Butler Michael Midgett | 4.96 | 19.22 | $100.00 | 106 |
| Jake Murdock John Murdock | 6.58 | 18.86 | $147.00 | 105 |
| Shane Doughtie Evan White | 4.06 | 18.46 | | 104 |
| Joey Scott Michael Scott | 0.00 | 18.38 | | 103 |
| Cory Byrum Jesse Medlin | 5.92 | 17.04 | | 102 |
| Tyler Dix Chris Michaels | 0.00 | 14.20 | | 101 |
| Jay Wright Mikey Anderson | 4.82 | 14.14 | | 100 |
| Robert Walls Colby Walls | 0.00 | 14.02 | | 99 |
| Michael Taylor Michael Allen | 0.00 | 13.60 | | 98 |
| Michael Hobbs Larry Hobbs | 0.00 | 12.78 | | 97 |
| Shawn Evans Kevin Dickens | 0.00 | 11.60 | | 96 |
| Hank Cooke Clay Ferguson | 0.00 | 11.12 | | 95 |
| Ryan Hobbs Cedric Jarrell | 0.00 | 9.80 | | 94 |
| Dennis Bradley Allen Mitchell | 0.00 | 9.40 | | 93 |
| Houston Cash Chase Davis | 0.00 | 9.04 | | 92 |
| Matt Bradley Michael Cullom | 0.00 | 0.00 | | 82 |
| Caleb Horn Mike Barnes | 0.00 | 0.00 | | 82 |
| Total Entrys | | | $1,680.00 | |
| BONUS $ | | | $800.00 | |
| Total Paid At Ramp | | | $2,060.00 | |
| 2022 Roanoke Rapids Spring Final Fund | | | $320.00 | |
| 2022 CATT Championship Fund | | | $50.00 | |
| 2022 Roanoke Rapids  Spring Final Fund Total | | | $320.00 | |