WOW! What a tournament! 70 Teams entered the 2nd Waccamaw River Phantom Invitational July 25, 2020 with over $20,000.00 on the line! We will hold the Waccamaw River Phantom Invitational July 24, 2021! Help spread the word and lets's have another increase in numbers! 
Check out the Phantom Outdoors Gear line! CATT is proud to be associated with Phantom Outdoors! Click on the Phantom logo to view their great products and don't forget to use PHANTOMCATT15 at checkout and earn 15% off your order!

Seth Rabon and Keaton Capps brought in a great bag of bass topping the 70 boat field and collected $5,700.00 in Cash & Prizes! They weighed in 5 bass at 17.53 lbs and weighed the 1st Lews BF at 6.78 lbs! IN cash they took home $5,500.00 plus a Lews Baitcast reel valued at $200.00!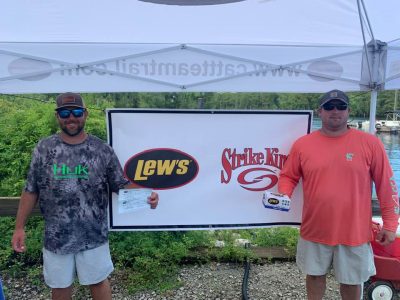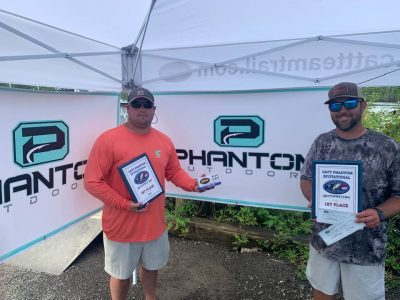 2nd Place went to Kaleb & Mike Gerald with another limit weighing 15.09 lbs worth $3,500.00 smackers!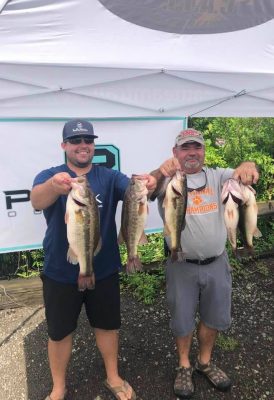 Tim Gamble & Mike Phipps weighed in a limit at 14.70 lbs good enough for 3rd and a pile of Side Pot $$! They earned $4,400.00!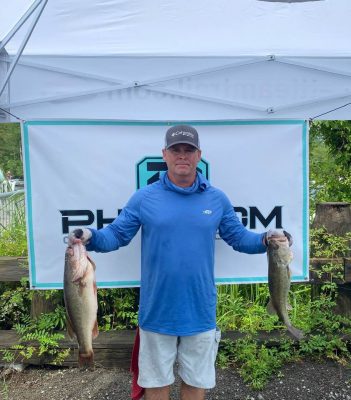 John & Ashley Proctor brought in the 2nd BF at 4.75 lbs and took home $800.00!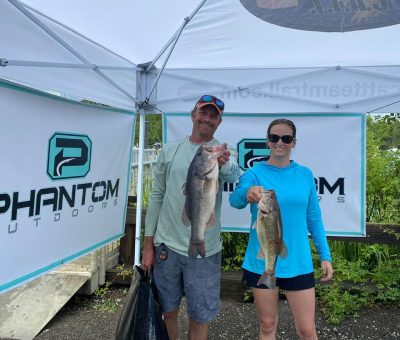 Check out the rest of the money winners!
| | | | |
| --- | --- | --- | --- |
| 70 Teams | BF | Weight | Winnings |
| Keton Capps – Seth Rabon | 6.78 | 17.53 | $5,700.00 |
| Kaleb Gerald – Mike Gerald | 4.45 | 15.09 | $3,500.00 |
| Tim Gamble – Mike Phipps | 4.63 | 14.70 | $4,400.00 |
| Hayes Hudson – Brent Long | 4.61 | 13.51 | $2,275.00 |
| Mark Johnson | 4.73 | 13.45 | $1,100.00 |
| Timmy Squires – River Squires | 3.65 | 13.29 | $500.00 |
| John Proctor – Ashley Proctor | 4.75 | 13.17 | $650.00 |
| Ed Owens – Chris Jones | 4.21 | 13.11 | $400.00 |
| Winston & Neal Martin | 2.93 | 12.92 | $325.00 |
| Elvis Black – Brian Crosby | 4.24 | 12.45 | $225.00 |
| Andrew Vereen – Jordan Weaver | 3.39 | 12.24 | $200.00 |
| Charles Proctor – Stacey Proctor | 3.84 | 12.21 | |
| Jimmy Walters – Westly Williamson | 3.91 | 11.96 | |
| Reid McDowell – Danny Allen | 3.24 | 11.89 | |
| Anthony Amerson – Gabriel Lambert | 3.88 | 11.89 | |
| Mike Granburg – Tom Tanner | 3.21 | 11.89 | |
| Jamie Ethridge – Scott McCleland | 2.83 | 11.45 | |
| Winkey Watford – Scottie Mixon | 2.60 | 11.33 | |
| Joey McLean – Danny McLean | 3.55 | 11.29 | |
| Avery Williams – Wilson Springs | 4.23 | 10.99 | |
| Gregg Fogner – Anthony Fogner | 2.70 | 10.75 | |
| Britt Brown – Danny Martin | 3.75 | 10.75 | |
| Andy Howell – Tucker Howell | 4.08 | 10.67 | |
| Chad Williams – Jeremy Hewitt | 3.61 | 10.55 | |
| Logan Benton – Shawn Benton | 3.71 | 10.50 | |
| Jason Owens – Anthony Lee | 3.11 | 10.49 | |
| Dylan McConnell – Dave McConnell | 3.31 | 10.33 | |
| Ben Cox – Chase Marshall | 2.07 | 10.23 | |
| Robby Byrum – Ed Magill | 2.45 | 10.14 | |
| Cody Squires – Dillon Thompkins | 2.58 | 10.03 | |
| David Quandt – Timmy Williamson | 2.55 | 9.98 | |
| JD Farrand – Casey Stamey | 0.00 | 9.69 | |
| Bennett Lawshe – Dalton Hewitt | 2.76 | 9.53 | |
| Patrick Tindal – Jeremiah Jensen | 2.24 | 9.51 | |
| Wade Cook – Brian Howard | 2.37 | 9.43 | |
| Chad Pennell – Casey Warren | 2.20 | 9.28 | |
| Mark Curry – Jr Milligan | 2.25 | 9.17 | |
| Donald McLaud – Ray Inman | 2.50 | 8.96 | |
| Kyle Johnson – Ron Cannon | 2.55 | 8.92 | |
| Will Prosser – Josh Jones | 2.36 | 8.52 | |
| Gary Pope – Kevin Alford | 2.14 | 8.48 | |
| Marshall Sasser – Kel Owens | 2.41 | 8.46 | |
| Bill Moore – Matthew Moore | 2.19 | 8.29 | |
| TJ Hardee – Rodney Hardee | 2.26 | 8.26 | |
| Englis Glover – Tony Carter | 2.14 | 8.17 | |
| Charles Freyer – Darren Williamson | 2.26 | 8.12 | |
| Noah Jones – Kevin Heniford | 2.17 | 7.88 | |
| Shawn Todd – Brad Rabon | 2.21 | 7.74 | |
| Andrew Young – Corey Singleton | 1.91 | 7.46 | |
| Ron Terwilliger – Kevin Owens | 1.71 | 7.31 | |
| Wayne Marsh – Ryan Marsh | 1.72 | 7.31 | |
| Rick Corn – Sam Patterson | 1.57 | 7.28 | |
| Alex Cribb | 0.00 | 7.11 | |
| John Eagen – Amamda Eagen | 2.43 | 7.08 | |
| Timmy Anderson – Ross Brazier | 2.06 | 6.98 | |
| Chad Cook – Tony Cook | 1.92 | 6.60 | |
| James Roy Robison – William Gregory | 1.39 | 6.12 | |
| Trey Cribb – Kaleb Bryant | 0.00 | 6.04 | |
| Chris Alston – Wendell McCray | 0.00 | 4.48 | |
| Jaman Carroll – Freddy Mincey | 0.00 | 2.79 | |
| Michael Dennis Jr | 0.00 | 0.00 | |
| Ryan Thompson – Robbie Boyd | 0.00 | 0.00 | |
| Caleb Cox – Dylan Gasque | 0.00 | 0.00 | |
| Nick Gant – Van Turbeville | 0.00 | 0.00 | |
| Carlton Thompkins – Joel Barfield | 0.00 | 0.00 | |
| Brad Suggs – Lee Kershner | 0.00 | 0.00 | |
| Patrick Cook – Mack Cook | 0.00 | 0.00 | |
| James Forebush – Amber Forebush | 0.00 | 0.00 | |
| Kyle Chestnut – Kristen Chestnut | 0.00 | 0.00 | |
| Wesley Howell – Branson Howell | 0.00 | 0.00 | |