Get your Phantom Apparel at a discount! Use PHANTOMCATT15 and receive 15% off your next order!
Click on the Phantom Logo to get started! They have a great Camo line!
Next CATT Sparkleberry Swamp Quest in Feb 17th at Packs – 60 hp and under ONLY!
Bruce Peavy & Paul Geddings brought a sack out of the Swamp weighing 24.54 lbs to take the win and BF at 8.33 lbs!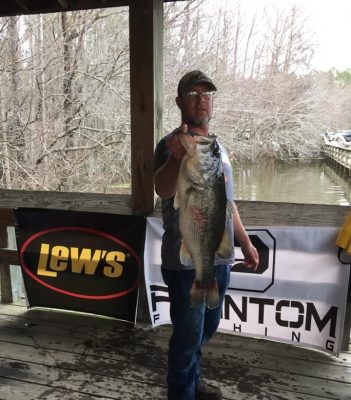 2nd went to Brian Scott & Brad Beatson!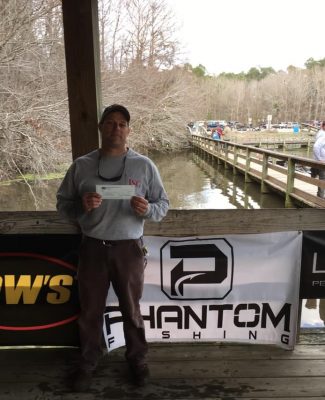 Donald Hinson & Shannon Tidwell were 3rd!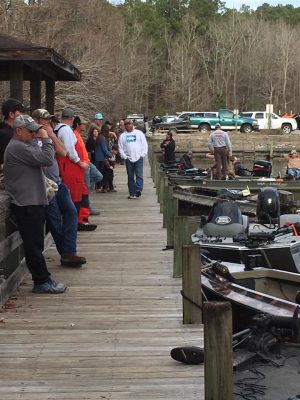 | | | | | |
| --- | --- | --- | --- | --- |
| | Big | Total | Total | |
| Team | Fish | Weight | Winnings | Points |
| Paul Geddings – Bruce Peavy $$ | 8.33 | 24.54 | $840.00 | 110 |
| Brian Scott – Brad Beatson | 6.78 | 21.95 | $200.00 | 109 |
| Donald Hinson – Shannon Tidwell | 0.00 | 19.91 | $100.00 | 108 |
| Mike Kirby – Bucky DeBerry | 4.88 | 18.87 | | 107 |
| Trez Wienges – Alex Dempsey | 0.00 | 17.07 | | 106 |
| Allen Bowzard – Vicotor Moore | 5.58 | 16.28 | | 105 |
| Danny Shanz – Cody Armstong | 5.83 | 16.25 | | 104 |
| Zack Hayes – Roddy Cross | 0.00 | 14.55 | | 103 |
| David Eargle – Reggie Hopkins | 3.51 | 13.21 | | 102 |
| Emmitt McCauley – Max Terry | 0.00 | 12.58 | | 101 |
| Brent Waynick – Rodney Jordan | 0.00 | 9.64 | | 100 |
| Lee Morris – Robert Ross | 0.00 | 3.42 | | 99 |
| Don Beckwith – Jim Wakely | 0.00 | 0.00 | | 98 |
| Buddy Holmes – Brandon Evans | 0.00 | 0.00 | | 98 |
| Russell Otts – Randy Griffin | 0.00 | 0.00 | | 98 |
| TJ Anderson – Will Timmomns | 0.00 | 0.00 | | 98 |
| Sandy Oliver – Sam Hopkins | 0.00 | 0.00 | | 98 |
| Chris Davis – JJ Wilson | 0.00 | 0.00 | | 98 |
| Total Entrys | | | $900.00 | |
| BONUS $$ | | | $400.00 | |
| Total Paid At Ramp | | | $1,140.00 | |
| Swamp Quest 2018 Final Fund | | | $160.00 | |
| 2019 CATT Championship Fund | | | $0.00 | |
| Swamp Quest Final Fund Total | | | $320.00 | |
| 2019  CATT Championship Fund Total | | | $2,510.00 | |