Guys, the CATT Division has grown a lot this year and the Phantom Outdoors Open followed suit! We plan to do it again next July and hope you can join us and push the number higher! As you see the Phantom is a lucrative tournament!
We have another Phantom coming up July 22nd on the Chowan River at Pembroke Creek!
Tap on the Phantom Log0 to visit their website and check out their hunting & fishing outdoor gear!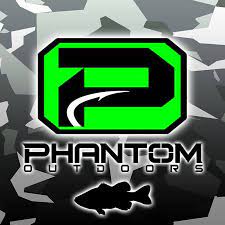 The 2023 CATT East Schedule is posted and accepting entrys! Tap on the link to view!
CATT East – Carolina Anglers Team Trail (cattteamtrail.com)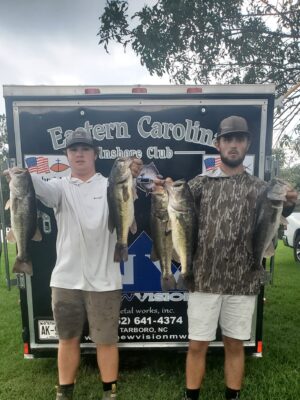 1st Place Austin Hughes and Holden Northcott weighed in a limit at 20.91 lbs and took home $2,750.00!
Congratulations!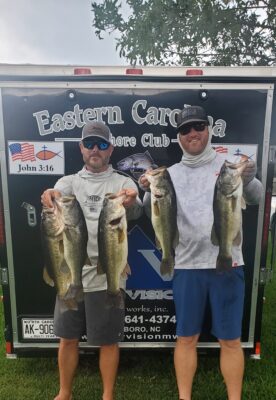 2nd Jason Tripp and Adam Baldwin 20.35 lbs $1500.00. 1st place in all 3 side pots $2,400.00 for a grand total of $3,900.00!
Nice payday. Congratulations!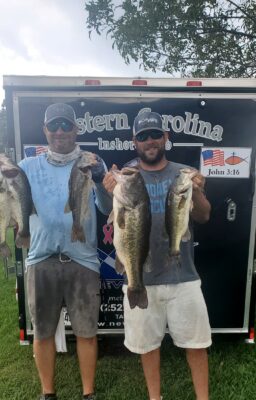 3rd Travis Badgett and Chris Turner 19.49 lbs $1,000.00! 1st big fish 9.27 lbs $250.00. 2nd place side pots $1,175.00! Grand total $2,425.00!
Congratulations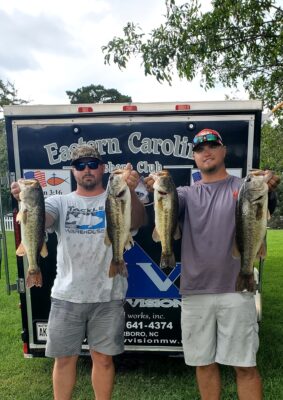 4th Brock Rouse and Parker Mills 19.42 lbs $500.00!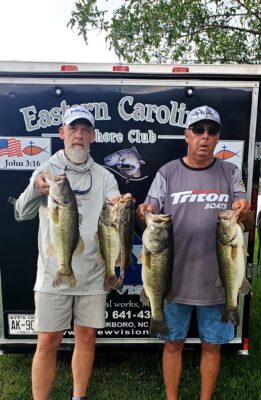 5th Larry Thomas and Joe Varnell 18.63 lbs. They won $550.0 in side pot money!
2nd big fish goes to Jeff Stoop and Mike Hinson 7.66 lbs $100.00!
| | | | |
| --- | --- | --- | --- |
| Team | BF | Weight | Winnings |
| Austin Hughes – Holden Northcott | 4.60 | 20.91 | $2,750.00 |
| Jason Tripp – Adam Baldwin | 5.51 | 20.35 | $3,900.00 |
| Travis Badgett – Chris Turner | 9.27 | 19.49 | $2,425.00 |
| Brock Rouse – Parker Mills | 5.92 | 19.42 | $500.00 |
| Larry Thomas – Joe Varnell | 6.35 | 18.63 | $550.00 |
| Powell Kemp – Michale Chlomoudis | 5.84 | 18.61 | |
| Jeff Stoop – Mike Harrison | 7.66 | 18.41 | $100.00 |
| Jason Pittman | 5.68 | 18.33 | |
| Charles Weathersby – Jason White | 5.69 | 16.40 | |
| Houston Cash – Chase Davis | 0.00 | 16.22 | |
| Land Weaver – John Edwards Jr | 0.00 | 14.97 | |
| Joe Smith – Raeford Faircloth | 4.55 | 13.92 | |
| Cam Johnson – Jordan Norris | 4.94 | 13.84 | |
| Brian Stalls – Clayton Boyette | 0.00 | 12.03 | |
| Eugene Foushee – Brandon Johnson | 0.00 | 11.63 | |
| Jordan Hughes – Daniel Boseman | 0.00 | 10.34 | |
| Luke Edwards – Chuckie Creech | 0.00 | 9.96 | |
| Bobby Clark – Tommy Hughes | 0.00 | 9.81 | |
| Cliff Jenkins – Randy Jenkins | 0.00 | 8.53 | |
| Jim Dick – Greg Dick | 0.00 | 5.63 | |
| John Jenkins – Mark Walker | 0.00 | 0.00 | |
| David Sasser – Gus Hrach | 0.00 | 0.00 | |
| John Mcclelland – Larry Godfrey | 0.00 | 0.00 | |
| Adam Richardson – Trey Nanney | 0.00 | 0.00 | |
| Dustin Winslow – Brian Richardson | 0.00 | 0.00 | |
| Dennis Boykin – Brandon Galloway | 0.00 | 0.00 | |
| Walt Goff – Phillip Gibson | 0.00 | 0.00 | |
| Donna Wilson – Mike Whitehurst | 0.00 | 0.00 | |
| Sandy Brown – Morris Brown | 0.00 | 0.00 | |
| Alan Hawkin – Sebastion G | 0.00 | 0.00 | |
| Will James – Mike James | 0.00 | 0.00 | |
| Dean Jones – Levi Jones | 0.00 | 0.00 | |
| Travis Mewborn – Tanner Beamon | 0.00 | 0.00 | |