Next Potomac River CATT Spring Qualifier is April 8th at Hopewell Springs Marina!
You can view the Potomac River Points by going to the Potomac River Division page and scroll all the way down! Also, at the bottom of the results you will see a recap of the money for each Potomac event!
The 2023 CATT Academy Championship will take place on Kerr Lake May 20-21, 2023 and we are guaranteeing $10,000.00 to 1st Place! 1st Place in 2022 was $29,000.00!
Nutbush Ramp Kerr Lake State Park – 115 Jack Wade Farm Road, Henderson, NC    Tap on the link to view more info!
2023 CATT Academy Championship – Carolina Anglers Team Trail (cattteamtrail.com)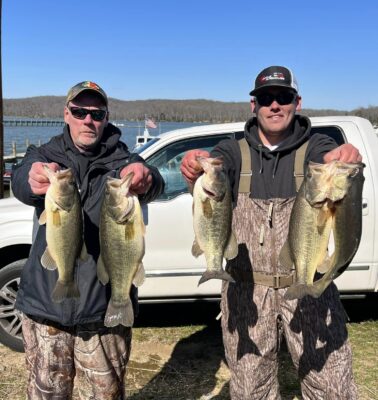 Taylor Gordon & Willy Gordon with their 1st place 16.81 pound bag. These guys were dialed in on a bitter cold  and windy day. They also took home the big fish prize of $210 with a beautiful 4.87 pounder. Nice work fellas! Total winnings $1,260.00!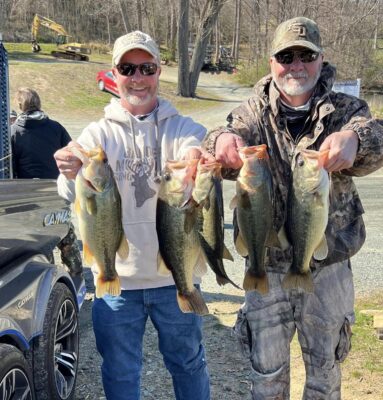 Danny Cole & Brian Baity with their 2nd place 13.39 pound stringer. They took home an additional $175 for winning the side pot! (Side pot entry is $25 for each team)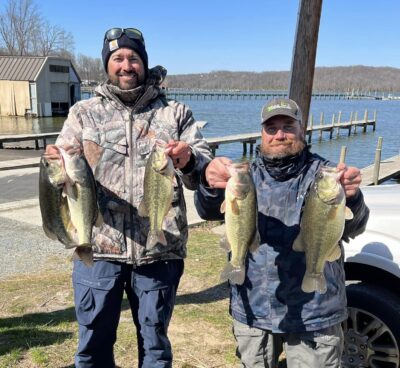 Brian Warfel & Alex Pirowski with their 3rd place 12.81 pound stringer. Nice work guys!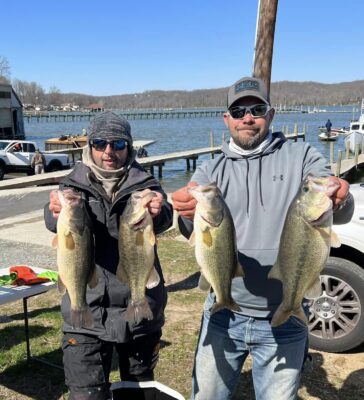 Buck Covington & Jespth Hughes just ounces away from a check. Thank you Buck for assisting with our weigh in!
| | | | | |
| --- | --- | --- | --- | --- |
| Team | BF | Weight | Winnings | Points |
| Taylor Gordon/Willy Gordon | 4.87 | 16.81 | $1,260.00 | 110 |
| Danny Cole/Brian Baity | 3.16 | 13.39 | $650.00 | 109 |
| Brian Warfel/Alex Pirowski | 3.95 | 12.81 | $200.00 | 108 |
| Ray Hogge/Donnie Daniel | 4.86 | 12.46 | $140.00 | 107 |
| Buck Covington/Jespth Hughes | 3.78 | 12.11 | | 106 |
| Mike Forgach/Ben Moon | 3.40 | 6.25 | | 105 |
| Karl Simpson/Donnie Caldwell | 3.40 | 5.33 | | 104 |
| Tyler Burris/Jeff Stickel | 2.74 | 2.74 | | 103 |
| Sam Musselman/Ryan Musselman | 0.00 | 0.00 | | 93 |
| Scottie Melton/Shawn Smith | 0.00 | 0.00 | | 93 |
| Billy Boyd/Steven Shantz | 0.00 | 0.00 | | 93 |
| Clayton Payne/Thomas Palmer | 0.00 | 0.00 | | 93 |
| Eddie Pegues/Lindell Coles | 0.00 | 0.00 | | 93 |
| David Hooker/Kenny Henderson | 0.00 | 0.00 | | 93 |
| Don Gregg/Kurt Hildebrand | 0.00 | 0.00 | | 93 |
| Vince Morris/Chris McManus | 0.00 | 0.00 | | 93 |
| Jarvis Raynor/Perry Stevenson | 0.00 | 0.00 | | 93 |
| Ricky Windsor III/Reece Tremagio | 0.00 | 0.00 | | 93 |
| Steve Starkey/Josh Payne | 0.00 | 0.00 | | 93 |
| David Matthews/Shawn Branham | 0.00 | 0.00 | | 93 |
| Bob Ackerman/Nick Mitcheltree | 0.00 | 0.00 | | 93 |
| Total Entrys | | | $2,520.00 | |
| BONUS $ | | | $175.00 | |
| Total Paid At Ramp | | | $2,250.00 | |
| Potomac River 2023 Spring Final Fund | | | $395.00 | |
| 2023 CATT Championship Fund | | | $50.00 | |
| 2023 Potomac River Spring Final Fund | | | $395.00 | |