Next up is the Potomac River Spring Final June 17th at Hope Spring Marina! We have 56 teams eligible to enter! To view the Potomac River Spring Points, go to the Potomac River Division page and scroll all the way down!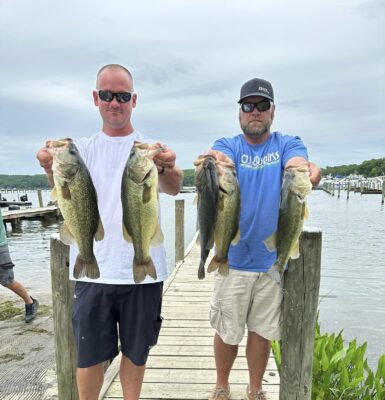 2023 Spring Potomac CATT Season Points CHAMPIONS
Congratulations David Hooker & Kenny Henderson !!! 406 Total Season Points
David & Kenny will fish our Championship tournament for free on Saturday, June 17th and will be positioned as Boat #1
David & Kenny will also receive a $100 LEW'S gift card!
We have $1,715.00 in the Potomac River Final Fund! At the Final we will add the Final Fund and 100% of the entry's together to make the Final purse! Final entry is $160 or $170 at the ramp! If we have 50 of the eligible teams enter the purse will be over $8,000 not including the side pot! Thanks for fishing with us!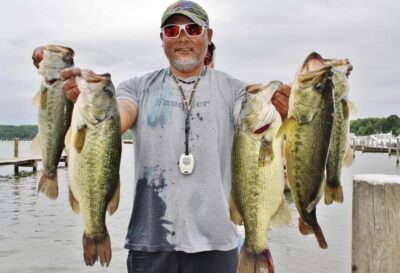 Safu Rana fished solo and took the largest prize this past weekend which was 1st Place of $1,400.00 with 18.30 lbs. Great job!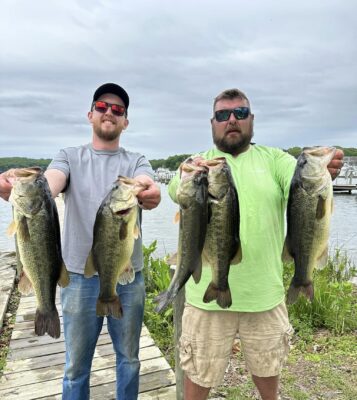 Chris Jackson & Chase Blaise took 2nd place $660 with 18.20 lbs.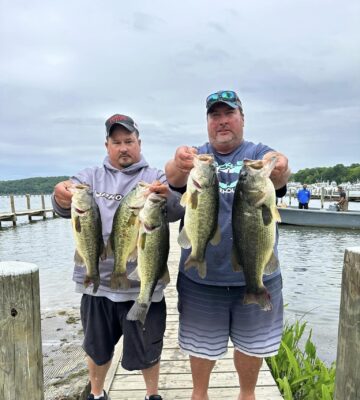 Mike Ramey & Mike Nelms took 3rd place with a total weight of 18.10 lbs.
$370 3rd Place Finish + $96 2nd Biggest Bass 5.89 lbs. + $575 Side Pot = Total of $1,041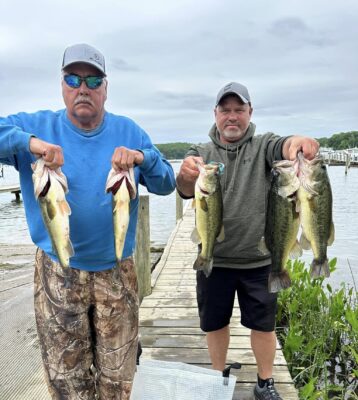 4th Place – Clifton Cooper & Donald Heflin 17.22 lbs. $250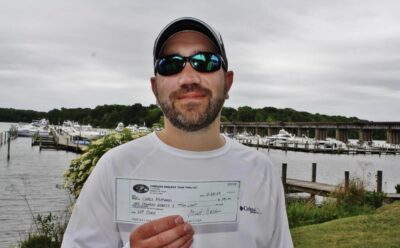 5th Place – Chris McManus 17.03 lbs. $190
6th Place – Karl Sampson & Donnie Caldwell 16.79 lbs. $130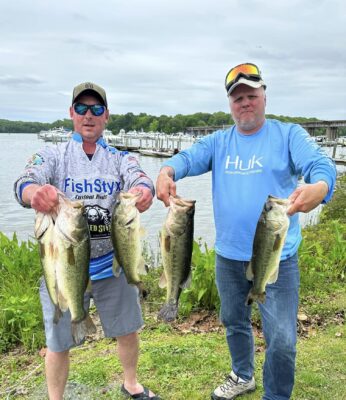 7th Place – Steve Schantz & Billy Boyd 16.72 lbs.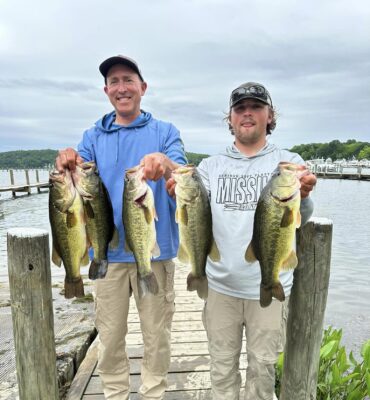 8th Place – Dan Weber & Bob Weber 16.69 lbs.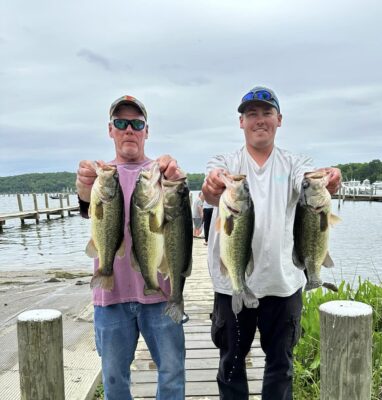 9th Place – William Gordon & Taylor Gordon
$600 30+ lb. Bag Bonus Winners
Cumulative 6 fish limit (5 EA Bass + 1 EA Snake) weighing 30 pounds or greater.
5 Bass 16.53 lbs. + 1 Snake 14.98 lbs. = 31.51 lbs. Total
31.51 lbs. is the New Potomac CATT Record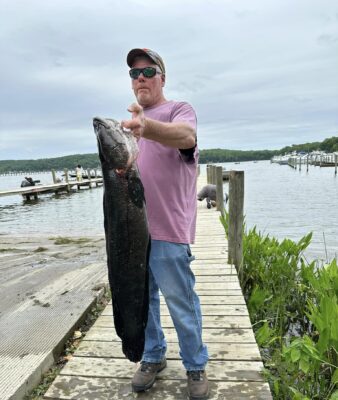 Snakehead Side Pot Winners $420 William Gordon & Taylor Gordon 14.98 lbs.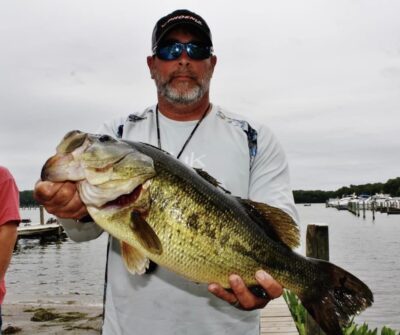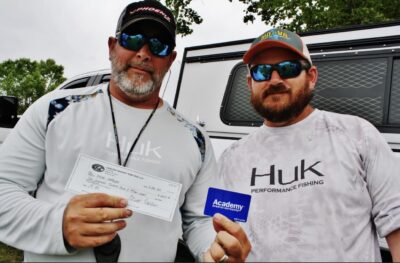 Here's Big Bass winner Mike Hepburn with his gorgeous 6.21 lb. post spawn beauty. Mike Hepburn and Shawn Phipps $224 big bass winners at tournament #4
| | | | | | |
| --- | --- | --- | --- | --- | --- |
| | Snake | | | | |
| Team | Head | BF | Weight | Winnings | Points |
| Safu Rana | 0.00 | 0.00 | 18.30 | $1,400.00 | 110 |
| Chris Jackson – Chase Blaise | 0.00 | 0.00 | 18.20 | $660.00 | 109 |
| Mike Ramey/Mike Nelms | 0.00 | 5.89 | 18.10 | $1,041.00 | 108 |
| Cliff Cooper/Donald Heflin | 0.00 | 4.90 | 17.22 | $250.00 | 107 |
| Chris McManus | 0.00 | 0.00 | 17.03 | $190.00 | 106 |
| Karl Sampson/Donnie Caldwell | 0.00 | 4.16 | 16.79 | $130.00 | 105 |
| Steve Schantz – Billy Boyd | 0.00 | 5.31 | 16.72 | | 104 |
| Dan Weber/Bob Weber | 0.00 | 0.00 | 16.69 | | 103 |
| Willie Gordon/Taylor Gordon | 14.98 | 0.00 | 16.53 | $1,020.00 | 102 |
| Ben Moon – Mike Thomas | 0.00 | 0.00 | 16.40 | | 101 |
| Luke Beard/Brian Kline | 0.00 | 5.27 | 15.78 | | 100 |
| David Hooker/Kenny Henderson | 0.00 | 0.00 | 15.57 | | 99 |
| Sam Musselman/Ryan Musselman | 0.00 | 0.00 | 15.32 | | 98 |
| PJ Mosley – Rahim Rahimi | 0.00 | 0.00 | 15.23 | | 97 |
| Scottie Melton/Shawn Smith | 6.51 | 0.00 | 15.13 | | 96 |
| John Ward – David Mathews | 0.00 | 4.58 | 14.87 | | 95 |
| Donnie Ward – Donnie Ward Jr | 0.00 | 4.70 | 14.44 | | 94 |
| Buck Covington – Jesepth Hughes | 0.00 | 0.00 | 13.92 | | 93 |
| Nick Sapio | 0.00 | 0.00 | 13.79 | | 92 |
| Joe Zaombek – Mike Bahnweg | 0.00 | 0.00 | 13.37 | | 91 |
| Ray Hogge /Donnie Daniel | 0.00 | 0.00 | 13.24 | | 90 |
| Jeff Poston – John Stevens | 0.00 | 0.00 | 13.20 | | 89 |
| Scott Shafer – JR Mills | 0.00 | 0.00 | 12.50 | | 88 |
| Scott Mattern – Derek Edwards | 0.00 | 0.00 | 12.09 | | 87 |
| Cody Dent | 0.00 | 0.00 | 11.24 | | 86 |
| Neville Green/Steve Lanier | 0.00 | 0.00 | 10.80 | | 85 |
| Mike Hepburn/Shawn Phipps | 0.00 | 6.21 | 9.67 | $224.00 | 84 |
| Josh Payne/Steve Starkey | 0.00 | 0.00 | 9.09 | | 83 |
| Danny Cole – Brian Baity | 0.00 | 0.00 | 9.06 | | 82 |
| Nick Lober – Logan Andrade | 0.00 | 0.00 | 0.00 | | 72 |
| Clayton Payne – Thomas Palmer | 0.00 | 0.00 | 0.00 | | 72 |
| Desmond Allen – Sion Sake | 0.00 | 0.00 | 0.00 | | 72 |
| Total Entrys | | | | $3,840.00 | |
| BONUS $ | | | | $575.00 | |
| Snakehead Side Pot | | | | $420.00 | |
| Total Paid At Ramp | | | | $4,915.00 | |
| Potomac River 2023 Spring Final Fund | | | | $445.00 | |
| 2023 CATT Championship Fund | | | | $75.00 | |
| 2023 Potomac River Spring Final Fund | | | | $1,715.00 | |