We had a Great Spring on the Potomac River! Total payback at the Spring Final was $8,260.00! After the conclusion of the Spring Final the total payback totaled up to $24,830.00! Thanks, for the support and thank you Clayton Payne!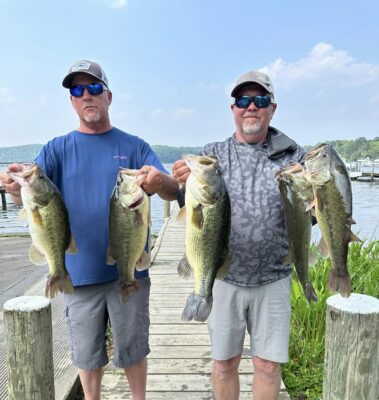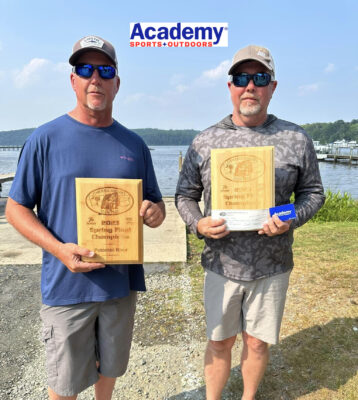 Ray Hogge & Donnie Daniel weighed in 5 bass at 19.66 along with the Academy BF at 6.03 lbs taking 1st Place at the Potomac Spring Final worth $4,225.00! They also received an Academy Gift Card!

2023 CATT Potomac River Spring Point Winners!
| | | | | |
| --- | --- | --- | --- | --- |
| | Big | Big | | |
| Team | Snake | Fish | Weight | Winnings |
| Ray Hogge – Donnie Daniel | 0.00 | 6.03 | 19.66 | $4,225.00 |
| Bobby Shetley – John Fair | 0.00 | 4.28 | 16.41 | $1,500.00 |
| Jarvis Raynor – Perry Stevenson | 0.00 | 4.15 | 15.93 | $1,000.00 |
| Buck Covington – Jesepth Hughes | 0.00 | 0.00 | 15.69 | $565.00 |
| Sam Musselman – Ryan Musselman | 0.00 | 0.00 | 15.31 | $250.00 |
| Donnie Ward – Billy Lewis | 0.00 | 3.95 | 14.78 | |
| Steve Schantz – Billy Boyd | 0.00 | 3.65 | 13.94 | |
| John Stevens – Jerry Lescallett | 0.00 | 4.64 | 13.76 | $80.00 |
| Scott Mattern – Derek Edwards | 0.00 | 0.00 | 13.37 | |
| Clayton Payne – Thomas Palmer | 3.96 | 0.00 | 12.76 | |
| David Hooker – Kenny Henderson | 0.00 | 0.00 | 12.51 | |
| Safa Rana | 0.00 | 0.00 | 12.27 | |
| Kyle McHenry – Brock Dinch | 0.00 | 0.00 | 12.14 | |
| Tyler Burriss – Jeff Stickel | 0.00 | 0.00 | 11.33 | |
| Robbie Henderson – Corey Henderson | 0.00 | 0.00 | 10.55 | |
| Cody Dent – Bubba Caffie | 0.00 | 0.00 | 10.20 | |
| John Ward – John Ward Jr | 0.00 | 0.00 | 10.07 | |
| Ben Moon – Mike Thomas | 0.00 | 0.00 | 9.95 | |
| Nick Sapio | 0.00 | 0.00 | 9.95 | |
| Josh Payne – Steve Starkey | 0.00 | 0.00 | 9.56 | |
| Scottie Melton – Shawn Smith | 5.09 | 0.00 | 9.21 | $180.00 |
| Eddie Pegues – Londell Coles | 0.00 | 0.00 | 8.99 | |
| Karl Sampson – Donnie Caldwell | 0.00 | 0.00 | 8.99 | |
| Luke Beard – Brian Kline | 12.71 | 0.00 | 8.49 | $460.00 |
| Clifton Cooper – Donald Heflin | 0.00 | 0.00 | 0.00 | |
| William Gordon – Taylor Gordon | 0.00 | 0.00 | 0.00 | |
| Desmond K. Allen – Sione Sake | 0.00 | 0.00 | 0.00 | |
| Nick Lober | 0.00 | 0.00 | 0.00 | |
| Total Entrys | | | | $4,480.00 |
| BONUS $ | | | | $2,065.00 |
| Potomac Spring Final Fund | | | | $1,715.00 |
| Total Paid At Ramp | | | | $8,260.00 |
| Grand Total Paid Spring 2023 Potomac | | | | $24,830.00 |