What a crowd! We wrapped up the 2021 CATT Academy Championship May 22-23 with 198 teams competing for a total of $64,310.00!! Thanks to our host, Vance County Tourism and all they do for us! Tap on the Vance County Tourism Logo to see all the great activities you can enjoy when you visit Henderson, NC and Kerr Lake!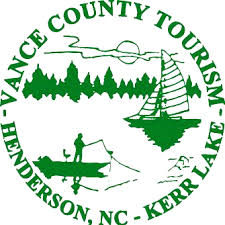 Billy Shelton & Michael Garner take 1st Place and earn the $10,000.00 1st Place prize with a 2 Day total weight of 33.64 lbs! Kick in the Ranger Cup money and they earned $17,000.00! PLUS they received 2- $100 Lews/Strike King Gift Cards & 2 – $25 Academy Gift Cards! Great catch guys!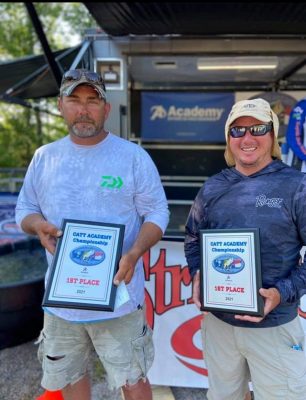 2nd Place went to Ricky & Tyler Trent with a 2 day 10 bass limit weighing 33.39 lbs! They collected $14,350.00! PLUS Tyler & Ricky received 2-$25 Academy Gift Cards!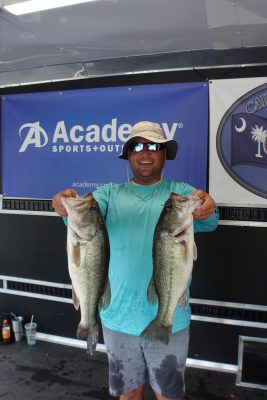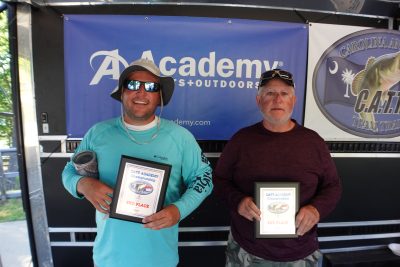 Grant McPeters & Israel Gibson claimed 3rd with a 2 day catch weighing 33.14 lbs! They took home $8,000.00!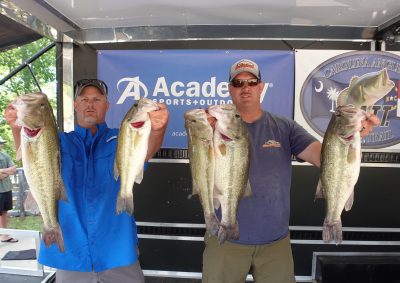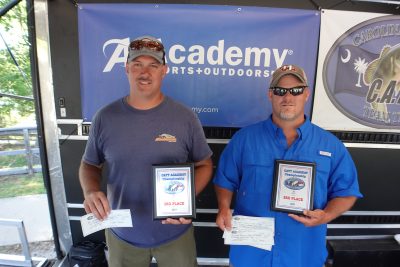 4th Place went to Evan White & Shane Doughtie with a 2 day catching weighing 31.41 lbs!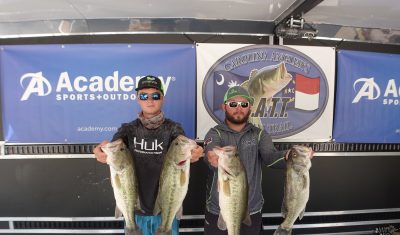 5th Place went Ryan & Carter Harrell with a 2 day total adding up to 31.33 lbs!
1st Lews/Strike King BF went to Dakota Roberts & Brad Cooper with a 5.84 lb Lunker! They earned $1,400.00 PLUS a $50 Lews/Strike King Gift Card!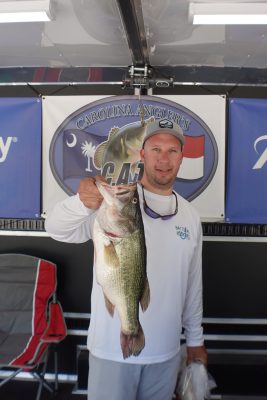 2nd Academy Big Fish went to 8th Place team of Allen White & Mike Vaughn with a 5.78 lb bass! All total they took home $1,780.00 PLUS a $25 Academy Gift Card!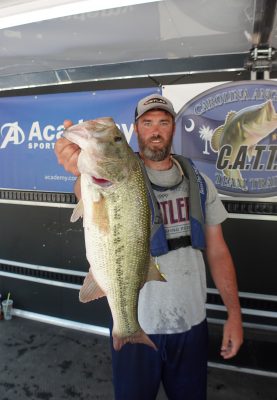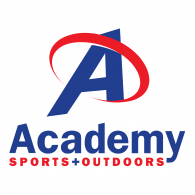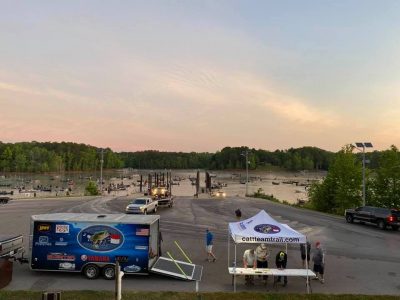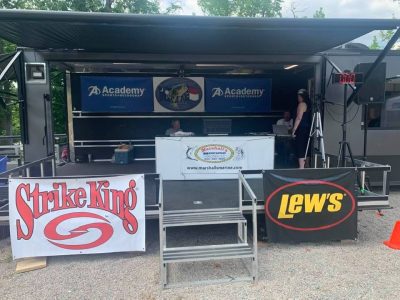 There are many more pictures posted on the CATT Facebook Page!
| | | | | | | |
| --- | --- | --- | --- | --- | --- | --- |
| | Day 1 | Day 1 | Day 2 | Day 2 | Total | |
| Team | BF | WT | BF | WT | WT | Winnings |
| Billy Shelton / Michael Garner | 0.00 | 16.66 | 0.00 | 16.98 | 33.64 | $17,000.00 |
|  Tyler & Ricky Trent                           PGS | 0.00 | 15.43 | 0.00 | 17.96 | 33.39 | $14,350.00 |
| Israel Gibson / Grant McPeters      PGS | 0.00 | 14.00 | 0.00 | 19.14 | 33.14 | $8,000.00 |
| Shane Doughtie / Evan White      PGS | 0.00 | 14.43 | 0.00 | 16.98 | 31.41 | $4,625.00 |
| Ryan & Carter Harrell    PGS | 5.31 | 15.69 | 0.00 | 15.64 | 31.33 | $1,750.00 |
| Cavin Young / Rob Wells               P | 0.00 | 15.64 | 0.00 | 15.11 | 30.75 | $1,500.00 |
| Kay Choosakul / Tim Pinhollow PGS | 0.00 | 13.69 | 0.00 | 16.58 | 30.27 | $1,300.00 |
| Allen White / Mike Vaughn        | 0.00 | 13.59 | 5.78 | 15.99 | 29.58 | $1,780.00 |
| Shawn Hammock / Flash Butts            PGS | 0.00 | 13.41 | 0.00 | 16.09 | 29.50 | $1,100.00 |
| Tom Wilkerson / Tyler Purcell        PGS | 0.00 | 11.82 | 0.00 | 17.46 | 29.28 | $1,000.00 |
| Chuck Murray / Randy Groves | 0.00 | 13.97 | 0.00 | 15.21 | 29.18 | $900.00 |
| John Parker / Randy Moss           PGS | 0.00 | 15.76 | 0.00 | 13.18 | 28.94 | $800.00 |
| Jeff & Clay Ross                                  PGS | 0.00 | 12.80 | 0.00 | 15.96 | 28.76 | $700.00 |
| Scott Hamrick / Roger Hoover     PGS | 0.00 | 14.91 | 0.00 | 13.76 | 28.67 | $600.00 |
| Wesley Cashwell                                 PGS | 0.00 | 12.39 | 0.00 | 16.24 | 28.63 | $575.00 |
| Ronnie & Dylan Britt                          S | 0.00 | 14.45 | 0.00 | 14.15 | 28.60 | $550.00 |
| Lynn Fox / Jeff Hodges                 PGS | 0.00 | 11.29 | 0.00 | 17.29 | 28.58 | $525.00 |
| Martin Villa / Tim Garner             PGS | 0.00 | 16.15 | 0.00 | 12.22 | 28.37 | $500.00 |
| Scott Faulkner / Tony Brewer     PGS | 0.00 | 15.50 | 0.00 | 12.48 | 27.98 | $475.00 |
| Spencer & Sammy Barrow | 0.00 | 11.06 | 0.00 | 16.89 | 27.95 | $450.00 |
| Ellis Jones / Brian Cottrell            P | 4.42 | 15.00 | 0.00 | 12.86 | 27.86 | $425.00 |
| Lonnie Whitfield / Phillip Smith    P | 0.00 | 15.69 | 0.00 | 12.14 | 27.83 | $400.00 |
| Danny & April Moss                          PGS | 5.10 | 15.67 | 0.00 | 11.82 | 27.49 | $390.00 |
| Robert & Noah Nicholson | 0.00 | 13.47 | 0.00 | 13.80 | 27.27 | $350.00 |
| Scott & Chase Moser                      PGS | 0.00 | 10.37 | 0.00 | 16.69 | 27.06 | $340.00 |
| Steve Lucy / Todd Dorton         P | 0.00 | 14.21 | 0.00 | 12.83 | 27.04 | $330.00 |
| Brandon Pritchett / Matt Foster PGS | 0.00 | 12.77 | 0.00 | 14.25 | 27.02 | $320.00 |
| John McClleland / Eric Schell              PGS | 3.82 | 15.82 | 0.00 | 11.11 | 26.93 | $300.00 |
| Brian Calloway / Gary Dickerson PGS | 0.00 | 14.12 | 0.00 | 12.67 | 26.79 | $275.00 |
| Mark Cooper / Steve Roberts    PGS | 0.00 | 13.61 | 0.00 | 13.16 | 26.77 | $260.00 |
| Charles Davis / Scott Howard | 0.00 | 10.50 | 0.00 | 16.16 | 26.66 | $240.00 |
| Mike Chlomoudis / Powell Kemp PGS | 0.00 | 12.86 | 0.00 | 13.77 | 26.63 | $225.00 |
| Josh Whitford / Tyler Ivey          P | 0.00 | 13.86 | 0.00 | 12.73 | 26.59 | $200.00 |
| Marty Warren / Daniel Jenkins          PGS | 0.00 | 11.64 | 0.00 | 14.48 | 26.12 | |
| Ben Cannon / Jeff Hayden           PGS | 0.00 | 11.34 | 0.00 | 14.76 | 26.10 | |
| Keith Joyce / Mark Robertson        PG | 0.00 | 12.89 | 0.00 | 13.01 | 25.90 | |
| Cory Byrum / Wesley Bennett         PGS | 4.21 | 14.04 | 0.00 | 11.80 | 25.84 | |
| Billy Bledsoe / Brian McDonald    PGS | 4.41 | 16.17 | 0.00 | 9.64 | 25.81 | |
| Joey & Curtis Talbott                      PG | 0.00 | 14.00 | 0.00 | 11.76 | 25.76 | |
| Scooter Lilly / Eric Gallasso         PGS | 0.00 | 15.98 | 0.00 | 9.75 | 25.73 | |
| Billy Dunn / Eddie Glascock      P | 0.00 | 13.61 | 0.00 | 12.07 | 25.68 | |
| Tim Wiltfong / Anthony Ray Griffin  GS | 3.23 | 13.41 | 0.00 | 12.25 | 25.66 | |
| Tim Thurman / Thomas Jerrell | 0.00 | 13.85 | 0.00 | 11.68 | 25.53 | |
| Jeff Bradley / Travis West                  PGS | 5.08 | 14.61 | 0.00 | 10.61 | 25.22 | |
| Tony & Hunter Axt | 5.14 | 12.87 | 0.00 | 12.32 | 25.19 | |
| Brad Staley / Josh Stafford            PGS | 0.00 | 11.66 | 0.00 | 13.44 | 25.10 | |
| Derick Wright / Dane Butler              PGS | 0.00 | 12.87 | 0.00 | 12.21 | 25.08 | |
| Mark Inman / Bryan Welch            PGS | 0.00 | 13.19 | 0.00 | 11.86 | 25.05 | |
| Jason Riggs / Steve Sink                  PGS | 4.03 | 13.45 | 0.00 | 11.57 | 25.02 | |
| Joshua Lanaville / Timothy Davis    PG | 0.00 | 11.23 | 0.00 | 13.73 | 24.96 | |
| Mike Corbishley                    P | 0.00 | 13.67 | 0.00 | 11.29 | 24.96 | |
| Nathan Keller / John Doyle           PGS | 0.00 | 13.02 | 0.00 | 11.78 | 24.80 | |
| Wesley Harris / Travis Garrett | 0.00 | 12.09 | 0.00 | 12.60 | 24.69 | |
| Phillip & Tammy Medford                 PG | 0.00 | 11.53 | 0.00 | 13.08 | 24.61 | |
| Park Mills / Brock Rouse             PGS | 0.00 | 11.09 | 0.00 | 13.28 | 24.37 | |
| Stephen Griggs / Jimmy Wall  P | 0.00 | 13.56 | 0.00 | 10.79 | 24.35 | |
| Larry & Kendall Witt                    P | 0.00 | 10.32 | 0.00 | 13.77 | 24.09 | |
| Dennis Reedy / Tommy Marrow   PGS | 0.00 | 13.30 | 0.00 | 10.72 | 24.02 | |
| Bryan Harlow / Phillip Ragland       PGS | 0.00 | 13.43 | 0.00 | 10.50 | 23.93 | |
| A J Lester                 PG | 0.00 | 12.91 | 0.00 | 10.95 | 23.86 | |
| Steve Summer / Jerry Davis              PGS | 0.00 | 13.38 | 0.00 | 10.30 | 23.68 | |
| Jay Wright / Mikey Anderson | 0.00 | 11.12 | 0.00 | 12.50 | 23.62 | |
| Rick Tilley Jr. – Rick Tilley Sr.       PGS | 0.00 | 12.76 | 0.00 | 10.85 | 23.61 | |
| Dave Farrington / Terry Easter           G | 0.00 | 12.25 | 0.00 | 11.27 | 23.52 | |
| Matt Deese / Will White                   PGS | 0.00 | 12.48 | 0.00 | 11.03 | 23.51 | |
| Kevin Cheatham | 0.00 | 10.94 | 0.00 | 12.57 | 23.51 | |
| Aaron Falwell / Steven Coleman    PGS | 0.00 | 10.82 | 0.00 | 12.66 | 23.48 | |
| Rick & Elton Clements                     G | 0.00 | 10.83 | 0.00 | 12.55 | 23.38 | |
| Jeff Salmon / Wendy Moore | 0.00 | 10.96 | 0.00 | 12.37 | 23.33 | |
| Charles Carrington / Jard Williams | 0.00 | 11.36 | 0.00 | 11.87 | 23.23 | |
| Glen Elliott / Stump Bledsoe          PGS | 0.00 | 10.06 | 0.00 | 13.14 | 23.20 | |
| Todd Sumner / Mike Dinterman        PGS | 0.00 | 10.85 | 0.00 | 12.31 | 23.16 | |
| Rick Dunstan / Josh Huff                     PGS | 0.00 | 13.05 | 0.00 | 10.10 | 23.15 | |
| Dakota Roberts / Brad Cooper  | 0.00 | 8.55 | 5.84 | 14.59 | 23.14 | $1,400.00 |
| Timmy Ferrell / Howard Bohhanan PGS | 0.00 | 13.49 | 0.00 | 9.63 | 23.12 | |
| Doug Larson                                    G | 4.00 | 13.60 | 0.00 | 9.51 | 23.11 | |
| Ben & Brandon Reynolds              PGS | 0.00 | 12.55 | 0.00 | 10.56 | 23.11 | |
| Josh & Mike Queen                       PGS | 0.00 | 11.68 | 0.00 | 11.39 | 23.07 | |
| Larry Blanks / James Graves | 0.00 | 13.19 | 0.00 | 9.84 | 23.03 | |
|  Jonathan Holloway / Brian West     PGS | 0.00 | 7.87 | 0.00 | 15.04 | 22.91 | |
| James Carnley / Jonathan Arrington  PGS | 0.00 | 12.72 | 0.00 | 10.09 | 22.81 | |
| Jeremy Gatewood /  Ian Vandyke    S | 0.00 | 11.48 | 0.00 | 11.33 | 22.81 | |
| Mack Lowe / Rob Walser              PGS | 0.00 | 11.23 | 0.00 | 11.56 | 22.79 | |
| Tony & Chase Stanley                   PGS | 0.00 | 12.73 | 0.00 | 10.03 | 22.76 | |
| Shane Kennedy / Curt Lare                       S | 0.00 | 11.54 | 0.00 | 11.21 | 22.75 | |
| Michael Massie                                  G | 0.00 | 9.36 | 0.00 | 13.38 | 22.74 | |
| Reginald Norflett / Craig Johnson | 0.00 | 13.12 | 0.00 | 9.60 | 22.72 | |
| Jobie Walker / Chris Napier                 S | 0.00 | 10.97 | 0.00 | 11.71 | 22.68 | |
| Will Vickery / Dee Kidd | 0.00 | 11.01 | 0.00 | 11.49 | 22.50 | |
| Ryan Roller / Gary Colwell           PGS | 0.00 | 12.26 | 0.00 | 10.23 | 22.49 | |
| Aaron Digh / Jacob Moore             PGS | 0.00 | 10.08 | 0.00 | 12.41 | 22.49 | |
| Cullen Ports / Justis Bobbit         PGS | 0.00 | 11.53 | 0.00 | 10.91 | 22.44 | |
| Lee Allred / Eric Massey | 0.00 | 12.25 | 0.00 | 10.18 | 22.43 | |
| Thomas Vickers / Brian Huskins       PGS | 0.00 | 10.21 | 0.00 | 12.10 | 22.31 | |
| Gary Johnson / Chris Inscoe         G | 0.00 | 10.06 | 0.00 | 12.21 | 22.27 | |
| Jonathan Rhew / Roger Clary P | 0.00 | 9.88 | 0.00 | 12.37 | 22.25 | |
| Steve Mazingo / Dylan Gray        P | 0.00 | 10.86 | 0.00 | 11.32 | 22.18 | |
| Chris Bowen / Dakoda Lucy              G | 0.00 | 14.02 | 0.00 | 8.14 | 22.16 | |
| Donnie Avant / Randy Waterman | 3.70 | 12.50 | 0.00 | 9.59 | 22.09 | |
| Will Howard / Bryce McClenny | 0.00 | 10.68 | 0.00 | 11.25 | 21.93 | |
| Jeff Taylor / Mike Connelly | 0.00 | 13.51 | 0.00 | 8.40 | 21.91 | |
| Eric Johnson / Nathan Sullivan           S | 0.00 | 13.11 | 0.00 | 8.77 | 21.88 | |
| Joey & Kevin Dawson                   PGS | 0.00 | 11.11 | 0.00 | 10.73 | 21.84 | |
| Don Gregg / Warren Lowery | 0.00 | 10.90 | 0.00 | 10.81 | 21.71 | |
| Todd Harris / Lance Isenhour      G | 0.00 | 13.28 | 0.00 | 8.42 | 21.70 | |
| Mike Gunn / Frank Pridemore  PGS | 0.00 | 9.47 | 0.00 | 12.12 | 21.59 | |
| Terry Amen / Casey Johnson         PGS | 0.00 | 9.23 | 0.00 | 12.27 | 21.50 | |
| Zack Davenport / Wesley Tucker   PGS | 0.00 | 12.57 | 0.00 | 8.87 | 21.44 | |
| Scott Stiltner / Tim Nichols | 0.00 | 12.09 | 0.00 | 9.28 | 21.37 | |
| Michael Townsend / Sam Cielakie | 0.00 | 9.98 | 0.00 | 11.23 | 21.21 | |
| Johnny Wilder / Mike Harris II  P | 0.00 | 12.90 | 0.00 | 8.11 | 21.01 | |
| Hunter Townsend / Trey Thomasen | 0.00 | 10.04 | 0.00 | 10.86 | 20.90 | |
| Michael White / Dana Moore           G | 0.00 | 8.68 | 0.00 | 12.15 | 20.83 | |
| Rick Plemmons / Chris Pike              PGS | 0.00 | 9.83 | 0.00 | 10.97 | 20.80 | |
| Jacob Lloyd                                       PG | 0.00 | 11.25 | 0.00 | 9.50 | 20.75 | |
| David Bullock / Jimmy Henderson | 0.00 | 9.05 | 0.00 | 11.66 | 20.71 | |
| Wayne Andrews / Tim Tait | 0.00 | 11.46 | 0.00 | 9.14 | 20.60 | |
| Carl Myers / Dustin Holt          PGS | 0.00 | 9.38 | 0.00 | 11.14 | 20.52 | |
| Andrew Kerns / Gray Williams | 0.00 | 10.49 | 0.00 | 9.96 | 20.45 | |
| Greg Creech / Chris McDuffie    G | 0.00 | 8.93 | 0.00 | 11.49 | 20.42 | |
| Hunter & Jack Iden | 0.00 | 9.88 | 0.00 | 10.53 | 20.41 | |
| Dustin Guthrie / Chip Woody PG | 0.00 | 10.90 | 0.00 | 9.49 | 20.39 | |
| Jacob Lee / Sam Terry                      G | 0.00 | 10.75 | 0.00 | 9.24 | 19.99 | |
| D J & Dean Myslinski | 0.00 | 10.05 | 0.00 | 9.84 | 19.89 | |
| David Jones / Tony Toombs                  PGS | 0.00 | 8.75 | 0.00 | 11.04 | 19.79 | |
| Roger & Renee Walters | 0.00 | 8.51 | 0.00 | 11.07 | 19.58 | |
| Adam Petty / Walt Warner | 0.00 | 9.81 | 0.00 | 9.58 | 19.39 | |
| Joe Carr / Bob Timberlake | 0.00 | 10.07 | 0.00 | 9.19 | 19.26 | |
| Daniel Smathers / Ryan Suhy         PGS | 0.00 | 9.09 | 0.00 | 10.16 | 19.25 | |
| Scotty Braswell / Tim Grice   P | 0.00 | 11.59 | 0.00 | 7.54 | 19.13 | |
| Matt Harmon / Ryan Clark              P | 0.00 | 7.10 | 0.00 | 11.64 | 18.74 | |
| Gregory & Jackson Lahr | 0.00 | 7.51 | 0.00 | 10.55 | 18.06 | |
| Brandon Taylor / David Pearce   P | 0.00 | 9.68 | 0.00 | 8.22 | 17.90 | |
| Robert Daniel / Bryan Sepessy    P | 0.00 | 12.38 | 0.00 | 5.40 | 17.78 | |
| Anthony Shawler / Scott Davies            S | 0.00 | 9.10 | 0.00 | 8.02 | 17.12 | |
| Mike Ellis  – Mark Faircloth        P | 3.80 | 8.24 | 0.00 | 8.84 | 17.08 | |
| Chris Turner / Derrick Smithson P | 0.00 | 8.86 | 0.00 | 7.95 | 16.81 | |
| Larry Horton / Jerry Wright | 0.00 | 7.65 | 0.00 | 9.14 | 16.79 | |
| Franky Jordan / Eugene Foushee     G | 0.00 | 5.66 | 0.00 | 11.11 | 16.77 | |
| Ray Hogg / Donnie Daniel             G | 0.00 | 7.14 | 0.00 | 8.98 | 16.12 | |
| James & Deloris Davis | 0.00 | 10.14 | 0.00 | 4.98 | 15.12 | |
| Michael Dikun / Jenny Li                       S | 0.00 | 8.85 | 0.00 | 5.87 | 14.72 | |
| Mickey Marchant / Bradley McLauren  G | 0.00 | 13.29 | 0.00 | 0.00 | 13.29 | |
| Brandon & Kyle Morris                  P | 0.00 | 13.16 | 0.00 | 0.00 | 13.16 | |
| Shawn Dunlap / Ken Kipler               PGS | 4.86 | 12.96 | 0.00 | 0.00 | 12.96 | |
| Duke Dennison / Bobby Cline | 4.46 | 12.37 | 0.00 | 0.00 | 12.37 | |
| Paul Smith / Jason Lloyd                    PGS | 0.00 | 12.20 | 0.00 | 0.00 | 12.20 | |
| Brian Kirkpatrick / Eddie Fore          PG | 0.00 | 11.69 | 0.00 | 0.00 | 11.69 | |
| Thomas Simmerson / Doug Young P | 0.00 | 11.65 | 0.00 | 0.00 | 11.65 | |
| Travis Owen / Mark Hatcher               PGS | 0.00 | 11.61 | 0.00 | 0.00 | 11.61 | |
| Adrian Moore / Matt Williamson      GS | 0.00 | 11.58 | 0.00 | 0.00 | 11.58 | |
| Chris Brummett / Ben Hudson | 0.00 | 11.49 | 0.00 | 0.00 | 11.49 | |
| Jordan Sanderlin / Andrew George PGS | 0.00 | 11.05 | 0.00 | 0.00 | 11.05 | |
| Matthew Little / Derick Bowden | 0.00 | 10.98 | 0.00 | 0.00 | 10.98 | |
| Chuck Morton / Mike Riggs            PGS | 0.00 | 10.96 | 0.00 | 0.00 | 10.96 | |
| Gene Hall / Scott Taylor | 4.67 | 10.92 | 0.00 | 0.00 | 10.92 | |
| Jereme Edwards / Chris Dawson | 0.00 | 10.85 | 0.00 | 0.00 | 10.85 | |
| Harry Townsend / Mark Weaver | 0.00 | 10.71 | 0.00 | 0.00 | 10.71 | |
| Nick Koenig / Craig Owens | 0.00 | 10.54 | 0.00 | 0.00 | 10.54 | |
| Ron & Zackery Johnson        P | 0.00 | 10.44 | 0.00 | 0.00 | 10.44 | |
| Dylan Gauldin / Donnie Wyatt            S | 0.00 | 10.41 | 0.00 | 0.00 | 10.41 | |
| Jason & Danny Houchins | 0.00 | 10.40 | 0.00 | 0.00 | 10.40 | |
| Danny & Matthew Nifong             PG | 0.00 | 10.35 | 0.00 | 0.00 | 10.35 | |
| Jordan & Mark Young                P | 0.00 | 10.33 | 0.00 | 0.00 | 10.33 | |
| Shannon Breeding / Mike Altizer | 0.00 | 10.27 | 0.00 | 0.00 | 10.27 | |
| Hal Blackwelder / Clift Swann | 0.00 | 9.82 | 0.00 | 0.00 | 9.82 | |
| Dale Phillips                                   PGS | 0.00 | 9.72 | 0.00 | 0.00 | 9.72 | |
| Casey Logan / Skeet Dalton | 0.00 | 9.69 | 0.00 | 0.00 | 9.69 | |
| Russell Rigsbee / Shane Robbins      PGS | 0.00 | 9.62 | 0.00 | 0.00 | 9.62 | |
| Michael Stewart / Buck Clark   P | 0.00 | 9.59 | 0.00 | 0.00 | 9.59 | |
| Donald Coleman / Darnell Small  G | 0.00 | 9.41 | 0.00 | 0.00 | 9.41 | |
| Rodney Sorrell / Gerald Beck         PGS | 0.00 | 9.28 | 0.00 | 0.00 | 9.28 | |
| Tyler Calloway / Ben Dalton              PGS | 0.00 | 9.03 | 0.00 | 0.00 | 9.03 | |
| Nate Arrington / Dustin Hess | 0.00 | 8.77 | 0.00 | 0.00 | 8.77 | |
| Dennis & Dalton Allen                   PGS | 0.00 | 8.65 | 0.00 | 0.00 | 8.65 | |
| Christopher Atkins / Stephen Costa P | 0.00 | 8.43 | 0.00 | 0.00 | 8.43 | |
| Kent Pearson / Bubba Barksdale     P | 0.00 | 8.15 | 0.00 | 0.00 | 8.15 | |
| Howard Midkiff                                 PG | 0.00 | 8.04 | 0.00 | 0.00 | 8.04 | |
| Mark Jackson / Morris Mustin | 4.59 | 7.72 | 0.00 | 0.00 | 7.72 | |
| Randy & Josh Brown | 0.00 | 7.67 | 0.00 | 0.00 | 7.67 | |
| William Samples / Jeff Edwards      PGS | 0.00 | 7.14 | 0.00 | 0.00 | 7.14 | |
| Jason Suggs / Calton Hall               PGS | 0.00 | 5.37 | 0.00 | 0.00 | 5.37 | |
| Jacob & Rhett Brown | 0.00 | 4.37 | 0.00 | 0.00 | 4.37 | |
| Jeremy Shifflett / Josh Wagner | 0.00 | 2.58 | 0.00 | 0.00 | 2.58 | |
| Ivan & Leonard Nealy  No Show | 0.00 | 0.00 | 0.00 | 0.00 | 0.00 | |
| Jeff Shelton / Matt Childress | 0.00 | 0.00 | 0.00 | 0.00 | 0.00 | |
| Jerry Bono                                            PGS | 0.00 | 0.00 | 0.00 | 0.00 | 0.00 | |
| Mark Lowe / Troy Searcy                         S | 0.00 | 0.00 | 0.00 | 0.00 | 0.00 | |
| Walter Canady / Jamie Pate       P | 0.00 | 0.00 | 0.00 | 0.00 | 0.00 | |
| No Show | 0.00 | 0.00 | 0.00 | 0.00 | 0.00 | |
| Brandon Curtis / Brandon Slaughter | 0.00 | 0.00 | 0.00 | 0.00 | 0.00 | |
| Michael Toney | 0.00 | 0.00 | 0.00 | 0.00 | 0.00 | |
| Aaron McQuain / David Moore | 0.00 | 0.00 | 0.00 | 0.00 | 0.00 | |
| Allen Pegram                              P | 0.00 | 0.00 | 0.00 | 0.00 | 0.00 | |
| Lawrence Gunn / Hal Calwell | 0.00 | 0.00 | 0.00 | 0.00 | 0.00 | |
| Mark Williams / Tim Goad            PGS | 0.00 | 0.00 | 0.00 | 0.00 | 0.00 | |
| Jay Allen / Scott Griffin                 PGS | 0.00 | 0.00 | 0.00 | 0.00 | 0.00 | |
| Steve & Misty Webb | 0.00 | 0.00 | 0.00 | 0.00 | 0.00 | |