Next Roanoke Rapids Lake CATT is April 24 at the 5th Street Landing! The bite is on!
Don't forget guy, by entering 2 CATT events you have qualified to enter the 2022 CATT Academy Championship on Kerr! We usually have at least 185 teams enter! 1st Place is a minimum of $10,000.00!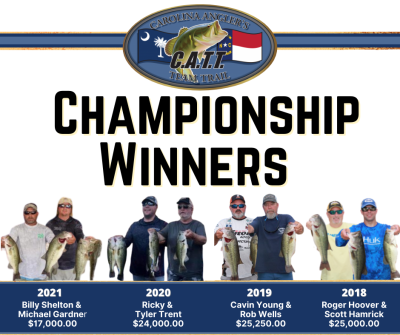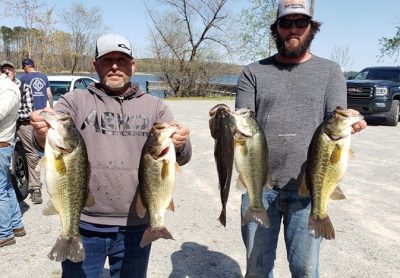 The Roanoke Rapids Lake is showing out! 3 bags over 24 lbs were brought in! Joey & Michael Scott brought in the top 24 lb bag with 5 bass weighing 24.74 lbs! They took home $983.00!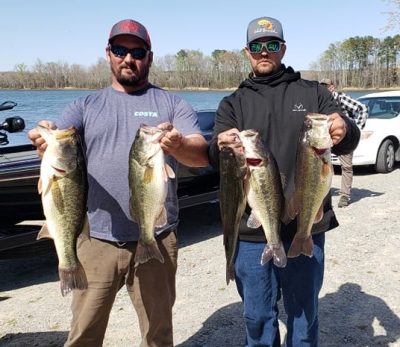 Cory Byrum & Jesse Medlin took 2nd with 24.26 lbs!
Brad Webb & Matt Holt earned 3rd with 24.10 lbs!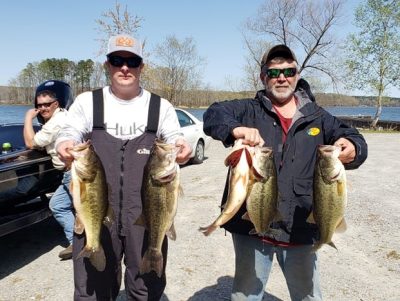 4th went to Robby Butler & Michael Midgett with 23.15 lbs!

| | | | | |
| --- | --- | --- | --- | --- |
| Team | BF | Weight | Winnings | Points |
| Joey Scott Michael Scott | 6.09 | 24.74 | $983.00 | 110 |
| Cory Byrum Jesse Medlin | 5.87 | 24.26 | $580.00 | 109 |
| Brad Webb Matt Holt | 6.59 | 24.10 | $397.00 | 108 |
| Robby Butler Michael Midgett | 6.01 | 23.15 | $100.00 | 107 |
| Jake Murdock John Murdock | 0.00 | 22.54 | | 106 |
| Justin Miles Alex Barnes | 0.00 | 22.53 | | 105 |
| Scott Golden Danny Smith | 5.61 | 20.07 | | 104 |
| Bryan Edwards Kent Edwards | 5.77 | 19.68 | | 103 |
| Dennis Bradley Allen Mitchell | 0.00 | 18.66 | | 102 |
| Chris Bishop Clifton Ricks | 0.00 | 18.27 | | 101 |
| Caleb Horn Wesley Bennett | 0.00 | 17.47 | | 100 |
| Tyler Dix Carl Enos | 0.00 | 17.43 | | 99 |
| Michael Taylor Michael Allen | 5.63 | 17.15 | | 98 |
| Houston Cash Chase Davis | 0.00 | 16.80 | | 97 |
| Bryce Henley Nate Kilgore | 0.00 | 16.78 | | 96 |
| Ryan Harrell Carter Harrell | 0.00 | 16.41 | | 95 |
| Jay Wright Mikey Anderson | 0.00 | 13.52 | | 94 |
| Jay Allen Scott Griffin | 0.00 | 0.00 | | 84 |
| Cedric Jarrell Mary Jarrell | 0.00 | 0.00 | | 84 |
| Artie Jones Anthony Jones | 0.00 | 0.00 | | 84 |
| Michael Hobbs Larry Hobbs | 0.00 | 0.00 | | 84 |
| Total Entrys | | | $1,680.00 | |
| BONUS $ | | | $800.00 | |
| Total Paid At Ramp | | | $2,060.00 | |
| 2022 Roanoke Rapids Spring Final Fund | | | $320.00 | |
| 2022 CATT Championship Fund | | | $50.00 | |
| 2022 Roanoke Rapids  Spring Final Fund Total | | | $320.00 | |