Next Roanoke River CATT is June 12! This the last Spring Qualifier and last chance to make the Final!
**NO NEW SUBS AT FINAL & NO PAIRING UP AT FINAL WITH ANOTHER MEMBER**
Must fish Final with your partner or a sub your team used.
Enter 1 Roanoke Rapids Spring Qualifiers and you're eligible to enter the Roanoke Rapids Spring Final!
Safe Daylight – 3 pm
$35 per Person Spring Membership
All Roanoke Rapids Qualifiers are $80 Entry – $90 at the Ramp
Roanoke Rapids Final $140 Entry – $150 at Ramp
Optional $50 side pot at each event!
Point Winners Fish Final Free!
Plaques awarded to Final and Point Winners!
Lews/Strike King $100 Gift Card awarded at Final!
1st Place Matt Bradley & Michael Cullum with 5 bass weighing 20.78 lbs!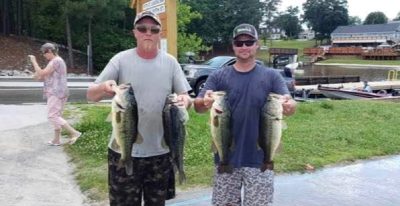 2nd Place Dennis Bradley & Allen Mitchell with 20.66 lbs!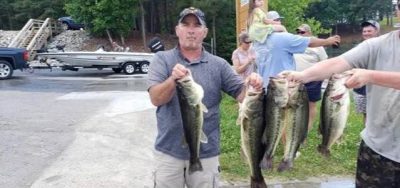 3rd went to Robby Butler & Michael Midgett with 17.01 lbs!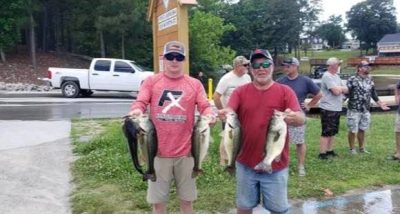 Jake & John Murdock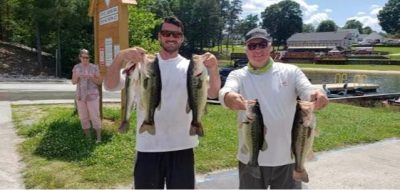 Houston Cash & Chase Davis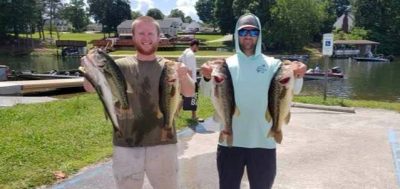 | | | | | |
| --- | --- | --- | --- | --- |
| Team | BF | Weight | Winnings | Points |
| Matt Bradley Michael Cullom | 4.52 | 20.78 | $720.00 | 110 |
| Dennis Bradley Allen Mitchell | 5.86 | 20.66 | $305.00 | 109 |
| Robby Butler Michael Midgett | 0.00 | 17.01 | $260.00 | 108 |
| Caleb Horn | 4.50 | 16.78 | | 107 |
| Jake Murdock John Murdock | 4.18 | 16.46 | | 106 |
| Houston Cash Chase Davis | 4.38 | 16.44 | | 105 |
| Justin Miles Alex Barnes | 0.00 | 15.62 | | 104 |
| Scott Golden Danny Smith | 0.00 | 15.20 | | 103 |
| Michael Hobbs Larry Hobbs | 4.58 | 13.28 | $45.00 | 102 |
| Thomas Webb Dan Garner | 0.00 | 12.94 | | 101 |
| Nathaniel Kilgore Bryce Henley | 0.00 | 12.58 | | 100 |
| Shane Pembleton Mack Taylor | 0.00 | 10.10 | | 99 |
| Cory Byrum Jesse Medlin | 0.00 | 7.02 | | 98 |
| Ryan Harrell Carter Harrell | 0.00 | 0.00 | | 88 |
| Shane Doughtie Evan White | 0.00 | 0.00 | | 88 |
| Total Entrys | | | $1,200.00 | |
| BONUS $ | | | $450.00 | |
| Total Paid At Ramp | | | $1,330.00 | |
| 2022 Roanoke Rapids Spring Final Fund | | | $220.00 | |
| 2022 CATT Championship Fund | | | $50.00 | |
| 2022 Roanoke Rapids  Spring Final Fund Total | | | $860.00 | |