We had 48 teams enter the 1st 2018 Santee Cooper CATT Qualifier and they were greeted with a ton of fog that hung around for hours! The fog delay no doubt keep the weights low for Santee but the bass are chomping down there! Next Santee Cooper CATT is this coming Saturday Feb 17th at John C and is a regular CATT Qualifier!
1st Place in the points at the end of the Santee Cooper Qualifiers takes home $500.00 sponsored by Carolina Frame Post!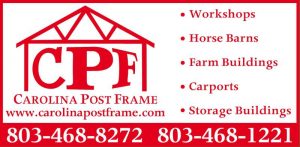 You can also visit them on Facebook!
Mark Hutson & Gary Elsey took 1st with a 5 bass limit weighing 22.91 lbs and they weighed in the 2nd BF at 7.08 lbs! Kick in the BONUS $ and they took home $1,984.00!
2nd went to Brian Scott & Brad Beatson with 5 bass weighing 19.50 lbs and they collected $500.00!
Freddie Gamble & Quionne York finished 3rd with a limit weighing 18.49 lbs and took home $400.00!
Lonnie Jones & Johnny Buck claimed 4th with 18.16 lbs and earned $275.00!
Eric Bozeman & Max Shuman took 5th with 18.06 lbs worth $175.00! 1st BF went to J Weinberg & Morgan Strange with a 7.83 lb bass and thy received $336.00!
There's your top 5 and your BF winner! Come Jon us next Saturday!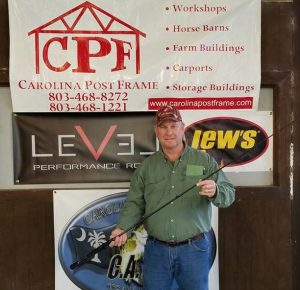 www.levelrods.com
Eric Bozeman took home a Level Performance Rod valued at $200.00!
| | | | | |
| --- | --- | --- | --- | --- |
|   | Big | Total |   |   |
| Team | Fish | Weight | Winnings | Points |
| Mark Hutson – Gary Elsey   BONUS $ & 2nd BF | 7.08 | 22.91 | $1,984.00 | 110 |
| Brian Scott- Brad Beatson | 6.47 | 19.50 | $500.00 | 109 |
| Freddie Gamble –  Quionne York | 5.08 | 18.49 | $400.00 | 108 |
| Lonnie Jones – Johnny Buck | 0.00 | 18.16 | $275.00 | 107 |
| Eric Bozeman – Max Shuman  LEVEL ROD WINNER | 0.00 | 18.06 | $175.00 | 106 |
| Sid Fowler – Todd Smith | 5.54 | 15.74 | $130.00 | 105 |
| Lex Costas – Xan Costas | 4.28 | 15.51 | $120.00 | 104 |
| David Gause – Travis Gause | 4.36 | 15.39 | $115.00 | 103 |
| Brent Waynick – Emment McCauley | 4.98 | 15.32 | $90.00 | 102 |
| Jason Smith – Steve Blankenship | 0.00 | 15.21 | | 101 |
| Tim Hilton – Bucky Clarke | 0.00 | 15.18 | | 100 |
| Dave Murdock – Paul Geddings | 0.00 | 14.96 | | 99 |
| Calton Thompkins – Joel Barfield | 3.14 | 14.91 | | 98 |
| Bubba Johnston – Freddy Edmunds | 3.86 | 14.48 | | 97 |
| Todd Walters – Patrick Walters | 0.00 | 14.26 | | 96 |
| Larry Avins – Joe Avin | 3.81 | 13.84 | | 95 |
| Perry Holloway – Danny Lowery | 0.00 | 13.29 | | 94 |
| Justin Cromer – Taylor Brunson | 0.00 | 13.27 | | 93 |
| Ethan Floyd – Jay Morris | 0.00 | 12.88 | | 92 |
| Keith Shelton – Dennis Shelton | 0.00 | 12.64 | | 91 |
| Rick McLean – Cory Allsbrook | 4.64 | 12.31 | | 90 |
| Elvis Peagler – Brian Peagler | 0.00 | 11.51 | | 89 |
| Randall Miller – Mack Altman | 3.11 | 10.88 | | 88 |
| Ted Urquhart – John Ford | 0.00 | 10.82 | | 87 |
| Clint Postell | 0.00 | 9.58 | | 86 |
| J Weinberg – Morgan Strange   1st BF | 7.83 | 9.54 | $336.00 | 85 |
| John Gardenhire – Mike King | 0.00 | 7.65 | | 84 |
| Robert Clarke | 0.00 | 7.57 | | 83 |
| Tim Chadwick – Mark Cook | 3.12 | 7.20 | | 82 |
| Horace Scott – Horace Scott Jr | 0.00 | 5.01 | | 81 |
| Jamie Partee – Walker Partee | 0.00 | 4.35 | | 80 |
| Cody Brunson – Bugsy Terry | 0.00 | 4.06 | | 79 |
| Kyle Howard – Josh Wilson | 0.00 | 1.87 | | 78 |
| Hugh McCutchen – Jamie Blackburn | 0.00 | 0.00 | | 77 |
| David Benenhaley – Michael Cox | 0.00 | 0.00 | | 77 |
| Wesley Williamson – Nick Gant | 0.00 | 0.00 | | 77 |
| Patrick Williams | 0.00 | 0.00 | | 77 |
| Todd Olds – Ray Walsh | 0.00 | 0.00 | | 77 |
| Brett Mitchell – Jerry Montjoy | 0.00 | 0.00 | | 77 |
| Bo Chappell – Steve Cohen | 0.00 | 0.00 | | 77 |
| Bucky Deberry – Chris Scott | 0.00 | 0.00 | | 77 |
| Nelson Walker | 0.00 | 0.00 | | 77 |
| Ray Winans – Cecil Wolfe | 0.00 | 0.00 | | 77 |
| Marc Deshenes – Brandon Riley | 0.00 | 0.00 | | 77 |
| Craig Hall – Bandon Evans | 0.00 | 0.00 | | 77 |
| Jason Morse – Zeke Lynam | 0.00 | 0.00 | | 77 |
| Rodney Jordan | 0.00 | 0.00 | | 77 |
| Alan Fletcher – Donald Hinson | 0.00 | 0.00 | | 77 |
| Total Entrys | | | $3,840.00 | |
| BONUS $ | | | $840.00 | |
| Total Paid At Ramp | | | $4,125.00 | |
| Santee Cooper 2018 Spring Final Fund | | | $505.00 | |
| 2018 CATT Championship Fund | | | $50.00 | |
| | | | | |
| 2018 Santee Cooper Spring Final Fund Total | | | $505.00 | |
| 2018 CATT Championship Fund Total | | | $2,455.00 | |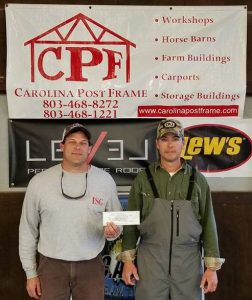 2nd Place Brian Scott & Brad Beatson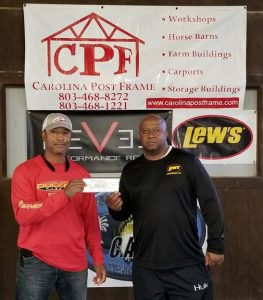 3rd Place Freddie Gamble & Quionne York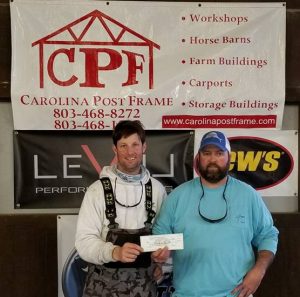 4th Lonnie Jones & Johny Buck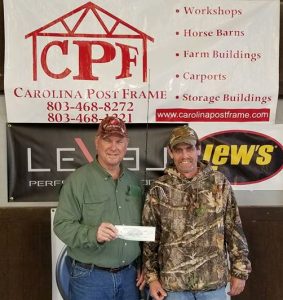 5th Eric Bozeman & Max Shuman