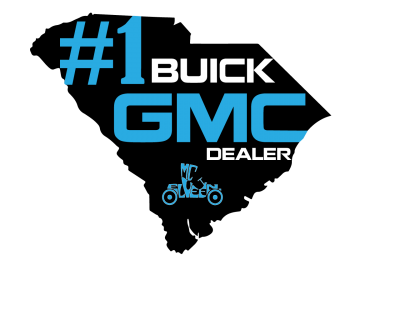 Check out McElveen Buick GMC in Summerville!
Next Santee CATT is March 23 at John C Land and is a GOLD event!
CBC is next week at Santee Cooper  guys and some of these teams are ready! James & Fred Clements weighed in 5 big uns at 28.95 lbs!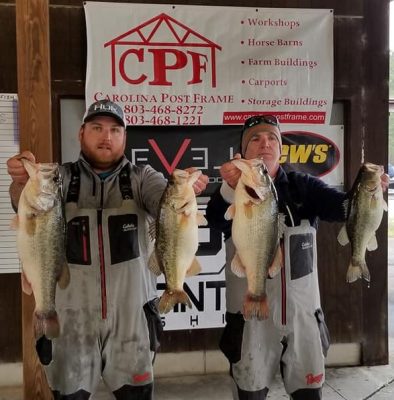 2nd went to Brian Scott & Brad Beatson with 23.29 lbs!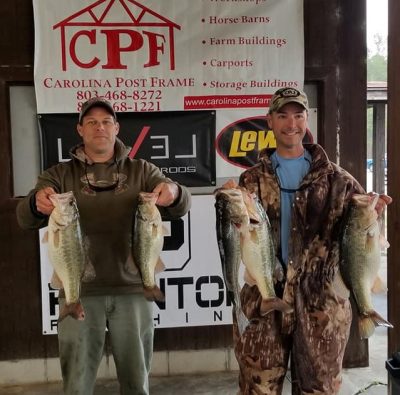 Will Timmons & Rodney Jordan with some fat ones!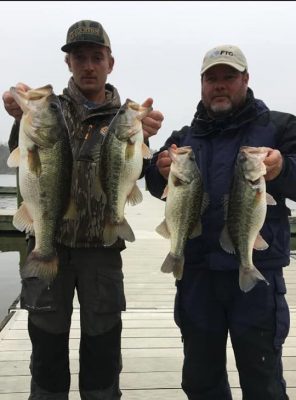 | | | | | |
| --- | --- | --- | --- | --- |
| | Big | Total | Total | |
| 35 Teams | Fish | Weight | Winnings | Points |
| James Clements – Fred Clements | 9.14/7.71 | 28.95 | $2,450.00 | 110 |
| Brian Scott-Brad Beatson | 5.13 | 23.29 | $700.00 | 109 |
| Ryan Thompson | 5.27 | 18.58 | $400.00 | 108 |
| Tommy Williams – Thomas Hardwick | 4.29 | 18.20 | $300.00 | 107 |
| Ed Paul – Eddie Paul | 0.00 | 16.78 | $220.00 | 106 |
| Ken Ellis – Chuck Howard | 0.00 | 16.74 | $150.00 | 105 |
| Rodney Jordan – Will Timmons | 6.95 | 16.64 | $120.00 | 104 |
| Mario & Reid Colangelo | 5.77 | 14.16 | | 103 |
| Elvis-Brian Peagler | 0.00 | 13.63 | | 102 |
| Josh Brogden – Davy Goodman | 0.00 | 13.33 | | 101 |
| Max Terry – Emmett McCauley | 6.61 | 12.81 | | 100 |
| Don Pendavis-Bobby Gibbs | 0.00 | 12.72 | | 99 |
| Bryan Miller – Austin Miller | 0.00 | 11.81 | | 98 |
| Sean Skee – Scott Frye | 4.71 | 11.18 | | 97 |
| Bruce Andrews – Mitchell Gordon | 4.64 | 10.51 | | 96 |
| Winston Martin – Neal Martin | 5.49 | 9.90 | | 95 |
| Larry Avins – Joe Avin | 6.31 | 9.90 | | 94 |
| Steve Borton-Tristen Rodgers | 3.18 | 9.59 | | 93 |
| Buddy Holms | 0.00 | 9.20 | | 92 |
| Horace Scott Sr -Horace Scott Jr. | 0.00 | 7.45 | | 91 |
| Mike King – Chris Crawford | 0.00 | 6.74 | | 90 |
| Chad Crosby – Steve Crosby | 5.31 | 5.31 | | 89 |
| Billy McInstosh – Rick McLean | 0.00 | 4.99 | | 88 |
| John Wilson-Cody Armstrong | 2.82 | 2.82 | | 87 |
| Sean Lewis | 0.00 | 0.00 | | 86 |
| Dave Murdock-Justin Wood | 0.00 | 0.00 | | 86 |
| Patrick Williams | 0.00 | 0.00 | | 86 |
| Bryson McCord – Ben Cox | 0.00 | 0.00 | | 86 |
| Casey Warren – Dalton Warren | 0.00 | 0.00 | | 86 |
| Donnie McCord – Shawn Collins | 0.00 | 0.00 | | 86 |
| Carlton Tompkins-Joel Barfield | 0.00 | 0.00 | | 86 |
| Bryce Mathews – Lin Coker | 0.00 | 0.00 | | 86 |
| Brandon Evans – Morgan Strange | 0.00 | 0.00 | | 86 |
| Daniel Howell | 0.00 | 0.00 | | 86 |
| Marc Deschennes – Christy Meolin | 0.00 | 0.00 | | 86 |
| Total Entrys | | | $4,200.00 | |
| BONUS $ | | | $650.00 | |
| Total Paid At Ramp | | | $4,340.00 | |
| Santee Cooper 2019 Spring Final Fund | | | $400.00 | |
| 2019 CATT Championship Fund | | | $80.00 | |
| 2019 Santee Cooper Spring Final Fund Total | | | $1,360.00 | |
| 2019 CATT Championship Fund Total | | | $3,090.00 | |