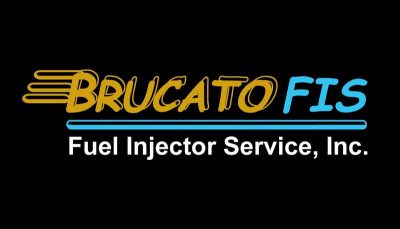 Fuel Injection Cleaning& Calibration! Click on the Logo!
Next Santee Cooper CATT is Feb 16th at John C Land!
The fishing is great at Santee Cooper and will only get better in the next couple of months! Come on down! ya never know how big she will be when you feel that tug!
Brian Scott & Brad Beatson win with 27.39 lbs and weigh the BF at 7.91 lbs! $1,164.00!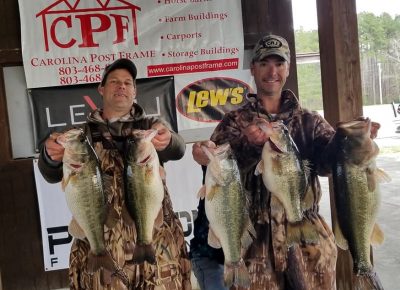 2nd Place Gary Elsey & Mark Hutson 26.25 lbs!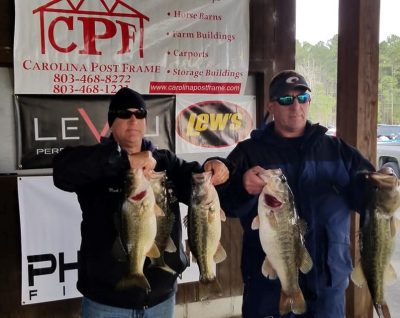 3rd Alex Dempsey with 26.13 lbs!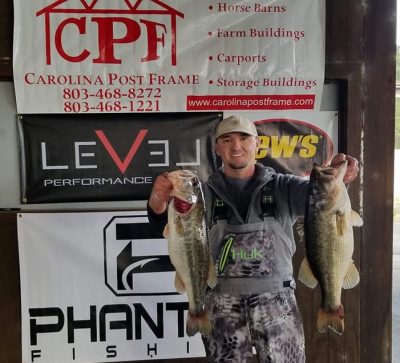 Robert Clarke 4th with 24.07 lbs!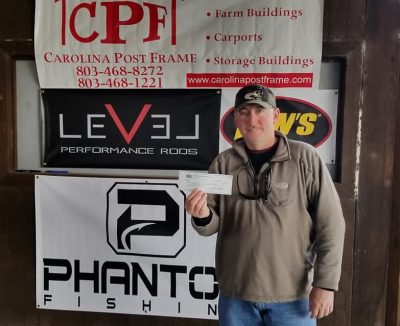 Davy Goodman & Joshua Brogden 5th Place 22.85 lbs!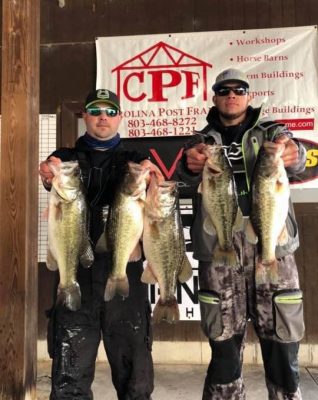 Patrick Williams with a 7 pounder!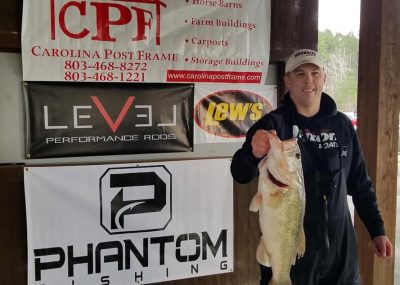 Brian Peagler & Elvis Peagler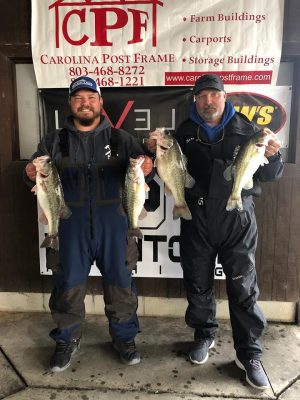 | | | | | |
| --- | --- | --- | --- | --- |
| | Big | Total | Total | |
| 27 Teams | Fish | Weight | Winnings | Points |
| Brian Scott – Brad Beatson | 7.91 | 27.39 | $1,164.00 | 110 |
| Gary Elsey – Mark Hutson | 7.60 | 26.25 | $431.00 | 109 |
| Alex Dempsey | 7.38 | 26.13 | $225.00 | 108 |
| Robert Clarke | 6.06 | 24.07 | $125.00 | 107 |
| Joshua Brogden – Davy Goodman | 0.00 | 22.85 | $100.00 | 106 |
| Bucky DeBerry | 6.58 | 20.52 | | 105 |
| Chris Scott – Michael Barkley | 5.94 | 19.99 | | 104 |
| Billy McIntosh – Rick McLean | 7.91 | 19.87 | | 103 |
| Patrick Williams | 7.49 | 19.83 | | 102 |
| Don Pendarvis – Bobby Gibbs | 5.69 | 18.62 | | 101 |
| Horace Scott – Justin Cromer | 6.27 | 17.72 | | 100 |
| Elvis Peagler – Brian Peagler | 4.74 | 16.16 | | 99 |
| Casey Warren – Nick Gant | 0.00 | 15.30 | | 98 |
| John Wilson – Cody Armstrong | 0.00 | 14.85 | | 97 |
| Randall Miller – Mac Altman | 5.96 | 14.76 | | 96 |
| James Gibbons – Bucky Black | 0.00 | 14.48 | | 95 |
| Cody Brusnon – Chris Dowey | 5.47 | 14.30 | | 94 |
| Brett Mitchell | 0.00 | 13.83 | | 93 |
| Wesley Bilton – Cary Bilton | 0.00 | 13.41 | | 92 |
| John Miller – John Miller II | 0.00 | 11.86 | | 91 |
| Denny Stacey – Fisher Hartman | 0.00 | 8.03 | | 90 |
| Max Terry – Emmett McCauley | 0.00 | 6.19 | | 89 |
| Bo Chappell | 4.88 | 4.88 | | 88 |
| Sean Lewis – Kevin Kane | 0.00 | 0.00 | | 87 |
| Jamie Partee – Donnie McCord | 0.00 | 0.00 | | 87 |
| Van Smith – Jason Smith | 0.00 | 0.00 | | 87 |
| David Waldrop – Nick McPherson | 0.00 | 0.00 | | 87 |
| Total Entrys | | | $2,160.00 | |
| BONUS $ | | | $425.00 | |
| Total Paid At Ramp | | | $2,045.00 | |
| Santee Cooper 2019 Spring Final Fund | | | $460.00 | |
| 2019 CATT Championship Fund | | | $50.00 | |
| 2019 Santee Cooper Spring Final Fund Total | | | $460.00 | |
| 2019 CATT Championship Fund Total | | | $2,705.00 | |