Santee Cooper is on fire right now! A 20 lb bag wouldn't get you in the Top 10 this past Saturday! Next Santee Cooper CATT is April 28th and is a GOLD!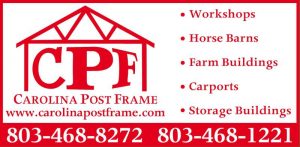 Follow CPF on Facebook
$500 to the Santee Cooper Spring Point Winners Sponsored by Carolina Post Frame!
$250 Treeshaker Gift Certificate to the heaviest bag weighed at the Santee Cooper Spring Trail!

Daniel Howell brought in a super heavy bag of Santee Cooper bass weighing 33.31 lbs! Daniel also weighed the 2nd BF at 8.71 lbs and took home a total of $2,704.00! That total included the BONUS $!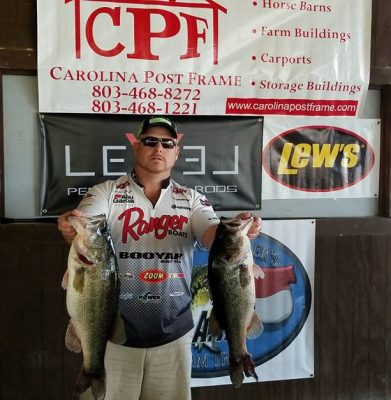 2nd Place went to Freddie & Clark Gibbs with 5 bass weighing 29.25 lbs and they took home $870.00!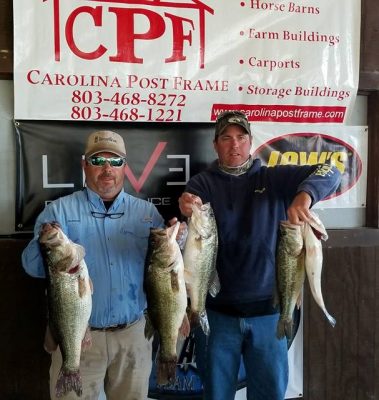 Hugh McCutchen & Jamie Blackburn weighed in the 3rd heaviest limit at 26.87 lbs anchored by a 9.40 lb Giant Santee Cooper bass! Hugh & Jamie took home $906.00! They also received an Academy Gift Card!
Larry Avin & Joe Avins 4th Place 25.85 lbs  $450.00!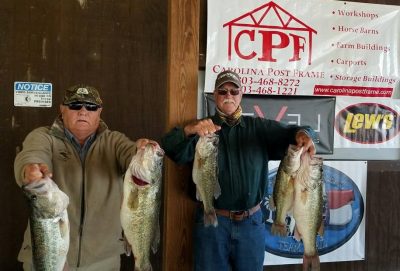 Patrick & Todd Walters   25.61 lbs!  325.00!
There's your top 5! More Pics at the bottom of the results!
| | | | | |
| --- | --- | --- | --- | --- |
| 48 Teams | Big | Total | Total |   |
| Team | Fish | Weight | Winnings | Points |
| Daniel Howell   BONUS $ & 2nd BF | 8.71 | 33.31 | $2,704.00 | 110 |
| Freddie Gibbs – Clark Gibbs | 7.89 | 29.25 | $870.00 | 109 |
| Hugh McCutchen – Jamie Blackburn   1st BF | 9.40 | 26.87 | $906.00 | 108 |
| Larry Avin – Joe Avins | 6.62 | 25.85 | $450.00 | 107 |
| Todd Walters – Patrick Walters | 0.00 | 25.61 | $325.00 | 106 |
| Mark Hutson – Gary Elsey | 7.29 | 23.10 | $240.00 | 105 |
| Mario Colangelo – Reid Colangelo | 7.37 | 21.59 | $200.00 | 104 |
| TJ Anderson – Shai Haley | 6.50 | 21.56 | $150.00 | 103 |
| Bryan Cook – Steve Harmon | 0.00 | 21.53 | $130.00 | 102 |
| Danny Lowery – Avery Lowery | 7.71 | 21.36 | | 101 |
| Thomas Edmunds – Sean Skey | 5.66 | 21.20 | | 100 |
| Brent Waynick – Emment McCauley | 5.13 | 21.16 | | 99 |
| Brent Sitton – Craig Caloca | 0.00 | 21.01 | | 98 |
| Chuck Howard – Ken Ellis | 4.74 | 20.03 | | 97 |
| Greg Prescott – JJ Sapp | 4.36 | 19.87 | | 96 |
| Henry McFadden – Chris Hawkins | 0.00 | 19.84 | | 95 |
| Justin Marlow – Wes Brunson | 5.09 | 19.41 | | 94 |
| Brad Swartz – Bryan Miller | 4.42 | 19.19 | | 93 |
| Brett Mitchell – Jerry Montjoy | 5.74 | 18.89 | | 92 |
| Patrick Williams | 0.00 | 18.67 | | 91 |
| Jonathan Brindle – David Grooms | 0.00 | 18.49 | | 90 |
| Bunn Tyson – Thad Driggers | 5.84 | 17.84 | | 89 |
| Johnny Player – John Gardenhire | 4.95 | 17.70 | | 88 |
| Justin Cromer – Taylor Brunson | 0.00 | 16.73 | | 87 |
| j Weinberg – Morgan Strange | 5.99 | 16.60 | | 86 |
| Mack Altman – Randall Miller | 0.00 | 16.22 | | 85 |
| Horace Scott Sr. – Horae Scott Jr. | 0.00 | 15.98 | | 84 |
| Brandon Evans  – Eugene Kasinski | 5.49 | 15.80 | | 83 |
| Hunter Hoffmeyer – Thomas Hoffmeyer | 0.00 | 15.66 | | 82 |
| Jason Smith – Steve Blankinship | 0.00 | 14.57 | | 81 |
| Max Terry | 0.00 | 14.47 | | 80 |
| Eric Bozeman – Max Shuman | 4.29 | 14.12 | | 79 |
| Ted Urquhart – John Ford | 4.23 | 12.62 | | 78 |
| Ron Brown – Robert Brown | 0.00 | 12.54 | | 77 |
| David Murdaugh – Joe Fennel | 0.00 | 11.92 | | 76 |
| Allen Williams – Cecil Wolfe | 8.00 | 11.33 | | 75 |
| Cody Brunson – Braydon Scott | 0.00 | 9.97 | | 74 |
| Kyle Austin – Jimmy Austin | 0.00 | 9.35 | | 73 |
| Curt Causey – Ronnie Trotter | 0.00 | 5.98 | | 72 |
| David Benenhaley – Michael Cox | 0.00 | 0.00 | | 71 |
| Jamie Partee – Ken Keels | 0.00 | 0.00 | | 71 |
| Wendell Causey – Jay House | 0.00 | 0.00 | | 71 |
| Brian Tyler – Dennis Thompson | 0.00 | 0.00 | | 71 |
| Zeke Lynum – Jason Morse | 0.00 | 0.00 | | 71 |
| Tripp Poplin – Jarred Thompson | 0.00 | 0.00 | | 71 |
| Dave Murdock – Steve Borton | 0.00 | 0.00 | | 71 |
| Mike Watson – Craig McFadden | 0.00 | 0.00 | | 71 |
| Michael C – Brian M | 0.00 | 0.00 | | 71 |
| Total Entrys |   |   | $5,760.00 |   |
| BONUS $ |   |   | $800.00 |   |
| Total Paid At Ramp |   |   | $5,975.00 |   |
| Santee Cooper 2018 Spring Final Fund |   |   | $500.00 |   |
| 2018 CATT Championship Fund |   |   | $85.00 |   |
|   |   |   |   |   |
| 2018 Santee Cooper Spring Final Fund Total |   |   | $2,490.00 |   |
| 2018 CATT Championship Fund Total |   |   | $3,810.00 |   |