Guys, we've had another huge Spring on Santee Cooper!
We have the May 12th Santee Cooper Spring Final left! This coming weekend at John C Land ! We have 139 teams eligible to enter! Remembers you only had to enter 1 Santee Qualifier to be eligible for the Santee Final! Derrick is planning a Summer and a Fall Trail and I'll have the schedules posted soon!
Carolina Post Frame is awarding the 2018 CATT Santee Cooper Spring Point Winners $500.00! Support them guys as they are supporting us! Gary Elsey & Mark Hutson are our 2018 CATT Santee Cooper Spring Trail Point winners and they will earn the $500 Carolina Post Frame cash award! Great Job guys!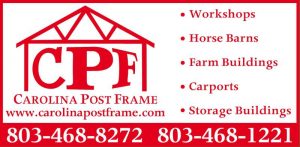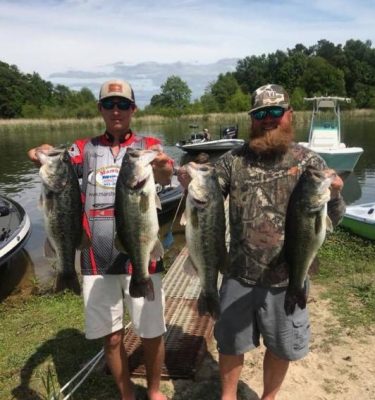 Cole Drummond & Danny Shanz take the win this past Saturday at Blacks Camp with 5 bass weighing 29.05 lbs and took home $1,680.00!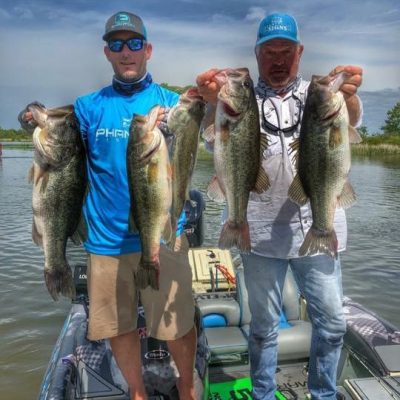 2nd went to Brandon Riley & Marc Deschenes with a limit weighing 25.78 lbs and they also took home the BONUS $! All total they received $1,525.00!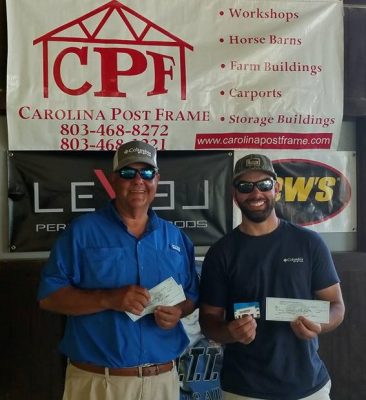 Lex Costas & Xan Costas took home the 1st Academy BF money with a 7.95 lbs bass! They collected a total of $308.00 and an Academy Gift card!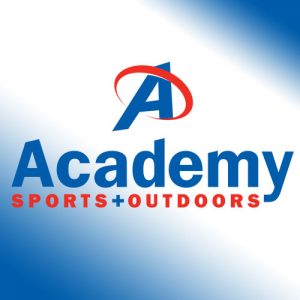 | | | | | |
| --- | --- | --- | --- | --- |
|  42 Teams | Big | Total |   |   |
| Team | Fish | Weight | Winnings | Points |
| Cole Drummond – Danny Shanz | 6.88 | 29.05 | $1,680.00 | 220 |
| Brandon Riley – Marc Deschenes   BONUS $ | 6.99 | 25.78 | $1,525.00 | 218 |
| Bryan Cook – Steve Harmon | 6.15 | 21.46 | $525.00 | 216 |
| Freddie Gibbs – Clark Gibbs | 6.85 | 20.33 | $400.00 | 214 |
| Lex Costas – Xan Costas   1st BF | 7.95 | 19.18 | $308.00 | 212 |
| Chad Cook – Allen Williams | 5.56 | 20.08 | $300.00 | 210 |
| Ray Walsh – Wayne Frierson | 6.08 | 19.80 | $225.00 | 208 |
| Brent Waynick – Emment McCauley | 5.39 | 19.37 | $180.00 | 206 |
| Mark Hutson – Gary Elsey | 6.14 | 19.35 | $140.00 | 204 |
| Jesse Williams – Ryan Steen    2nd BF | 7.49 | 18.86 | $132.00 | 202 |
| Sid Fowler – Todd Smith | 0.00 | 19.10 | | 200 |
| Robert Clarke – Lonnie Jones | 0.00 | 18.93 | | 198 |
| Wade Grooms | 0.00 | 18.91 | | 196 |
| Chuck Howard – Ken Ellis | 4.78 | 18.75 | | 194 |
| Mike Watson – Craig McFadden | 5.34 | 18.58 | | 192 |
| Ryan Bowles – Jason Barrett | 0.00 | 18.37 | | 190 |
| Horace Scott – Horace Scott Jr | 4.60 | 18.14 | | 188 |
| Randall Miller – Mac Altman | 0.00 | 17.95 | | 186 |
| David Benenhaley – Michael Cox | 0.00 | 16.63 | | 184 |
| Johnny Player – John Gardenhire | 0.00 | 15.66 | | 182 |
| Brett Mitchell – Jerry Montjoy | 0.00 | 14.47 | | 180 |
| Elvis Peagler – Brian Peagler | 0.00 | 14.42 | | 178 |
| Ed Paul – Eddie Paul | 0.00 | 14.29 | | 176 |
| Shai Haley – TJ Anderson | 0.00 | 13.70 | | 174 |
| Jamie Glasscock | 6.50 | 13.52 | | 172 |
| Ted Urquhart – John Ford | 5.53 | 12.48 | | 170 |
| Max Terry – Bugzy Terry | 0.00 | 11.88 | | 168 |
| Perry Holloway – Cash Holloway | 0.00 | 9.41 | | 166 |
| Ron Brown – Buddy Robertson | 0.00 | 9.32 | | 164 |
| Hugh McCutchen – Jamie Blackburn | 0.00 | 0.00 | | 162 |
| Brad Swartz – Brad Miller | 0.00 | 0.00 | | 162 |
| Todd Olds – jason Riley | 0.00 | 0.00 | | 162 |
| Mark Curry – Glenn Curry | 0.00 | 0.00 | | 162 |
| Winkey Watford – Scott Mixon | 0.00 | 0.00 | | 162 |
| Randall Drew – Brett Fields | 0.00 | 0.00 | | 162 |
| Mitch Drew – Kenny Drew | 0.00 | 0.00 | | 162 |
| Cooper Hopkins | 0.00 | 0.00 | | 162 |
| Donnie McCord – Sean Collins | 0.00 | 0.00 | | 162 |
| Jason Miles – Andy Rutledge | 0.00 | 0.00 | | 162 |
| Hunter Hoffmeyer – Thomas Hoffmeyer | 0.00 | 0.00 | | 162 |
| Jason Morse – Calton Holloway | 0.00 | 0.00 | | 162 |
| Danny Lowery – Ava Lowery | 0.00 | 0.00 | | 162 |
| Total Entrys |   |   | $5,040.00 |   |
| BONUS $ |   |   | $700.00 |   |
| Total Paid At Ramp |   |   | $5,415.00 |   |
| Santee Cooper 2018 Spring Final Fund |   |   | $325.00 |   |
| 2018 CATT Championship Fund |   |   | $25.00 |   |
|   |   |   |   |   |
| 2018 Santee Cooper Spring Final Fund Total |   |   | $3,265.00 |   |
| 2018 CATT Championship Fund Total |   |   | $4,430.00 |   |