We've almost wrapped up the 2019 Santee Cooper Spring Season and it's been another good one! The Santee Cooper Spring Final is next Saturday at John C Land and with 112 teams eligible to enter it's going to be a good one! If only 75 teams enter the Santee Cooper Final entry fee total will be $10,900.00 and with the Santee Cooper Final Fund added in we will be fishing for over $13,000.00! Let's do it!
Max Terry & Emment McCauley weighed in 26.50 lbs and took home $13,000.00 this past Saturday at John C Land!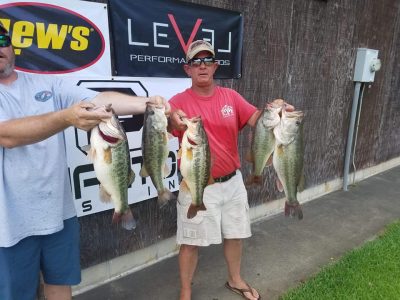 2nd Place Randall Miller & Mack Altman 21.08 lbs!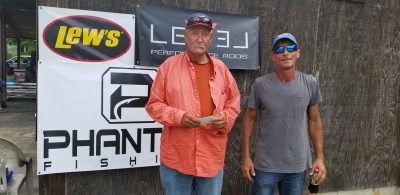 Mike Watson & Craig McFadden 3rd with 20.52 lbs!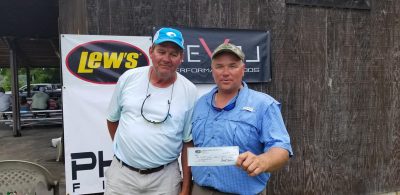 Elvis & Brian Peagler 4th with 20.14 lbs and also they win the Spring Santee Points! They will enter the Spring Final Free and blast off #1!
They also take home $500 for winning the Points sponsored by Carolina Post Frame!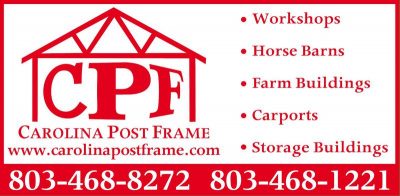 Danny Lowery & Perry Holloway 5th 19.62 lbs!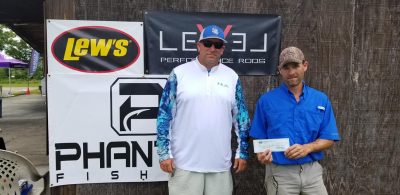 Ken Ellis & Chuck Howard 6th 19.45 lbs!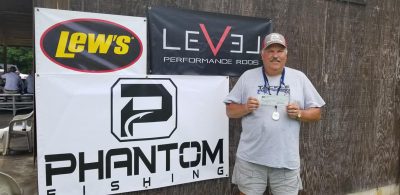 Kevin Pierce & Neil Miles 2nd BF 7.42 lbs!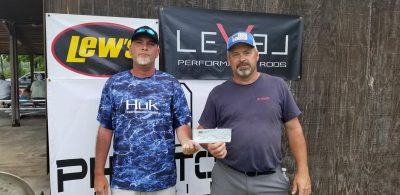 Lex Costas & Xan Costas 1st Bf 7.48 lbs!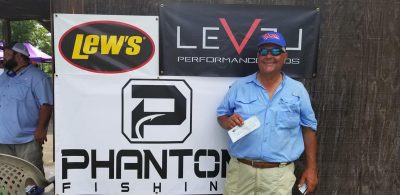 | | | | | |
| --- | --- | --- | --- | --- |
| | Big | Total | Total | |
| 31 Teams | Fish | Weight | Winnings | Points |
| Max Terry – Emmett McCauley | 6.76 | 26.50 | $1,300.00 | 110 |
| Mac Altman – Randall Miller | 5.68 | 21.08 | $360.00 | 109 |
| Mike Watson – Craig McFadden | 5.23 | 20.52 | $260.00 | 108 |
| Elvis-Brian Peagler | 5.56 | 20.14 | $140.00 | 107 |
| Danny Lowery – Perry Hollway | 5.25 | 19.62 | $110.00 | 106 |
| Ken Ellis – Chuck Howard | 0.00 | 19.45 | $100.00 | 105 |
| Kevin Pierce -Neil Miles | 7.42 | 18.59 | $93.00 | 104 |
| Jamie Glasscock – Jim Smoak | 0.00 | 17.64 | | 103 |
| Freddie Gamble – Latonya Blanding | 4.94 | 17.63 | | 102 |
| Lex Costas – Xan Costas | 7.48 | 17.53 | $217.00 | 101 |
| Sam Hopkins – Craig Mathews | 4.51 | 16.87 | | 100 |
| Patrick Williams | 5.10 | 15.71 | | 99 |
| Patrick Cook – Jordan Cook | 0.00 | 13.95 | | 98 |
| Joe Avin – Larry Avins | 4.21 | 13.46 | | 97 |
| Keith Britt – Jerry Montjoy | 0.00 | 13.45 | | 96 |
| Thad Driggers – Steven Walker | 3.09 | 12.57 | | 95 |
| Mario Colangelo | 4.46 | 12.51 | | 94 |
| Billy McIntosh – Rick McLean | 0.00 | 9.03 | | 93 |
| Hunter Hoffmyer – Thomas Hoffmyer | 6.64 | 6.64 | | 92 |
| Steve Borton – Triston Rodgers | 0.00 | 2.61 | | 91 |
| Grayson Cook – River Altman | 0.00 | 0.00 | | 90 |
| Greg Walker – Ben Cox | 0.00 | 0.00 | | 90 |
| Dalton Hughes – Rudy Williams | 0.00 | 0.00 | | 90 |
| Freddie Gibbs – Clark Gibbs | 0.00 | 0.00 | | 90 |
| Jamie Blackburn – High McCutchen | 0.00 | 0.00 | | 90 |
| Horace Scott – Horace Scot Jr | 0.00 | 0.00 | | 90 |
| Todd Gaymon – Dave Rodgers | 0.00 | 0.00 | | 90 |
| Rodney Reed – Jamie Yates | 0.00 | 0.00 | | 90 |
| Nathan Griffith – Jared Griffith | 0.00 | 0.00 | | 90 |
| Cody Fillyaw – Austin Powell | 0.00 | 0.00 | | 90 |
| Danny Shanz | 0.00 | 0.00 | | 90 |
| Total Entrys | | | $2,480.00 | |
| BONUS $ | | | $625.00 | |
| Total Paid At Ramp | | | $2,580.00 | |
| Santee Cooper 2019 Spring Final Fund | | | $445.00 | |
| 2019 CATT Championship Fund | | | $50.00 | |
| 2019 Santee Cooper Spring Final Fund Total | | | $2,885.00 | |
| 2019 CATT Championship Fund Total | | | $5,285.00 | |