Next up is the Santee Cooper Spring Final May 20 at John C Land!
Brad Beatson & Brian Scott win the Santee Cooper Spring Points and will fish the Spring Final FREE!
Nathan Burgess & Brent Riley win Santee with 5 bass weighing 26.18 lbs!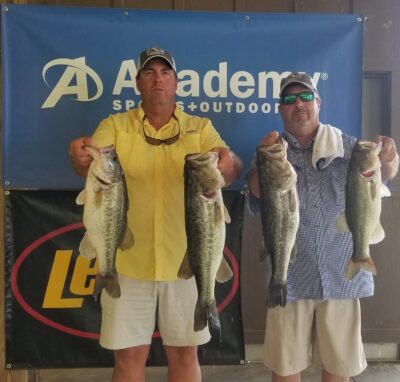 Clark & Freddie Gibbs 2nd with 23.90 lbs and the Academy BF at 6.86 lbs!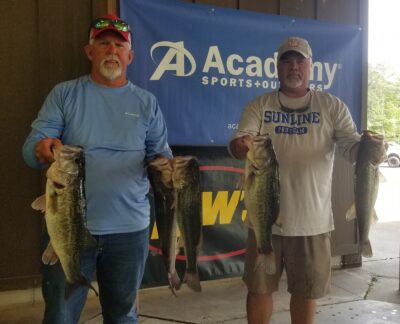 Gary Pope & Kevin Alford 3rd with 22.99 lbs!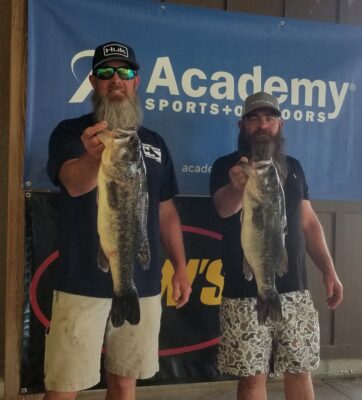 Paul Geddings & Ricky Irick 4th with 20.14 lbs!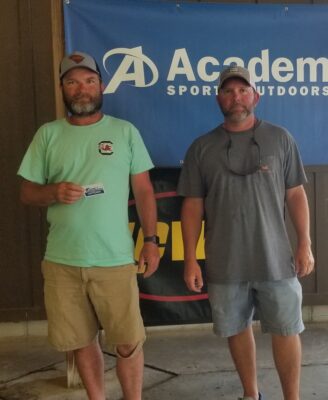 Tony Floyd & Marty Youmans received and Anglers Headquarters Gift Card!
| | | | | |
| --- | --- | --- | --- | --- |
| TEAM | BF | WEIGHT | WINNINGS | POINTS |
| NATHAN BURGESS-BRENT RILEY | 6.19 | 26.18 | $975.00 | 110 |
| FREDDIE-CLARK GIBBS | 6.86 | 23.90 | $454.00 | 109 |
| GARY POPE-KEVIN ALFORD | 5.69 | 22.99 | $150.00 | 108 |
| RICKY IRICK-PAUL GEDDINGS | 6.43 | 20.14 | $100.00 | 107 |
| TONY FLOYD-MARTY YOUMANS | 0.00 | 18.17 | | 106 |
| GUNNER BOWEN | 6.68 | 17.42 | $66.00 | 105 |
| BUD BOWMAN-CHAD ARDIS | 0.00 | 17.25 | | 104 |
| WILL TIMMONS-ERICA SEBNICK (S) | 0.00 | 14.37 | | 103 |
| JAY MCCUTCHEN-CHANDLER HARRIS | 0.00 | 12.78 | | 102 |
| JUSTIN CROMER-MARK BARNES | 5.97 | 11.47 | | 101 |
| TREZ BILTON-STEVEN LEONARD (S) | 5.98 | 11.46 | | 100 |
| BRIAN SCOTT-BRAD BEATSON | 0.00 | 9.85 | | 99 |
| LONNIE JONES-HUNTER HOFFMEYER | 0.00 | 0.00 | | 89 |
| HORACE SCOTT SR.-HORACE SCOTT JR. | 0.00 | 0.00 | | 89 |
| GREG & Matt NETTLES | 0.00 | 0.00 | | 89 |
| ANDREW BULL-WILLIAM DIXON | 0.00 | 0.00 | | 89 |
| PATRICK OLIVER | 0.00 | 0.00 | | 89 |
| GARRETT BROWN-STEVEN BOCHENKO | 0.00 | 0.00 | | 89 |
| MICHAEL ARD | 0.00 | 0.00 | | 89 |
| RYAN-RANDAL DREW | 0.00 | 0.00 | | 89 |
| CASEY-DALTON WARREN | 0.00 | 0.00 | | 89 |
| BUCKY DEBERRY | 0.00 | 0.00 | | 89 |
| Total Entrys | | | $1,760.00 | |
| BONUS $ | | | $475.00 | |
| Total Paid At Ramp | | | $1,745.00 | |
| 2023 Santee Cooper Spring Final Total | | | $390.00 | |
| CATT | | | $50.00 | |
| 2023 CATT Championship/Phantom Fund | | | $50.00 | |
| 2023 Santee Cooper Spring Final Total | | | $2,030.00 | |