Santee Cooper once again produced some great bags in 2019 and the guys were rewarded with over $34,000.00 paid back on the Santee Cooper CATT Trail! Thanks for fishing with us and the 2020 Spring Santee Cooper schedule is posted! Click on the Division page and select Santee Cooper to view!
No doubt the low water conditions put a damper on the Fall trail. In 2020 we may start in the Summer and run onto the Fall to get in on the Summer bite.
William Thigpen & Bucky DeBerry were crowned the Santee Cooper Fall Champs Saturday at John C Land with 5 bass weighing 19.60 lbs! They earned $2,250.00!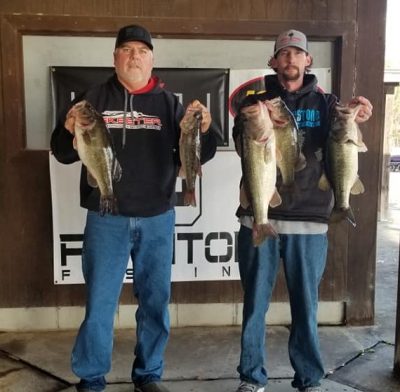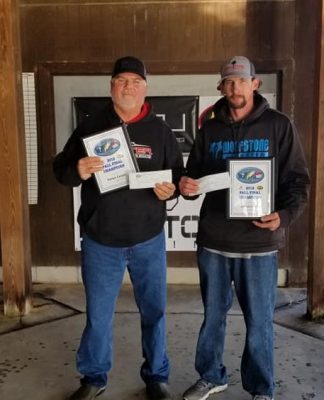 2nd went to Nelson Walker & Chris Brunson with a limit weighing 17.37 lbs! They claimed $600.00!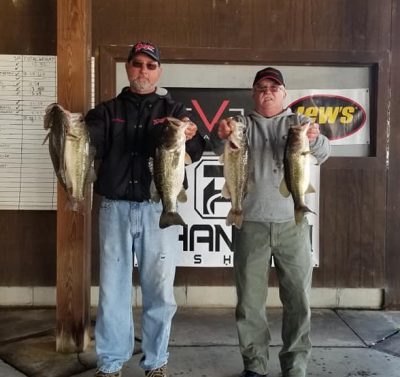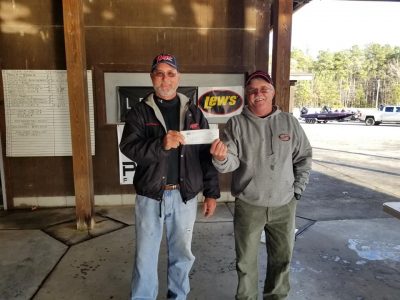 Chad Crosby & Keith Britt took the BF at 6.88 lbs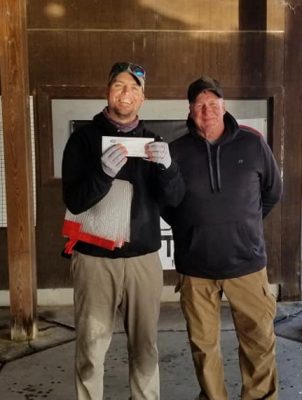 2nd BF at 5.63 was brought in by Chris Scott & Mike Barkley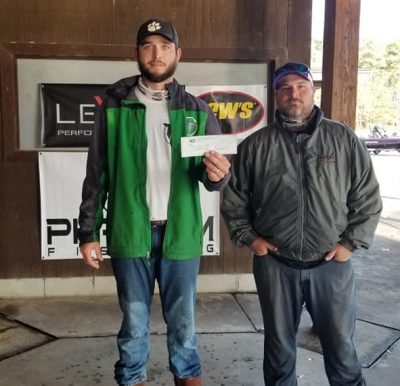 Don Pendarvis & Bryan Miller with their Fall Points Champs plaques!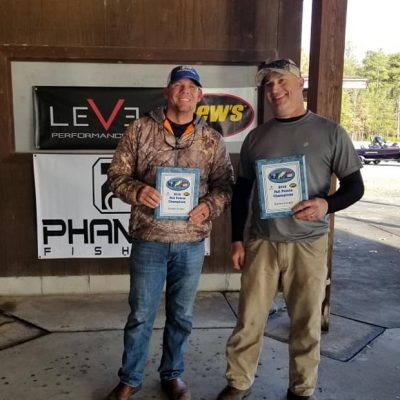 | | | | |
| --- | --- | --- | --- |
| 12 Teams | BF | Weight | Winnings |
| Bucky DeBerry – William Thigpen | 5.55 | 19.60 | $2,250.00 |
| Nelson Walker – Chris Brunson | 5.29 | 17.37 | $600.00 |
| Keith Britt – Chad Crosby | 6.88 | 13.50 | $75.00 |
| Don Pendarvis – Bryan Miller | 3.95 | 12.92 | |
| Chris Scott – Mike B | 5.63 | 12.65 | $40.00 |
| Dave Murdock – Justin Wood | 0.00 | 11.54 | |
| Tony Graham – Patricia Graham | 0.00 | 10.38 | |
| Steve Borton – Tristen Rodgers | 3.48 | 5.52 | |
| Lonnie Jones | 0.00 | 0.00 | |
| David Benehaley – Bobby LaBlank | 0.00 | 0.00 | |
| Jason Smith | 0.00 | 0.00 | |
| John Wilson – Cody Armstrong | 0.00 | 0.00 | |
| Total Entrys | | | $1,320.00 |
| BONUS $ | | | $250.00 |
| 2019 Santee Cooper Fall Final Fund | | | $525.00 |
| Total Paid At Ramp | | | $2,365.00 |
| Total Paid 2019 Fall Santee Cooper | | | $5,990.00 |
| Grand Total Paid Santee Cooper 2019 | | | $34,660.00 |