Next Santee Cooper CATT is this coming Saturday Feb 18th at John C Land!
The Santee Cooper Phantom Outdoors Open is May 6th at John C Land! $10,000 1st Place!
Tap on the link for more info!
2023 Phantom Outdoors Open Series – Carolina Anglers Team Trail (cattteamtrail.com)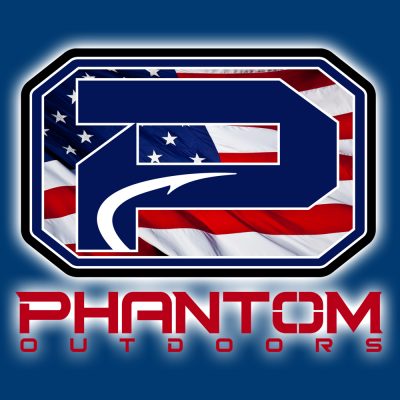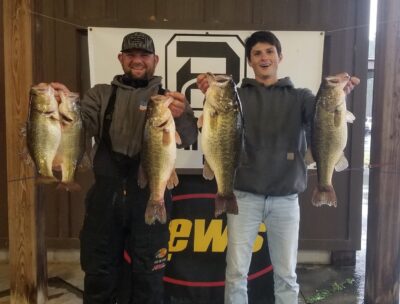 Jeremy Hewitt & Bennett Lawshe took 1st Place with 5 bass weighing 27.38 lbs and weighed the BF at 9.41 lbs!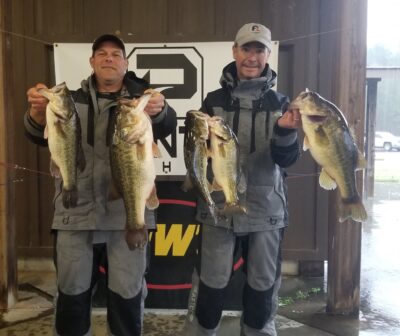 Brad Beatson & Brian Scott earned 2nd with 5 bass weighing 23.85 lbs and had the 2nd BF at 7.91 lbs!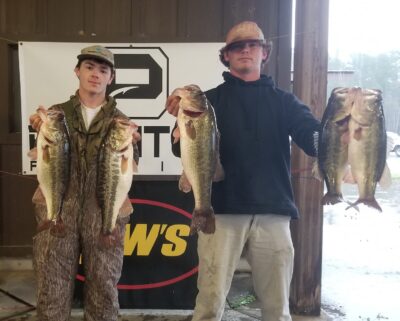 Bugzy Terry & Cribb 3rd with 23.00 lbs!
| | | | | |
| --- | --- | --- | --- | --- |
| Team | BF | Weight | Winnings | Points |
| Bennett Lawshe-Jeremy Hewitt | 9.41 | 27.38 | $1,161.00 | 110 |
| Brian Scott-Brad Beatson | 7.91 | 23.85 | $369.00 | 109 |
| Bugzy Terry-Cribb | 5.94 | 23.00 | $200.00 | 108 |
| Trez Wienges-Wesley Bilton | 7.27 | 21.09 | $120.00 | 107 |
| Will Timmons-Bryce Matthews | 6.13 | 19.41 | | 106 |
| Kevin Brock | 6.00 | 15.97 | | 105 |
| Paul Geddings-Ricky Irick | 5.56 | 15.58 | | 104 |
| Andrew Bull-Hunter Vincent | 0.00 | 15.25 | | 103 |
| Emmett McCauley-Ard | 0.00 | 15.23 | | 102 |
| Bo-Ryan Chappell | 4.08 | 14.66 | | 101 |
| Mike Stone-Jason Smith | 3.86 | 12.82 | | 100 |
| Don Pendarvis-Bobby Gibbs | 5.42 | 11.53 | | 99 |
| Justin Cromer-Mark Barnes | 0.00 | 8.09 | | 98 |
| Dave Murdock-Steve Borton | 0.00 | 7.82 | | 97 |
| Kevin Hardee-Justin Lifsey | 0.00 | 7.02 | | 96 |
| Lonnie Jones-Hanna Rogers | 0.00 | 0.00 | | 86 |
| Patrick-Reece Williams | 0.00 | 0.00 | | 86 |
| Chris Smith-David Skinner | 0.00 | 0.00 | | 86 |
| Andrew McLeod-Mason Miles | 0.00 | 0.00 | | 86 |
| Horace Scott JR-Cooper Scott | 0.00 | 0.00 | | 86 |
| Jimmy Trigg | 0.00 | 0.00 | | 86 |
| TJ Anderson-Shai Haley | 0.00 | 0.00 | | 86 |
| Coda Westbrook-Carter Leggett | 0.00 | 0.00 | | 86 |
| Total Entrys | | | $1,840.00 | |
| BONUS $ | | | $475.00 | |
| Total Paid At Ramp | | | $1,850.00 | |
| CATT | | | $50.00 | |
| 2023 CATT Championship/Phantom Fund | | | $50.00 | |
| 2023 Santee Cooper Spring Final Total | | | $365.00 | |