Mark your Calendar! We had 113 teams last year and we expect to break 150 in 2022!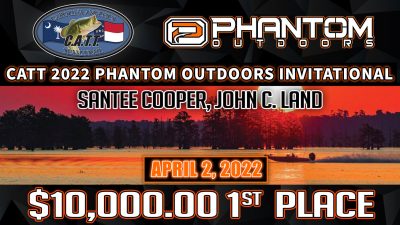 Next Santee Cooper CATT is March 5th at John C Land!
Nathan Burgess & Brent Riley weighed in a SACK! The 5 Santee Cooper HAWGS in their bag weighed up at 28.87 lbs! They also weighed in the Academy BF at 8.26 lbs and took home $1,840.00! They also received an Academy Gift Card valued at $25!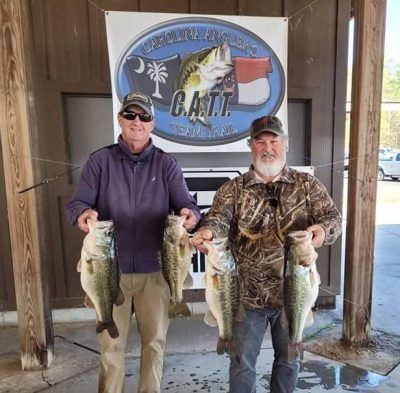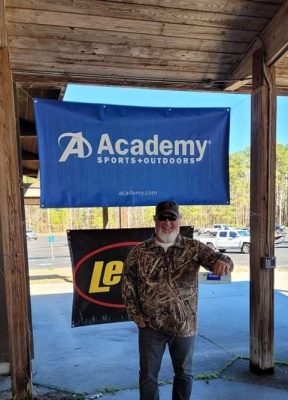 Bennett Lawshe & Will Timmons finished 2nd with 5 bass weighing 27.48 lbs!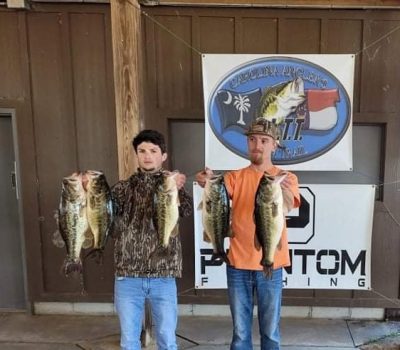 Justin Cromer & Mark Barnes earned 3rd with 26.12 lbs!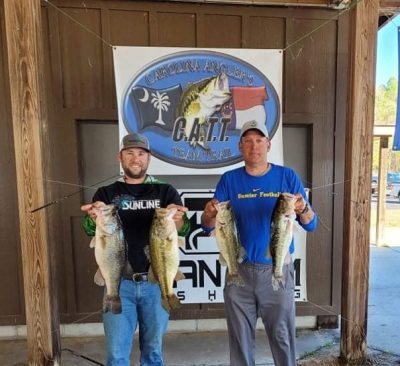 Ernie Wallace & Ben Cox took 4th with 2094 lbs!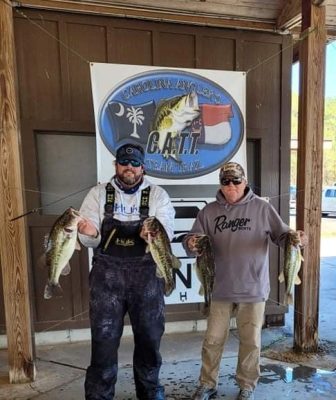 | | | | | |
| --- | --- | --- | --- | --- |
| Team | BF | Weight | Winnings | Points |
| Brent Riley-Nathan Burgess  | 8.26 / 7.24 | 28.87 | $1,840.00 | 110 |
| Will Timmons-Bennett Lawshe | 7.08 | 27.48 | $400.00 | 109 |
| Justin Cromer-Mark Barnes | 6.16 | 26.12 | $300.00 | 108 |
| Ben Cox-Ernie Wallace | 5.85 | 20.94 | $200.00 | 107 |
| Mark-Jake Hutson | 6.69 | 20.55 | $120.00 | 106 |
| Mack-Patrick Cook | 0.00 | 19.49 | $110.00 | 105 |
| Mason Miles-Andrew McLeod | 0.00 | 16.49 | $100.00 | 104 |
| Lonnie Jones-Hannah Rogers | 0.00 | 15.85 | | 103 |
| Wade-Poppy Grooms | 0.00 | 14.88 | | 102 |
| Shane Cantley-Chris Joyner | 6.26 | 14.72 | | 101 |
| Steve Borton-Dave Murdock | 0.00 | 13.38 | | 100 |
| Steven Walker- Paul Galloway | 6.73 | 13.28 | | 99 |
| Mac Altman-Randall Miller | 0.00 | 13.05 | | 98 |
| Ken Ellis-Chuck Howard | 0.00 | 12.55 | | 97 |
| Todd-Keith Brown | 0.00 | 11.27 | | 96 |
| Daniel-Cal Jordan | 4.11 | 8.45 | | 95 |
| Mario-Reid Colangelo | 0.00 | 7.78 | | 94 |
| Jamie Glasscock-Max Terry | 0.00 | 7.48 | | 93 |
| John Wilson | 6.69 | 6.69 | | 92 |
| Trez Wienges-Wesley Bilton | 0.00 | 5.73 | | 91 |
| Chris Caloca-Christopher McCormick | 0.00 | 0.00 | | 81 |
| Timothy Oliver | 0.00 | 0.00 | | 81 |
| Billy Willis-Glenn Porter | 0.00 | 0.00 | | 81 |
| Jamie Partee-Jay McCutchen | 0.00 | 0.00 | | 81 |
| Ronnie Watts | 0.00 | 0.00 | | 81 |
| Jason McCoy-Casey Stevens | 0.00 | 0.00 | | 81 |
| Lenwood-Takobe Sweatman | 0.00 | 0.00 | | 81 |
| Rusty Bullard | 0.00 | 0.00 | | 81 |
| Buddy Holms-Brandon Evans | 0.00 | 0.00 | | 81 |
| Kevin Pierce-Neil Miles | 0.00 | 0.00 | | 81 |
| Horace Scott-Horace Scott Jr. | 0.00 | 0.00 | | 81 |
| Mike Taylor-Allen Bowzard | 0.00 | 0.00 | | 81 |
| Zeke Lynam-Jason Morse | 0.00 | 0.00 | | 81 |
| Alan-Tanner Fletcher | 0.00 | 0.00 | | 81 |
| Freddie-Clark Gibbs | 0.00 | 0.00 | | 81 |
| Total Entrys | | | $2,800.00 | |
| BONUS $ | | | $775.00 | |
| Total Paid At Ramp | | | $3,070.00 | |
| Santee Cooper 2021 Spring Final Fund | | | $405.00 | |
| 2021 CATT Championship Fund | | | $50.00 | |
| 2021 Santee Cooper Spring Final  Total | | | $405.00 | |