Next Santee Cooper CATT is March 20 at John C Land and is a GOLD!
Save the date! April 3rd is the Phantom Outdoors Invitational on Santee Cooper! $5,000.00 1st Place! Tap on the Division page and view the info!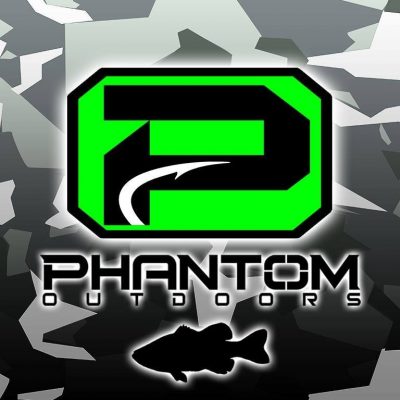 Sean Anderson made the trip down from Leesville and laid the wood to the bass this weekend on Santee Cooper! Sean weighed in 5 bass at 28.75 lbs taking 1st Place and $1,705.00!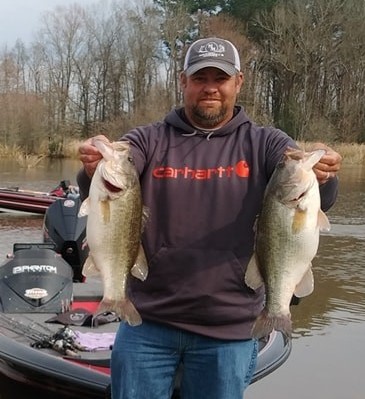 2nd Place went to Brandon Jeffcoat & Wendell Causey with 26.64 lbs!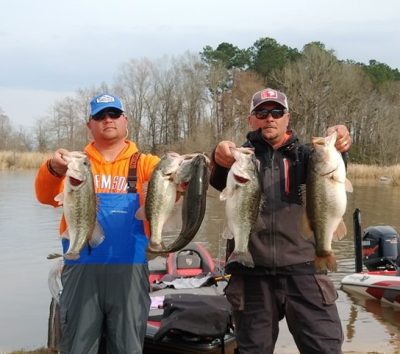 !
3rd Place Daniel Howell with a limit weighing 24.10 lbs and he brought in the 1st BF at 8.88 lbs!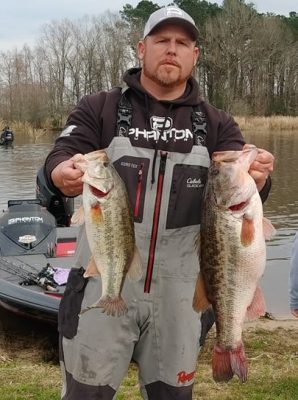 Allan Williams & Chad Cook 3rd Place 24.10 lbs!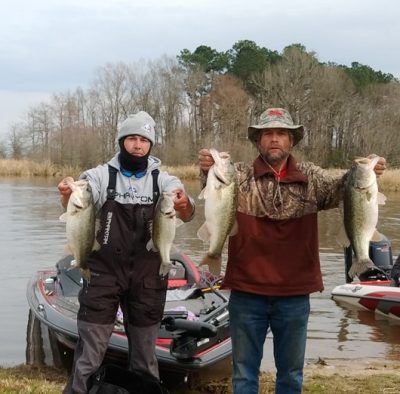 Ben Cox finished 5th with 18.66 lbs!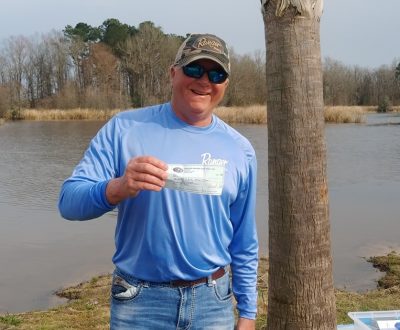 Bobby Gibbs and Don Pendarvis took 6th with 18.58 lbs and weighed in the 2nd BF at 8.00 lbs!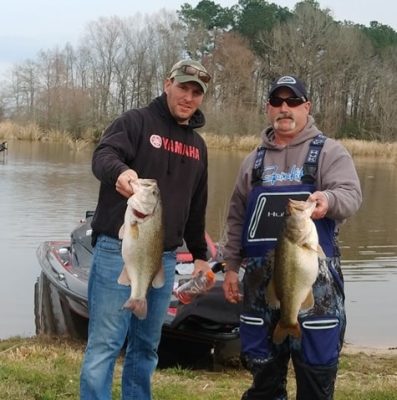 Wade Grooms with a nice bag!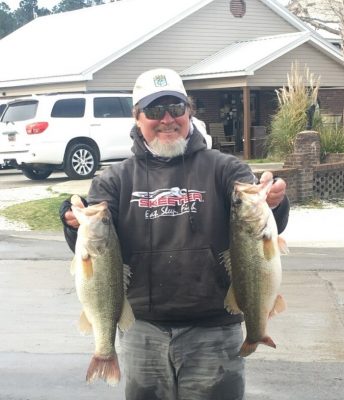 | | | | | |
| --- | --- | --- | --- | --- |
| 40 Teams | BF | Weight | Winnings | Points |
| SEAN ANDERSON | 6.43 | 28.75 | $1,705.00 | 110 |
| WENDELL CAUSEY-BRANDON JEFFCOAT | 7.32 | 26.64 | $440.00 | 109 |
| DANIEL HOWELL | 8.88 | 24.10 | $605.00 | 108 |
| ALLAN WILLIAMS-CHAD COOK | 5.97 | 18.94 | $200.00 | 107 |
| BEN COX | 0.00 | 18.66 | $140.00 | 106 |
| DON PENDARVIS-BOBBY GIBBS | 8.00 | 18.58 | $230.00 | 105 |
| CLARK-FREDDIE GIBBS | 0.00 | 18.51 | $100.00 | 104 |
| WADE GROOMS | 0.00 | 17.91 | $90.00 | 103 |
| BRIAN ALTMAN-JESSE STRICKLAND | 5.71 | 16.83 | | 102 |
| PATRICK-REESE WILLIAMS | 5.33 | 16.33 | | 101 |
| BRIAN COOK-KOBY HARVEY | 5.97 | 15.80 | | 100 |
| MAC ALTMAN-RANDALL MILLER | 4.58 | 15.71 | | 99 |
| HORACE SCOTT SR.-JR | 0.00 | 15.65 | | 98 |
| DEREK MOORE-BRIAN FLOWERS | 6.70 | 15.58 | | 97 |
| JASON RILEY-JAMES EVANS | 4.70 | 15.56 | | 96 |
| MAX TERRY-JAMIE GLASSCOCK | 0.00 | 15.46 | | 95 |
| RYAN-BUTCH DREW | 0.00 | 14.62 | | 94 |
| RODNEY JORDAN-BRENT WAYNICK | 5.83 | 13.67 | | 93 |
| CHUCK HOWARD-KEN ELLIS | 0.00 | 13.47 | | 92 |
| HAGEN SCHINDLEDECKER-BRYCE SINGLETARY | 0.00 | 13.44 | | 91 |
| RUSTY BULLARD-ERIC MARTIN | 0.00 | 11.92 | | 90 |
| DANNY-AVIA LOWERY | 0.00 | 10.52 | | 89 |
| RANDALL-TJ DREW | 0.00 | 10.51 | | 88 |
| RONNIE-TRIPP MILLS | 0.00 | 10.02 | | 87 |
| MIKE KING-CHRIS CRAWFORD | 0.00 | 9.50 | | 86 |
| RANDELL-WESTLEY BARRINEAU | 0.00 | 9.23 | | 85 |
| BILLY WILLIS-GLEN PORTER | 0.00 | 8.42 | | 84 |
| WILL TIMMONS-BENNETT LAWSHE | 0.00 | 7.63 | | 83 |
| THAD DRIGGERS-BUNN TYSON | 0.00 | 7.06 | | 82 |
| TRAVIS HERRING-JASON MCCOY | 0.00 | 6.73 | | 81 |
| BRIAN SCOTT-BRAD BEATSON | 0.00 | 6.04 | | 80 |
| GARRETT BROWN-DAVID MATES | 0.00 | 5.22 | | 79 |
| SCOTT SPITTLE-CODY COLLINS | 0.00 | 5.12 | | 78 |
| DAVE MURDOCK-STEVE BORTON | 0.00 | 1.95 | | 77 |
| MITCH-KENNY DREW | 0.00 | 0.00 | | 67 |
| JOHN FORD SR. – JR. | 0.00 | 0.00 | | 67 |
| ILLYA SMITH-FRANK CELESTINE | 0.00 | 0.00 | | 67 |
| HERMAN VINING-TERRY THOMAS | 0.00 | 0.00 | | 67 |
| CASEY WARREN | 0.00 | 0.00 | | 67 |
| BUCKY DEBERRY-GLENN ALTMAN | 0.00 | 0.00 | | 67 |
| Total Entrys | | | $3,200.00 | |
| BONUS $ | | | $825.00 | |
| Total Paid At Ramp | | | $3,510.00 | |
| Santee Cooper 2021 Spring Final Fund | | | $415.00 | |
| 2021 CATT Championship Fund | | | $50.00 | |
| 2021 Santee Cooper Spring Final  Total | | | $1,390.00 | |
| 2021 CATT Championship Fund Total | | | $1,265.00 | |