Black Friday Open November 25th at John C Land! $100 entry with a $25 Side Pot! You can only pay for this one at the ramp! No on-line option! You can also qualify to enter the Santee Fall Final by entering the Black Friday Open, but you must pay a Fall membership if you haven't fished 1 of the Santee Fall Qualifiers! 
NO MEMBERSHIP UNLESS YOU WANT TO ENTER THE FALL FINAL AND HAVE NOT ENTERED A FALL QUALIFIER!
That's a wrap for the Santee Cooper 2022 Fall Qualifiers! The Final will be held December 3rd at John C Land!
Bennett Lawshe & Jeremy Hewitt win the Fall Santee Cooper Points and will fish the Fall Final FREE and Blast Off #1! They also will receive a $100 Lews/Strike King Gift Card and a $75.00 check!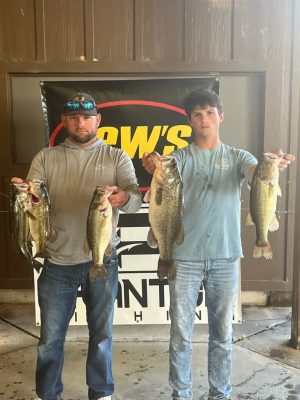 Jeremy Hewitt & Bennett Lawshe take 1st Place with 5 bass weighing 17.47 lbs included a BF at 6.51 lbs!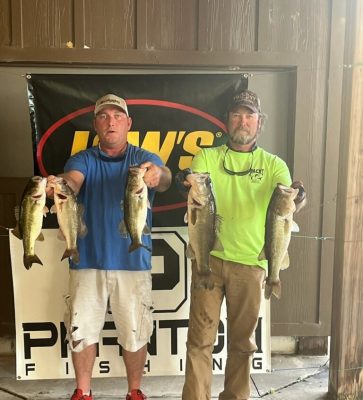 Mike Stone & Jason Smith finished 2nd with 16.28 lbs!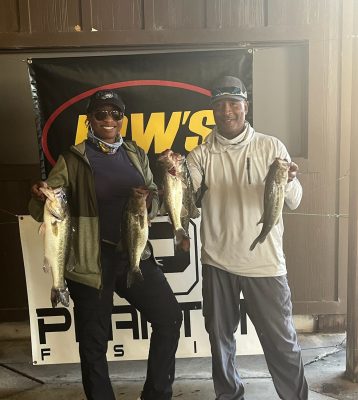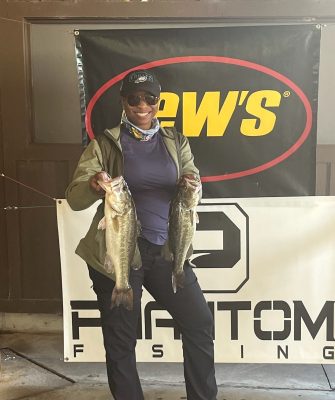 La'Tonya Blanding & Freddie Gamble claimed 3rd with 5 bass weighing 13.56 lbs!
| | | | | |
| --- | --- | --- | --- | --- |
| Team | BF | Weight | Winnings | Points |
| BENNETT LAWSHE – JEFREMY HEWITT | 6.51 | 17.47 | $880.00 | 110 |
| JASON SMITH – MIKE STONE | 5.12 | 16.28 | $200.00 | 109 |
| FREDDIE GAMBLE – LA'TONYA BLANDING | 3.84 | 13.56 | $80.00 | 108 |
| JIMMY TRIGG – BOBBY WILSON | 3.94 | 13.29 | | 107 |
| BRYAN – AUSTIN MILLER | 2.63 | 11.67 | | 106 |
| BILLY WILLIS – GLEN PORTER | 0.00 | 9.83 | | 105 |
| STEVE BORTON – DAVE MURDOCK | 0.00 | 9.62 | | 104 |
| MARIO – REID COLANGELO | 0.00 | 7.42 | | 103 |
| STEVEN FELDER | 0.00 | 6.65 | | 102 |
| GARRETT BROWN – HOGAN HUTCHINS | 6.30 | 6.30 | $45.00 | 101 |
| TONY FLOYD – COREY BARRETT | 3.18 | 4.65 | | 100 |
| LARRY WOOD | 0.00 | 0.00 | | 90 |
| BEN COX | 0.00 | 0.00 | | 90 |
| RICKY IRICK – PAUL GEDDINGS | 0.00 | 0.00 | | 90 |
| JIM HAYDEN SR – JIM HAYDEN JR | 0.00 | 0.00 | | 90 |
| Total Entrys | | | $1,200.00 | |
| BONUS $ | | | $325.00 | |
| Total Paid At Ramp | | | $1,205.00 | |
| Santee Cooper 2022 Fall Final Fund | | | $215.00 | |
| 2023 Santee Fall Points Champs | | | $75.00 | |
| 2023 CATT Championship Fund | | | $30.00 | |
| 2022 Santee Cooper Fall Final Total | | | $640.00 | |