Next Santee Cooper CATT is November 21st at John C Land! This is the last Fall Qualifier and you only have to enter 1 Qualifier to be eligible to enter the Santee Cooper Fall Final!
Bugsy & Max Terry win Santee Cooper with a bagful! 7.05 lb BF and 5 bass weighing 21.88 lbs worth $1,044.00!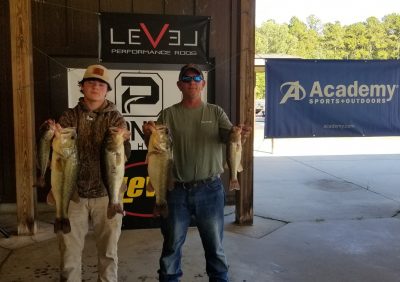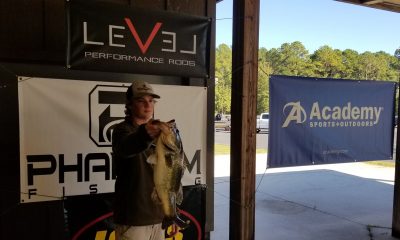 2nd Place Don Pendarvis & Bobby Gibbs 18.10 lbs!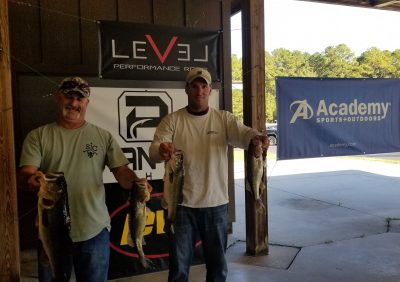 3rd Place Bucky DeBerry & William Thigpen 16.45 lbs!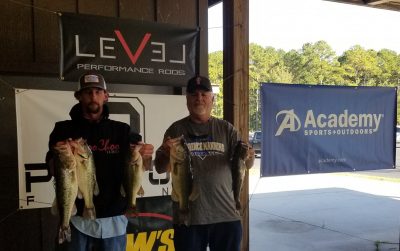 | | | | | |
| --- | --- | --- | --- | --- |
| 23 Teams | BF | Weight | Winnings | Points |
| Max Terry – Bugsy Terry | 7.05 | 21.88 | $1,044.00 | 110 |
| Don Pendarvis – Bobby Gibbs | 7.23 | 18.10 | $300.00 | 109 |
| William Thigpen – Bucky Deberry | 4.61 | 16.45 | $200.00 | 108 |
| Will Timmons – Bennett Lawshe | 5.40 | 14.21 | $120.00 | 107 |
| Garrett Brown | 0.00 | 13.80 | | 106 |
| Matt Coulter – Parick Leviner | 4.10 | 13.14 | $161.00 | 105 |
| Davy Goodman | 0.00 | 12.64 | | 104 |
| Jason Morse | 4.42 | 12.54 | | 103 |
| Danny Shanz | 0.00 | 12.43 | | 102 |
| Bryan Miller – Jason Green | 2.61 | 11.66 | | 101 |
| Dave Murdock – Steve Borton | 0.00 | 7.37 | | 100 |
| Chris Scott – Woddy Barkley | 0.00 | 7.33 | | 99 |
| William Kimbrell – William Kimbrell Jr | 6.62 | 6.62 | | 98 |
| Jamie Partee | 0.00 | 6.60 | | 97 |
| Austin Kitterman | 0.00 | 4.60 | | 96 |
| Sean Skey – Justin Cromer | 0.00 | 4.00 | | 95 |
| Patrick Williams – Reese Williams | 3.95 | 3.90 | | 94 |
| Illya Smith – Frank Celestine | 0.00 | 0.00 | | 93 |
| Donald McLaud – Ray Inman | 0.00 | 0.00 | | 93 |
| Paul Day – Chris McCarty | 0.00 | 0.00 | | 93 |
| Jonathan Songer – Cliff Songer | 0.00 | 0.00 | | 93 |
| Thad Driggers | 0.00 | 0.00 | | 93 |
| David Eargle – Brandon Evans | 0.00 | 0.00 | | 93 |
| Total Entrys | | | $1,840.00 | |
| BONUS $ | | | $450.00 | |
| Total Paid At Ramp | | | $1,825.00 | |
| Santee Cooper 2020 Fall Final Fund | | | $365.00 | |
| 2020 CATT Championship Fund | | | $50.00 | |
| 2020 Santee Cooper Fall Final  Total | | | $615.00 | |
| 2020 CATT Championship Fund Total | | | $4,920.00 | |