We wrapped up the 2023 CATT Spring season down on Santee Cooper! Thanks for fishing guys! We are looking forward to next Spring and as always, the CATT trail will be there along with the Carolinas Bass Challenge and the Phantom Outdoors Open!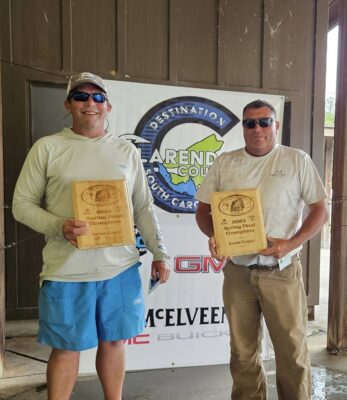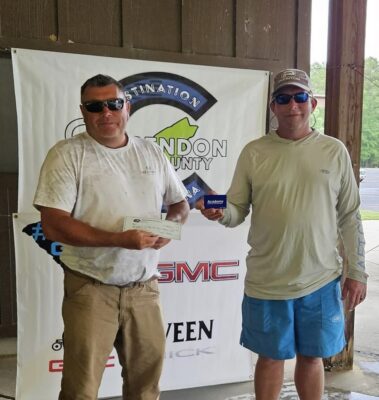 Steve Harmon & Brian Cook took 1st Place with 5 bass weighing 31.90 lbs PLUS the Academy BF at 7.62 lbs and took home $3,207.00!
Brent Riley & Nathan Burgess claimed 2nd with 5 bass weighing 26.07 lbs!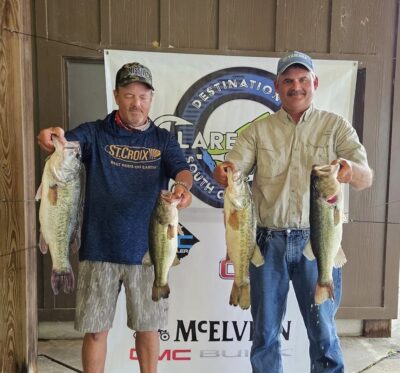 John Johnston & David Malan 3rd with 23.22 lbs!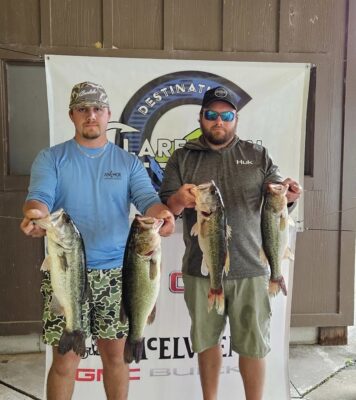 Ryan & Randall Drew 5th Place with 21.53 lbs!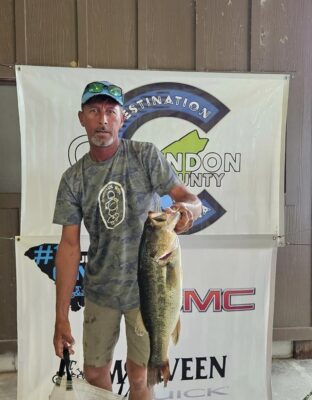 Mack Altman & Randall Miller with the 2nd BF at 6.60 lbs!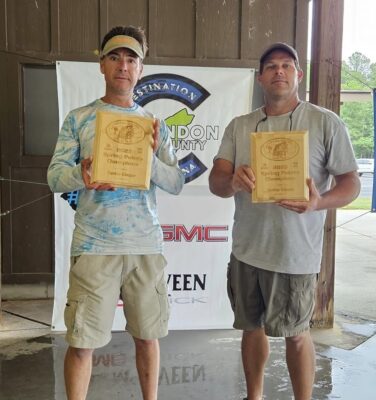 | | | | |
| --- | --- | --- | --- |
| Team | BF | Weight | Winnings |
| BRIAN COOK-STEVE HARMON | 7.62 | 31.90 | $3,207.00 |
| NATHAN BURGESS-BRENT RILEY | 0.00 | 26.07 | $1,000.00 |
| JOHN JOHNSTON-DAVID MALAN | 0.00 | 23.22 | $600.00 |
| WADE GROOMS | 0.00 | 22.18 | $400.00 |
| RYAN-RANDAL DREW | 0.00 | 21.53 | $270.00 |
| PATRICK COOK-NICK GANT | 0.00 | 18.25 | |
| MACK ALTMAN-RANDALL MILLER | 6.60 | 17.45 | $78.00 |
| KEVIN ALFORD | 0.00 | 16.88 | |
| MAX TERRY-JAMIE GLASSCOCK | 0.00 | 16.75 | |
| BENNETT LAWSHE-JERMY HEWITT | 0.00 | 15.69 | |
| BILLY WILLIS-GLENN PORTER | 0.00 | 14.53 | |
| JUSTIN CROMER-MARK BARNES | 0.00 | 14.50 | |
| GUNNER BOWEN-DUSTIN HARDY | 0.00 | 13.81 | |
| DAVE MURDOCK-STEVE BORTON | 0.00 | 13.58 | |
| MARIO-REID COLANGELO | 0.00 | 13.24 | |
| ED-EDDIE PAUL | 0.00 | 12.65 | |
| BRIAN SCOTT-BRAD BEATSON | 0.00 | 11.65 | |
| BUCKY DEBERRY | 0.00 | 11.41 | |
| BUD BOWMAN-CHAD ARDIS | 0.00 | 10.97 | |
| MARK-MICHAEL HUTSON | 0.00 | 10.91 | |
| TONY FLOYD-MARTY YOUMANS | 0.00 | 6.45 | |
| CRAIG MCFADDEN-MIKE WATSON | 0.00 | 0.00 | |
| LONNIE JONES-HANNA ROGERS | 0.00 | 0.00 | |
| FREDDIE-CLARK GIBBS | 0.00 | 0.00 | |
| ROBERT CLARKE | 0.00 | 0.00 | |
| ZEKE LYNAM-JASON MORSE | 0.00 | 0.00 | |