Another great season down on Santee Cooper! Santee Cooper continues to produce! We paid 7 places and you had to break the 20 lb mark to get paid! We plan to have a Fall schedule so keep an eye out for the schedule! We may have an Open sometime this Summer at John C Land!
Brent Riley & Nathan Burgess repeat as CATT Santee Cooper Spring Final Champions with 5 bass weighing 34.02 lbs! Add in the BONUS $ and they took home $3,750.00!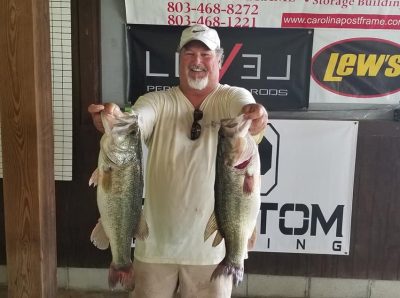 2nd went to Mike Watson & Craig McFadden with a limit weighing 28.97 lbs! They earned $1,500.00!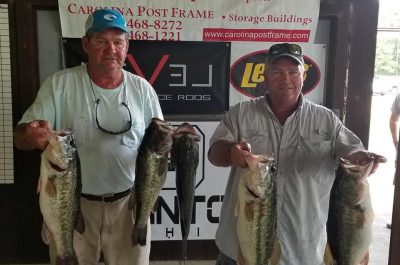 Anthony Driggers 3rd with 26.64 lbs and 2nd BF at 7.37 lbs  $1,108.00!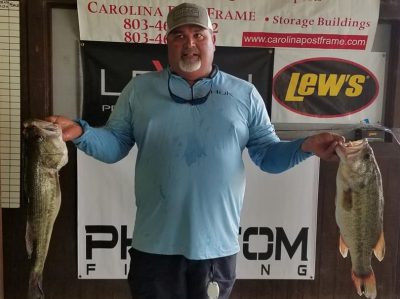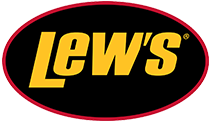 Anthony with his Lews Mach Speed Stick!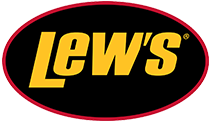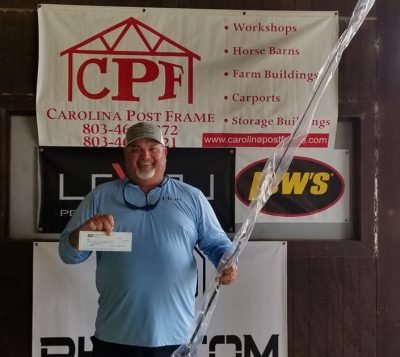 Brett Mitchell & Jerry Montjoy 4th with 21.25 lbs! $700.00!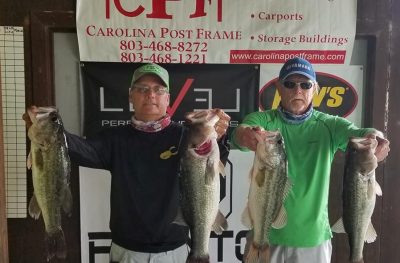 Keith Britt & Chad Crosby with 20.96 lbs! 5th & 300.00!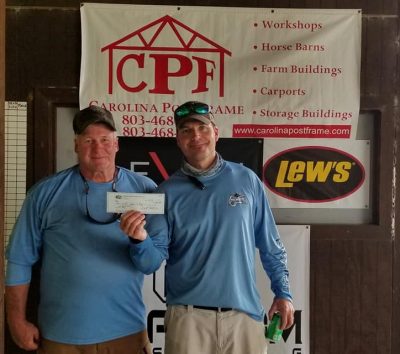 Lonnie Jones & Robert Clarke 6th 20.78 lbs!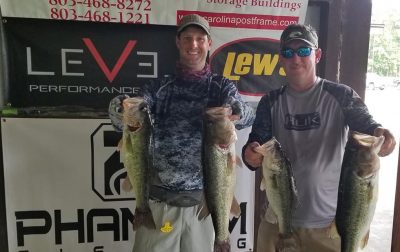 Jason Miles last money place with 20.51 lbs!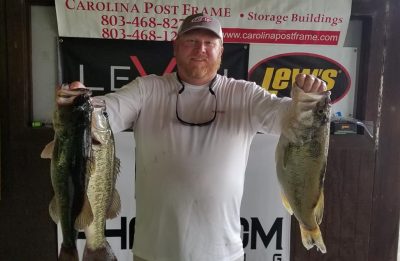 BF winners Thad Driggers & Steven Walker 7.63 lbs! $252.00 plus Lews Mach Baitcast Reel & Academy Sports Gift Card!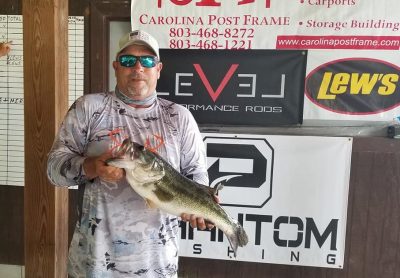 Brian & Elvis Peagler 2019 Santee Cooper Spring Point Winners! $500 sponsored by Carolina Post Frame! Click on the Carolina Post Frame Logo for more info!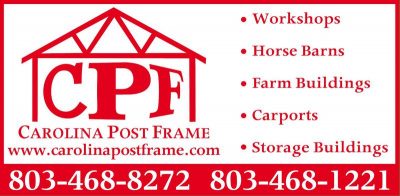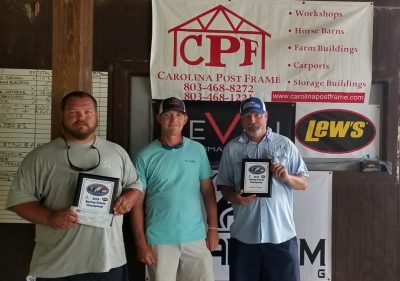 | | | | |
| --- | --- | --- | --- |
| | Big | Total | Total |
| 37 Teams | Fish | Weight | Winnings |
| Brent Riley – Nathan Burgess | 7.23 | 34.02 | $3,750.00 |
| Mike Watson – Craig McFadden | 7.00 | 28.97 | $1,500.00 |
| Anthony Driggers | 7.37 | 26.64 | $1,108.00 |
| Brett Mitchell – Jerry Montjoy | 6.27 | 21.25 | $700.00 |
| Chad Crosby – Keith Britt | 0.00 | 20.96 | $300.00 |
| Robert Clarke – Lonnie Jones | 0.00 | 20.78 | $200.00 |
| Jason Miles | 5.62 | 20.51 | $150.00 |
| Wade Grooms | 0.00 | 20.37 | |
| Thad Driggers – Steven Walker | 7.63 | 20.00 | $252.00 |
| Hunter Hoffmeyer – Thomas Hoffmeyer | 7.08 | 18.00 | |
| Jamie Glasscock & Jim Smoak | 0.00 | 17.40 | |
| Max Terry – Bugsy Terry | 6.46 | 17.24 | |
| Elvis & Brian Peagler | 4.67 | 17.14 | |
| Brent Waynick – Emment McCauley | 5.70 | 16.70 | |
| Brad Beatson – Brad Scott | 6.28 | 15.38 | |
| Mario & Reid Colangelo | 4.45 | 14.77 | |
| Winston Martin – Wayne Marlow | 5.90 | 14.56 | |
| Mack & Patrick Cook | 0.00 | 14.41 | |
| Mark Hutson – Gary Elsey | 0.00 | 14.35 | |
| Ben Cox – Chase Marshall | 0.00 | 14.31 | |
| Brian Miller – Austin Miller | 0.00 | 14.29 | |
| Larry Avin – Joe Avins | 0.00 | 13.96 | |
| Patyrick Williams | 0.00 | 13.49 | |
| Horace Scott – Horace Scott Jr | 0.00 | 12.97 | |
| Dalton Hughes – Mason Miles | 4.01 | 12.86 | |
| Freddie Gibbs – Clark Gibbs | 4.36 | 12.31 | |
| Mack Altman – Randall Miller | 0.00 | 12.24 | |
| Denni Stacey – Fisher Hartman | 0.00 | 12.02 | |
| Don Pendarvis Bobby Gibbs | 0.00 | 0.00 | |
| Hugh McCutchen – Jamie Blackburn | 0.00 | 0.00 | |
| Donnie McCord – Jamie Partee | 0.00 | 0.00 | |
| Sam Hopkins – Craig Mathews | 0.00 | 0.00 | |
| Ed & Eddie Paul | 0.00 | 0.00 | |
| Billy McIntosh – Rick McLean | 0.00 | 0.00 | |
| Lex Costas – Xan Costas | 0.00 | 0.00 | |
| Steve Borton – Tristen Rogers | 0.00 | 0.00 | |
| Dave Murdock – Justin Wood | 0.00 | 0.00 | |
| Total Entrys | | | $4,320.00 |
| BONUS $ | | | $750.00 |
| 2019 Santee Cooper Spring  Final Fund | | | $2,885.00 |
| Total Paid At Ramp | | | $8,360.00 |
| Total Paid 2019 Spring Santee Cooper | | | $28,670.00 |