We wrapped up the Santee Cooper Summer Trail this past Saturday at John C Land! Next up is the Fall schedule and we'll have that on line by the end of the week! Also we are currently working on the 2019 Santee Cooper Spring schedule so stay tuned!
With the conclusion of the Santee Cooper Summer Trail we've paid back a total of  $53,060.00 on Santee Cooper in 2018! Nelson Walker & Chris Brunson took home a chunk of that Saturday with 5 bass weighing 20.40 lbs! They took home $1,680.00 with the 1st BF money added in! Their BF weighed up at 6.36 lbs and they also received a Lews Mach Speed Spool Baitcast Reel!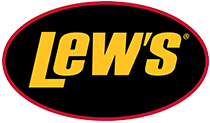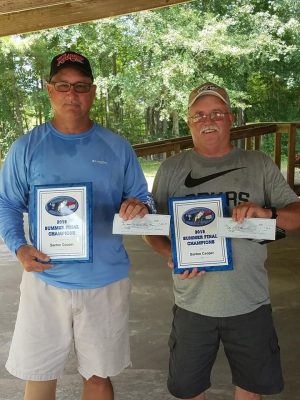 2nd went to our Santee Summer Point winners, Bunn Tyson & Thad Driggers with 15.75 lbs! They took home $910.00!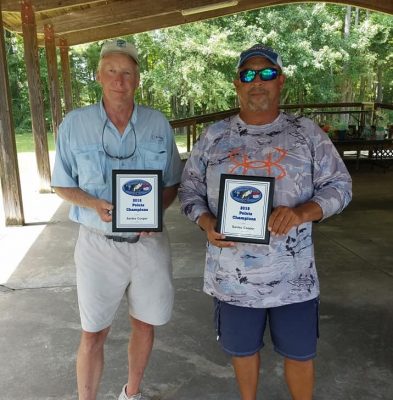 Justin Wood & Steve Borton weighed the 2nd BF at 6.23 ls and took home a Lews Mach Speed Stick!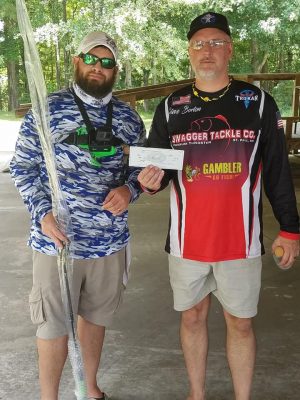 | | | | |
| --- | --- | --- | --- |
| | Big | Total | Total |
| 13 Teams | Fish | Weight | Winnings |
| Nelson Walker – Chris Brunson    1st BF | 6.36 | 20.40 | $1,680.00 |
| Bunn Tyson – Thadd Driggers  BONUS $ | 0.00 | 15.75 | $910.00 |
| Cole Drummond – Danny Shanz | 0.00 | 15.32 | |
| Steve Borton – Justin Wood   2nd BF | 6.23 | 13.66 | $40.00 |
| Mark – Grayson Cook | 0.00 | 6.72 | |
| Mario – Reid Colangelo | 0.00 | 3.28 | |
| David Benenhaley – Mike Cox | 0.00 | 0.00 | |
| Brad Schwartz – Bryan Miller | 0.00 | 0.00 | |
| Johnny Player – John Gardenhire | 0.00 | 0.00 | |
| Brett Mitchell – Jerry Montjoy | 0.00 | 0.00 | |
| Marc Deschanes – Christy | 0.00 | 0.00 | |
| Don Pendorus – Bobby Gibbs | 0.00 | 0.00 | |
| Chad Crosby – Darrell Tucker | 0.00 | 0.00 | |
| Total Entrys | | | $1,440.00 |
| BONUS $ | | | $220.00 |
| 2018 Santee Cooper Spring  Final Fund | | | $970.00 |
| Total Paid At Ramp | | | $2,630.00 |
| Total Paid 2018 Fall Santee Cooper | | | $6,540.00 |
| Total Paid 2018 Santee Cooper as of July 21st  | | | $53,060.00 |