We had a really big year on the Savannah River in 2019! In 2018 CATT paid back $12,805.00 on the Savannah River and this year the total payback jumped up to $16,480.00! HUGE Thanks to Joe Toth and the job he's doing with the CATT Savannah River Division! Hope you will join us in 2020 and bring some of your friends! More teams equals even bigger payouts!
Tim Roundtree & Al Pittman weighed in 5 bass at 14.21 lbs and the 2nd BF at 4.70 lbs! They took home a total of $2,380.00!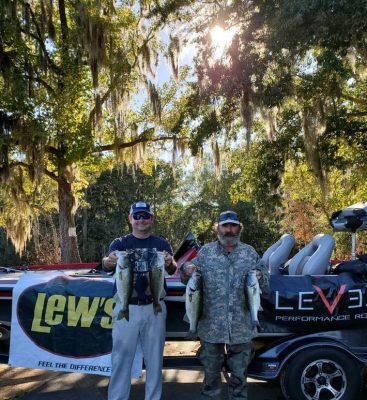 2nd place went to Gary Lee Sr. & Gary Lee Jr with a limit weighing 13.70 lbs! They weighed in the 1st BF at 7.47 lbs and collected $1,140.00 PLUS a Lews Mach Baitcast Reel!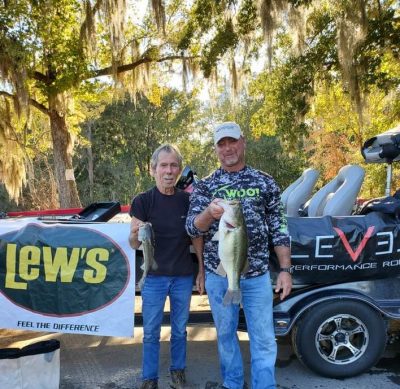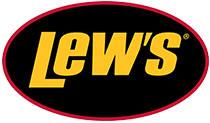 3rd was Patrick Findley & Corey Rewis with 12.84 lbs!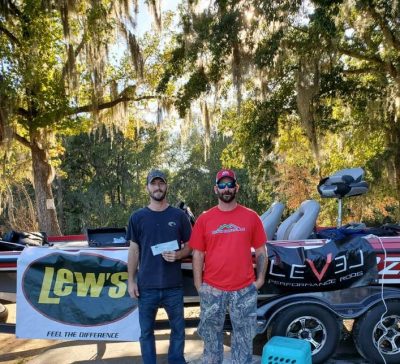 4th Place went to Christopher Chavis with 12.82 lbs!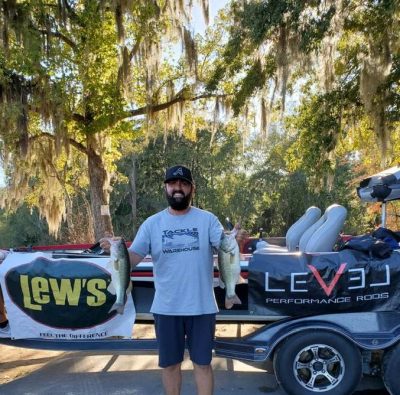 | | | | |
| --- | --- | --- | --- |
| 21 Teams | BF | Weight | Winnings |
| Tim Roundtree/Al Pittman | 4.70 | 14.21 | $2,380.00 |
| Gary Lee Sr./Gary Lee Jr. | 7.47 | 13.70 | $1,140.00 |
| Patrick Findley/Corey Rewis | 0.00 | 12.84 | $550.00 |
| Christopher Chavis | 0.00 | 12.82 | $250.00 |
| Wesley Mullins/Matt Cantrell | 0.00 | 11.43 | |
| Michael Hurt | 0.00 | 11.35 | |
| Anthony Joyner/Barry Conley | 0.00 | 9.90 | |
| Frank Ackerman/Mike Markovic | 0.00 | 9.72 | |
| Tracy Burnsed/David Cole | 0.00 | 9.35 | |
| Jerr Hood/Ann Hood | 0.00 | 8.85 | |
| Nathan Singletary/Steve Decker | 0.00 | 8.81 | |
| Ryan Kent/Tyler Wilson | 0.00 | 8.79 | |
| Victor Belagorska/Landen Caldwell | 0.00 | 8.61 | |
| Paul Johnson/Adam Wood | 0.00 | 7.97 | |
| Eddie Rogers | 0.00 | 7.96 | |
| Weston Wilkes | 0.00 | 7.96 | |
| Joe Toth | 0.00 | 7.86 | |
| Monte Misplay/Dan Martin Sr. | 0.00 | 7.59 | |
| Rocky Mullis/Jeff Mullis | 0.00 | 5.79 | |
| Barry Thames/Jamie Thames | 0.00 | 0.00 | |
| Ronald Welsh | 0.00 | 0.00 | |
| Total Entrys | | | $2,400.00 |
| BONUS $ | | | $320.00 |
| 2019 Savannah River Fall  Final Fund | | | $1,580.00 |
| Total Paid At Ramp | | | $4,320.00 |
| Total Paid 2019 Fall Savannah  River | | | $10,790.00 |
| Grand Total Paid Savannah River 2019 | | | $16,480.00 |