Anthony Joyner & Ronald Welch took 1st Place at the 1st Savannah River CATT Spring Qualifier! They weighed in 5 bass at 12.61 lbs and brought in the 2nd BF at 4.11 lbs. Kick in the BONUS $ and they took home $806.00!
2nd went to Rocky& Jeff Mullis with another limit weighing 11.95 lbs and they took the 1st BF honors with a 4.43 lbs. Rocky & Jeff took home $329.00!
3rd and $100.00 went to Monet Misplay & Lou Marroquin with 9.75 lbs!
Next Savannah River CATT is Feb 17th at Stokes Bluff!
| | | | | |
| --- | --- | --- | --- | --- |
| | Big | Total |   | |
| Team | Fish | Weight | Winnings | Points |
| Anthony Joyner/Ronald Welch  2nd BF & BONUS | 4.11 | 12.61 | $806.00 | 110 |
| Rocky Mullis/Jeff Mullis     1st BF | 4.43 | 11.95 | $329.00 | 109 |
| Monte Misplay/Lou Marroquin | 0.00 | 9.75 | $100.00 | 108 |
| Jeff Desimone/Randall Reynolds | 0.00 | 9.31 | | 107 |
| Keenan Gowers/Matt Cantrell | 0.00 | 9.10 | | 106 |
| Tim Roundtree/Al Pittman | 0.00 | 8.31 | | 105 |
| Joe Toth/Jordan Schumacher | 0.00 | 7.94 | | 104 |
| Noah Pescitelli/Katie Connolly | 0.00 | 7.90 | | 103 |
| Michael Smith/Jacob Smith | 0.00 | 7.79 | | 102 |
| Jerry Hood/Ann Hood | 0.00 | 7.68 | | 101 |
| Barray Descaro/Sawyer Hunt | 0.00 | 7.47 | | 100 |
| Daniel Grassi/Baker Woodward | 0.00 | 6.99 | | 99 |
| Josh Parrish | 0.00 | 6.97 | | 98 |
| Ken Morgan/Chase Morgan | 0.00 | 6.40 | | 97 |
| Perry Yawn/Barry Durden | 0.00 | 6.32 | | 96 |
| Todd Hargrave/Scott Moody | 0.00 | 4.05 | | 95 |
| Dan Martin/Robert Martin | 0.00 | 0.00 | | 94 |
| Total Entrys |   |   | $1,360.00 | |
| BONUS $ |   |   | $260.00 | |
| Total Paid At Ramp |   |   | $1,235.00 | |
| Savannah River 2018 Spring Final Fund |   |   | $350.00 | |
| 2018 CATT Championship Fund |   |   | $35.00 | |
|   |   |   |   | |
| 2018 Savannah River Spring Final Fund Total |   |   | $350.00 | |
| 2018 CATT Championship Fund Total |   |   | $2,350.00 | |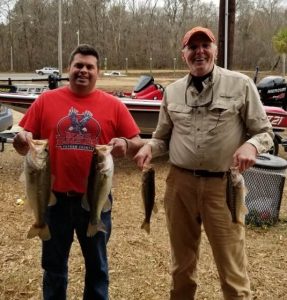 Jeff & Rocky Mullis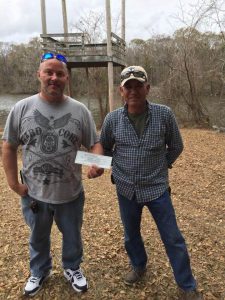 Monte Misplay & Lou Marroquin