You have 1 more chance to be eligible to enter the 2018 Savannah River Spring Final May 19 and that's April 14th at the Hwy 301 Bridge! This will also be a double point event!
Matt Cantrell took 1st Place with 5 bass weighing 14.81 lbs! He also earned the Bonus $ along with the 1st BF at 4.86 lbs! All total Matt collected $550.00!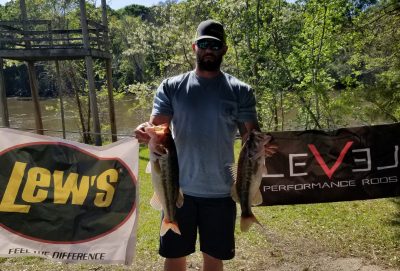 2nd went to Monte & Sean Misplay with a limit weighing 11.85 lbs They took home $150.00!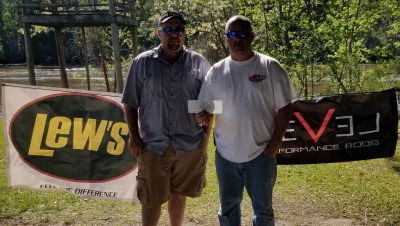 | | | | | | |
| --- | --- | --- | --- | --- | --- |
|   | Big | Total | Total |   |   |
| 10 Boats | Fish | Weight | Winnings | Points |   |
| Matt Cantrell  BONUS $ & 1st BF | 4.86 | 14.81 | $550.00 | 110 | |
| Monte Misplay/Sean Misplay | 0.00 | 11.85 | $150.00 | 109 | |
| Rocky Mullis/Jeff Mullis  2nd BF | 3.93 | 10.37 | $30.00 | 108 | |
| Joe Toth/Kyle Suddath (Sub) | 0.00 | 10.04 | | 107 | |
| Tim Roundtree/Al Pittman | 0.00 | 9.76 | | 106 | |
| Dan Martin II/Eric Setto | 0.00 | 8.11 | | 105 | |
| Anthony Joyner/Ronald Welch | 0.00 | 8.02 | | 104 | |
| Jeff Harris/Stevie Perkins (New Team) | 0.00 | 7.29 | | 103 | |
| Michael Hurt II/Madeline Conner | 0.00 | 5.04 | | 102 | |
| Perry Yawn/Barry Durden | 0.00 | 0.00 | | 101 | |
| Total Entrys | | | $800.00 | | |
| BONUS $ | | | $180.00 | | |
| Total Paid At Ramp | | | $730.00 | | |
| Savannah River 2018 Spring Final Fund | | | $225.00 | | |
| 2018 CATT Championship Fund | | | $25.00 | | |
| | | | | | |
| 2018 Savannah River Spring Final Fund Total | | | $875.00 | | |
| 2018 CATT Championship Fund Total | | | $3,750.00 | | |