Next Savannah River CATT is August 21st at Stokes Bluff!
2021 PHANTOM OUTDOORS INVITATIONAL CLASSIC

The 2021 PHANTOM OUTDOORS Invitational Classic will take place on Lake Hartwell Nov 5-6 and we are guaranteeing $10,000.00 to 1st Place!
Green Pond Landing & Event Center – 470 Green Pond Rd, Anderson, SC 29625
Either SC & GA License are valid. You do not need both.
Kerr Championship The Past 3 Years  **2018 & 2019 1st Place Winners Have Taken Home $25,000.00! 2020 Winners took home $24,000.00!
A team or solo angler must fish 2 CATT events to Qualify! You may fish the Invitational solo or with your partner or alternate partner your team used in any CATT event.
You can get in your 2 events by fishing any CATT Fall 2020 and CATT Spring 2021!
How To Qualify
Must enter 2 CATTs or Phantom Outdoors Invitational Events (Qualifiers & Finals) to be eligible! Enter 1 or more of these event as a team – Entering solo or with a Sub also counts toward your teams Championship & Classic Qualification! The 2 events do not have to be in the same CATT Trail! If you enter 2 – 2021 CBC Qualifiers you are eligible to enter!
Invitations are sent to select Trails and Clubs!
Entry Fees
$200 Per Team Entry – $210 At Ramp
Optional Platinum BONUS $100 – Paying Up to 3 Places
Optional Gold BONUS $50 – Paying Up to 3 Places
Optional Silver BONUS $25 – Paying Up to 2 Places
Richard Boatright took 1st place with 5 bass weighing 19.74 lbs! He weighed in a HAWG at 9.92 lbs! All total Richard collected $1,301.00!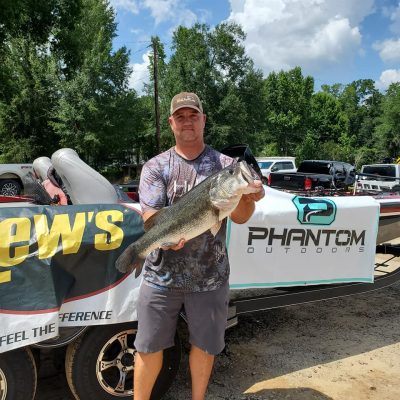 2nd Place went to Barry Thames with 15.63 lbs!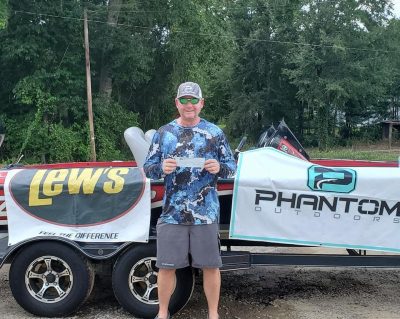 Paul Wood & Adam Wood claimed 3rd with 12.44 lbs!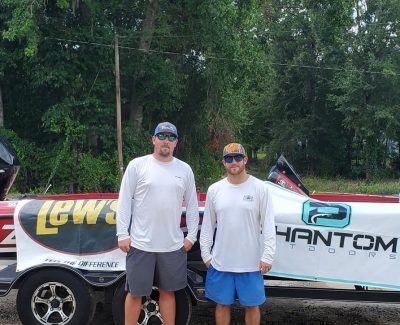 Felix Stanley & Mel Wood took 4th with 12.07 lbs!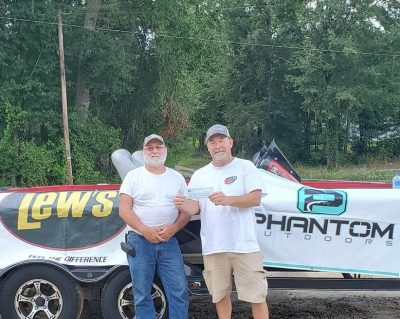 Robert Wood & Joe McDonie 5th 11.35 lbs!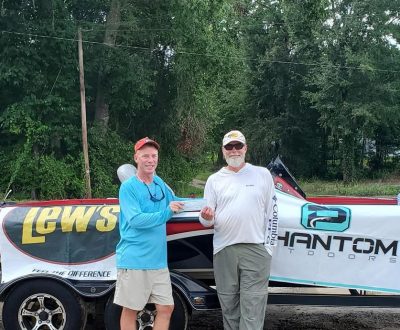 | | | | | |
| --- | --- | --- | --- | --- |
| Team | BF | Weight | Winnings | Points |
| Richard Boatright | 9.92 | 19.74 | $1,301.00 | 110 |
| Barry Thames | 6.15 | 15.63 | $434.00 | 109 |
| Paul Johnson/Adam Wood | 0.00 | 12.44 | $250.00 | 108 |
| Mel Long Felix Stanley | 0.00 | 12.07 | $130.00 | 107 |
| Robert Wood/Joe Mcdonie | 0.00 | 11.35 | $100.00 | 106 |
| Joe Toth/Travis Malphrus | 0.00 | 11.11 | | 105 |
| Mitch Pare | 0.00 | 10.49 | | 104 |
| Ken Daniles/Matt Mixon | 0.00 | 9.52 | | 103 |
| Barry Durden/Perry Yawn | 0.00 | 9.74 | | 102 |
| Chris Chavis | 0.00 | 9.16 | | 101 |
| Wesley Mullins/Matt Cantrell | 0.00 | 9.13 | | 100 |
| Tim Rountree/Al Pittman | 0.00 | 9.13 | | 99 |
| Anthony Cook Carl Rogers | 0.00 | 9.02 | | 98 |
| Alston Long/Shawn Connelly | 0.00 | 8.62 | | 97 |
| Patrick Findley | 0.00 | 8.37 | | 96 |
| Sawyer Hunt/Liam Harrington | 0.00 | 8.20 | | 95 |
| David English/Richard Fussell | 0.00 | 8.12 | | 94 |
| Scott Nobles/Ray Kessler | 0.00 | 7.45 | | 93 |
| David Jeffers/Tyler Jeffers | 0.00 | 7.20 | | 92 |
| Donald Brooks | 0.00 | 6.85 | | 91 |
| Brian Archer/Kenneth Taylor | 0.00 | 6.80 | | 90 |
| Chris Chance/Lake Chance | 0.00 | 6.46 | | 89 |
| Mike Salem/Adam Deloach | 0.00 | 1.66 | | 88 |
| Barry Conley | 0.00 | 0.00 | | 78 |
| Danny Houck/Susan Houck | 0.00 | 0.00 | | 78 |
| Cody Jeffers/Trevor Jeffers | 0.00 | 0.00 | | 78 |
| Total Entrys | | | $2,240.00 | |
| BONUS $ | | | $525.00 | |
| Total Paid At Ramp | | | $2,215.00 | |
| Savannah River 2020 Summer Final Fund | | | $450.00 | |
| 2022 CATT Championship Fund | | | $50.00 | |
| 2021 Savannah River Summer Final Fund | | | $700.00 | |
| 2021 CATT Championship Fund Total | | | $0.00 | |