Next up is the Savannah River Spring Final June 24th at Stokes Bluff! If you entered 1 Savannah River Spring Qualifier, you're eligible to enter!
Richard Boatright & Ken Morgan win the Savannha Points and will fish the Final Free!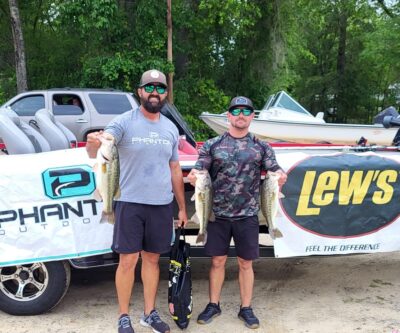 Chris Chavis & Nick Hager took 1st Place with 5 bass weighing 15.71 lbs!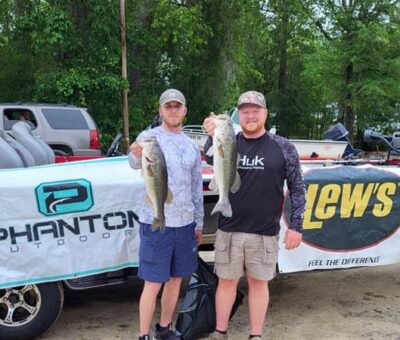 Alston Long & Shawn Connelly took 2nd with 14.26 lbs and weighed the BF at Academy 5.20 lbs
| | | | | |
| --- | --- | --- | --- | --- |
| Team | BF | Weight | Winnings | Points |
| Chris Chavis/Nick Hager | 0.00 | 15.71 | $550.00 | 110 |
| Alston Long/Shawn Connelly | 5.20 | 14.26 | $220.00 | 109 |
| Jay Ackerman/Randall Reynolds | 4.63 | 10.89 | $30.00 | 108 |
| Mel Long/Felix Stanley | 0.00 | 10.39 | | 107 |
| Tim Roundtree/Al Pittman | 0.00 | 9.49 | | 106 |
| Joey Wiggley | 0.00 | 8.95 | | 105 |
| Adam Wood /Paul Johnson | 0.00 | 8.05 | | 104 |
| Richard Boatright/Justin Diekemper | 0.00 | 6.63 | | 103 |
| Joe Toth | 0.00 | 6.35 | | 102 |
| Danny Houck/Susan Houck | 0.00 | 0.00 | | 92 |
| Total Entrys | | | $800.00 | |
| BONUS $ | | | $250.00 | |
| Total Paid At Ramp | | | $800.00 | |
| Savannah River 2023 Spring Final Fund | | | $225.00 | |
| 2023 CATT Championship Fund | | | $25.00 | |
| 2023 Savannah River Spring Final Fund | | | $500.00 | |