We've had a great year so far on the Savannah River! We've paid back over $15,000.00 on the CATT Savannah River Trail in 2021! Thanks for fishing us with guys and thanks to Joe Toth for putting on the show!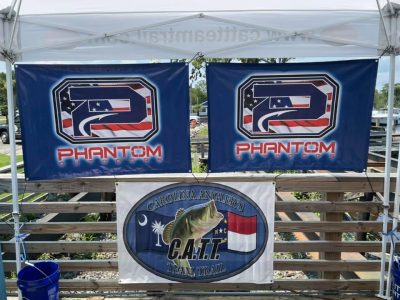 The 2021 PHANTOM OUTDOORS Invitational Classic will take place on Lake Hartwell Nov 5-6 and we are guaranteeing $10,000.00 to 1st Place!
Green Pond Landing & Event Center – 470 Green Pond Rd, Anderson, SC 29625
A team or solo angler must fish 2 CATT events to Qualify! You may fish the Invitational solo or with your partner or alternate partner your team used in any CATT event.
You can get in your 2 events by fishing any CATT Fall 2020,  CATT Spring 2021, CATT Summer 2021 & CATT Fall 2021!
Go to the Division page and tap on 2021 Phantom Outdoor Invitational Classic!
Congratulations go out to the winners at the 2021 CATT Savannah River Summer Final!!
1st place was Tim Roundtree and AL Pittman with 21.40 lbs. and big fish of 6.05 lbs worth $2,365.00! PLUS a $100 Strike King/Lews Gift Card!

2nd place was David English and Richard Fussell with 16.93 and second big fish of 5.93 lbs. They took home $1,060.00!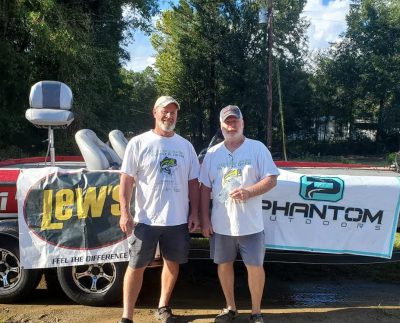 3rd Place Richard Boatright and Michael Hurt Sr With 16.76 lbs. $500.00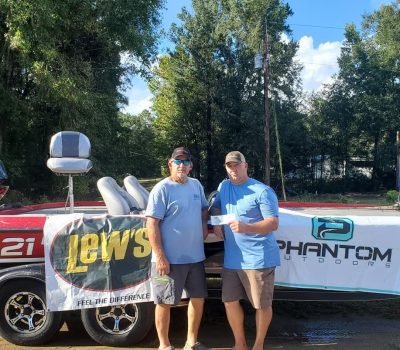 4th place was Brian Archer and Kenneth Taylor with 15.58 lbs. $200.00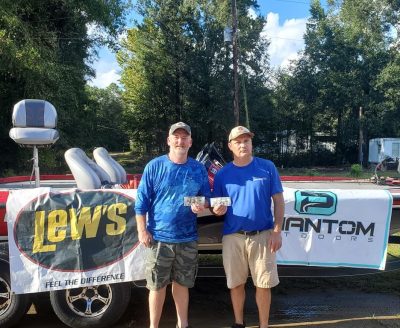 | | | | |
| --- | --- | --- | --- |
| Team | BF | Weight | Winnings |
| Tim Roundtree/Al Pittman  | 6.02 | 21.40 | $2,365.00 |
| David English/Richard Fussell | 5.93 | 16.93 | $1,060.00 |
| Richard Boatright | 0.00 | 16.76 | $500.00 |
| Brian Archer/Kenneth Taylor | 0.00 | 15.58 | $200.00 |
| Danny Houch/Susan Houch | 0.00 | 14.25 | |
| Alston Long/Richard Fussell | 0.00 | 11.90 | |
| Cody Jeffers/Trevor Jeffers | 0.00 | 11.86 | |
| Joe Toth/Travis Malphrus | 0.00 | 11.04 | |
| Paul Johnson/Adam Wood | 0.00 | 10.86 | |
| David Jeffers/Crystal Jeffers | 0.00 | 9.08 | |
| Anthony Cook/Carl Rogers | 0.00 | 7.12 | |
| Matt Cantrell/Wesley Mullins | 0.00 | 0.00 | |
| Mac Sampey/Vonette Sampey | 0.00 | 0.00 | |
| Scott Nobles/Ray Kessler | 0.00 | 0.00 | |
| Mel Long/Felix Stanley | 0.00 | 0.00 | |
| Anthony Joyner | 0.00 | 0.00 | |
| Corey Rewis/Patrick Findley | 0.00 | 0.00 | |
| Chase Cromer/Hunter Lee | 0.00 | 0.00 | |
| Frank Ackerman | 0.00 | 0.00 | |
| Perry Yawn/Barry Durden | 0.00 | 0.00 | |
| Victor Belagorska | 0.00 | 0.00 | |
| Total Entrys | | | $2,400.00 |
| BONUS $ | | | $350.00 |
| Savannah River Summer Final Fund | | | $1,365.00 |
| Total Paid At Ramp | | | $4,125.00 |
| Total Paid Summer 2021 Savannah River | | | $10,375.00 |
| Grand Total Paid Savannah River 2021 | | | $15,580.00 |