Next SENC Qualifier is Sept 12 at the Cape Fear River – Downtown Wilmington Ramp!
Not only will you Qualify to fish the 2021 SENC Fall Final you will be eligible to enter the Phantom Outdoors Invitational!
Nov 5-6, 2021 Phantom Outdoors Invitational Classic! Must enter 2 CATT events to be eligible! $10,000 1st Place! Go to the Division page for more info!
** Point Winners at the FALL SENC Trail earn Free entry at the Final and Blast Off #1! New this Fall we will award some point money to at the top 2 point teams…maybe more! To view the points go to the SENC Division page and scroll all the way down!
We had an awesome event today on the Cape Fear River! This is the 1st of 3 Qualifiers for the SENC CATT Trail!
1st place went to Kris Rabon and Jay Abston with 13.20 lbs total , winner of the side pot, donation amount of 750$ ,and also 2nd big fish . Total winnings $1,729.00!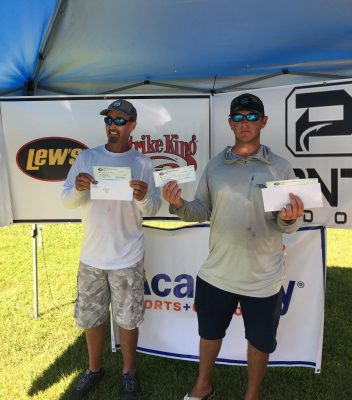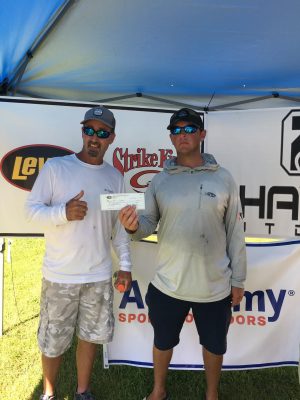 2nd place went to Patrick Lunsford and John Orchard with total of 12.85 lbs  and winner of big fish . Total winnings $351.00! They also earned a $25 Academy Gift Card!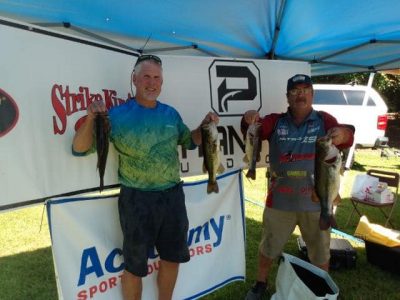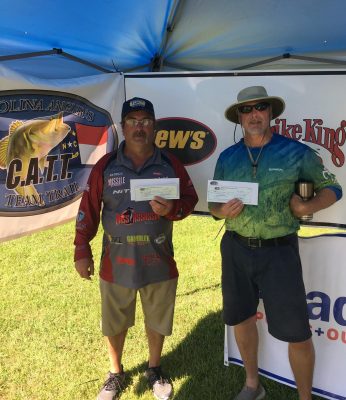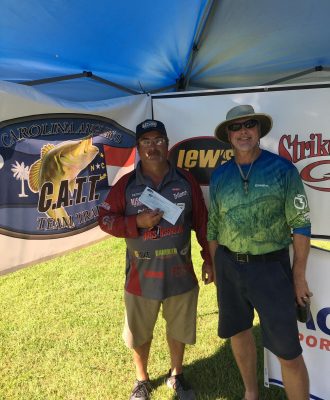 3rd place went to Jason Dew and Tom Elliott with a total of 12.14 lbs. Total winnings $100.00!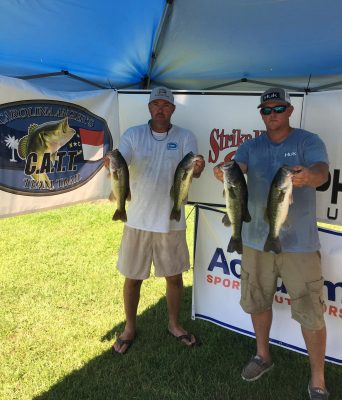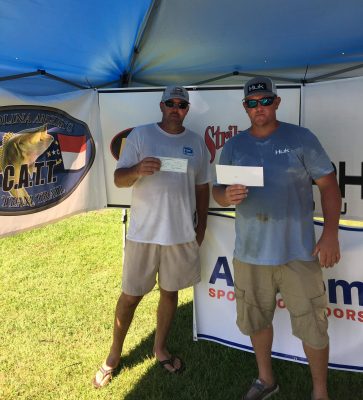 We appreciate all the sponsors and everyone that participated! Big shout out to Jason Dew & Jeremy Sullivan for Contributing the $750 1st Place BONUS at each SENC Fall Event! Also thanks to Lake Waccamaw Outdoors for the 3 Gift Cards awarded at the 1st SENC Fall Qualifier!
| | | | | |
| --- | --- | --- | --- | --- |
| Team | BF | Weight | Winnings | Points |
| Kris Rabon – Jay Abston | 4.53 | 13.20 | $1,729.00 | 110 |
| Patrick Lunsford – John Orchard | 5.18 | 12.85 | $351.00 | 109 |
| Jason Dew – Tom Elliott | 0.00 | 12.14 | $100.00 | 108 |
| Neil Smith | 0.00 | 11.69 | | 107 |
| Chris Savage | 0.00 | 11.33 | | 106 |
| Jamie Pierce – Michael Long | 0.00 | 11.23 | | 105 |
| Josh Cox – Gary Cox | 0.00 | 9.80 | | 104 |
| Benjamin Milam – Zachery Milam | 0.00 | 9.66 | | 103 |
| Jamie Milam – Michael Milam | 0.00 | 9.62 | | 102 |
| Jeremy Sullivan – Eric Blue | 0.00 | 9.25 | | 101 |
| Gary Cox – Jeremy Branch | 0.00 | 8.87 | | 100 |
| Mark Fairfax – Trey Antee | 0.00 | 8.67 | | 99 |
| Scott Rhoades -Robert Norvell | 0.00 | 6.45 | | 98 |
| Zack Rogers – Devin Cook | 0.00 | 5.02 | | 97 |
| Preston Nowell | 2.45 | 2.45 | | 96 |
| Chris Hall – Jeremy Byrd | 0.00 | 0.00 | | 86 |
| Johnny Willett – Wyatt Willett | 0.00 | 0.00 | | 86 |
| Christopher Spivey – Houston Spivey | 0.00 | 0.00 | | 86 |
| Total Entrys | | | $1,440.00 | |
| BONUS $ | | | $420.00 | |
| Total Paid At Ramp | | | $2,180.00 | |
| SENC Fall 2021 Point Fund | | | $50.00 | |
| SENC Fall 2021 Final Fund | | | $285.00 | |
| 2022 CATT Championship Fund | | | $50.00 | |
| 2021 SENC Fall Final Fund Total | | | $285.00 | |
| 2022 CATT Championship Fund Total | | | $0.00 | |