Next SENC CATT is Feb 12th on Sutton Lake!
Michael McDonald & Josh Willoughby weighed in 5 bass at 16.13 lbs taking 1st place and the Bonus $! They also weighed in the 1st BF at 5.03 lbs and took home a total of $1,056.00!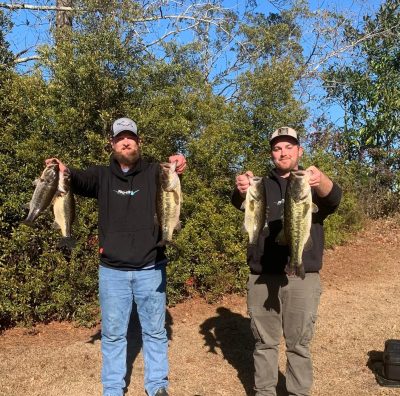 2nd Place went to Aaron Dennis & Scott Long with a limit weighing 15.77 lbs and they brought in the 2nd BF at 4.09 lbs! They collected $499.00!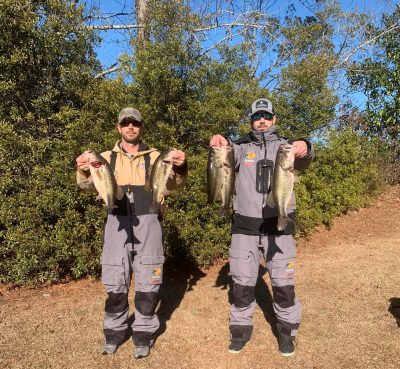 | | | | | |
| --- | --- | --- | --- | --- |
| Team | BF | Weight | Winnings | Points |
| Michael McDonald – Josh Willoughby | 5.03 | 16.13 | $1,056.00 | 110 |
| Aaron Dennis – Scott Long | 4.09 | 15.77 | $499.00 | 109 |
| Chris Hall – Jeremy Byrd | 3.82 | 12.21 | | 108 |
| Neil Smith – Hunter Jones | 3.49 | 12.07 | | 107 |
| Zack Milan – Ben Milan | 3.00 | 11.14 | | 106 |
| Trey Antee – Rodney Caldwell | 2.33 | 10.09 | | 105 |
| Daniel McGarry – Mark Goldberg | 0.00 | 10.00 | | 104 |
| Michael Milan – Jamie Milan | 2.29 | 9.99 | | 103 |
| Mark Fairfax | 2.29 | 7.29 | | 102 |
| Zach Rogers – John Maggard | 0.00 | 7.22 | | 101 |
| Steven Woodcock – Chris Leigh | 2.40 | 6.89 | | 100 |
| Kris Corbett | 2.90 | 2.90 | | 99 |
| Desmon Brandon – Roy Dawson | 0.00 | 2.48 | | 98 |
| David Sasser – Mitch Evans | 0.00 | 0.00 | | 88 |
| Total Entrys | | | $1,680.00 | |
| BONUS $ | | | $200.00 | |
| Total Paid At Ramp | | | $1,555.00 | |
| SENC Fall 2022 Point Fund | | | $75.00 | |
| SENC Fall 2022 Final Fund | | | $275.00 | |
| 2022 CATT Championship Fund | | | $50.00 | |
| 2022 SENC Fall Final Fund Total | | | $275.00 | |