Next up is the SENC Fall Final Dec 3rd at the NE Cape Fear River – Castle Hayne Ramp! $12o on line or $130 at the ramp! You only had to enter 1 SENC Fall Qualifier to be eligible to enter the SENC Fall Final!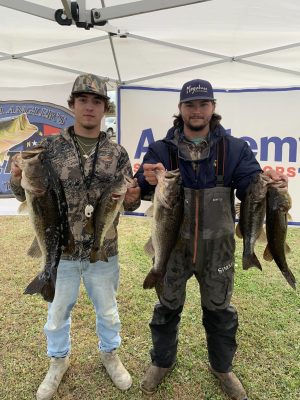 Reid Gore & Michael Long claimed 1st Place with 5 bass weighing 16.73 lbs and brought in the BF at 6.50 lbs worth #900.00!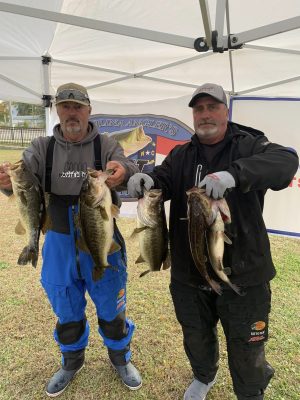 Mitch Garner & Ralph McLean took 2nd Place with 5 bass weighing 14.69 lbs!

| | | | | |
| --- | --- | --- | --- | --- |
| Team | BF | Weight | Winnings | Points |
| Reid Gore – Michael Long | 6.50 | 16.73 | $900.00 | 110 |
| Mitch Garner – Ralph McLean | 4.65 | 14.69 | $220.00 | 109 |
| Jeremy Byrd – Chris Hall | 4.08 | 13.63 | | 108 |
| Zach Rogers – Chris Gainey | 3.51 | 11.52 | | 107 |
| Preston Watts – Ronald Watts | 3.13 | 11.04 | | 106 |
| Dan McGarry – Marc Goldberg | 0.00 | 9.96 | | 105 |
| Shawn Hicken | 0.00 | 8.63 | | 104 |
| Jeremy Ives – Chris Caudill | 1.64 | 8.60 | | 103 |
| Chris Prosser – Eric Hardy | 0.00 | 8.21 | | 102 |
| Robert Norvell – Bob Norvell | 0.00 | 7.93 | | 101 |
| Total Entrys | | | $1,000.00 | |
| BONUS $ | | | $250.00 | |
| Total Paid At Ramp | | | $1,120.00 | |
| SENC 2022 Fall Final Fund | | | $80.00 | |
| 2023 CATT Championship Fund | | | $50.00 | |
| SENC Point Champs | | | $50.00 | |
| 2022 SENC River Fall Final Fund | | | $365.00 | |