Next SENC Qualifier is October 9th NE Cape Fear River Castle Hayne Ramp!
Not only will you Qualify to fish the 2021 SENC Fall Final you will be eligible to enter the Phantom Outdoors Invitational!
Nov 5-6, 2021 Phantom Outdoors Invitational Classic! Must enter 2 CATT events to be eligible! $10,000 1st Place! Go to the Division page for more info!
** Point Winners at the FALL SENC Trail earn Free entry at the Final and Blast Off #1! New this Fall we will award some point money to at the top 2 point teams…maybe more! To view the points go to the SENC Division page and scroll all the way down!
What an awesome day we had for our 2nd qualifier at Downtown Wilmington for the SENC CATT.
1st place went to Mike Lanier and Norman Mullinax with 16.20 lbs  with their winnings total of $1,700.00.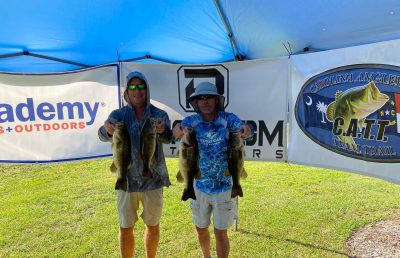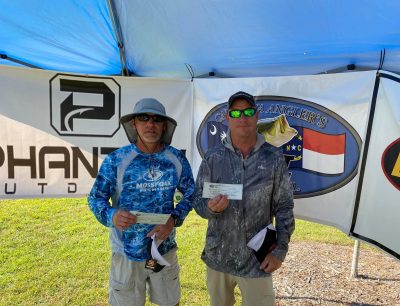 2nd place went to Jeremy Sullivan and Eric Buie with a total of 14.08 lbs also with the Academy Big fish at  5.52 lbs and a total winnings of $454.00.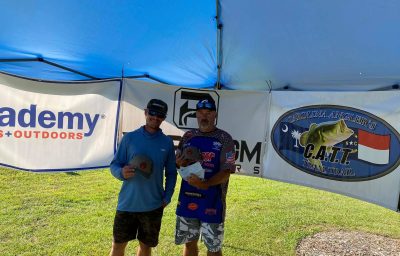 3rd place went to Jason Dew and Tom Elliott with a total of 13.74 lbs with winnings of $200.00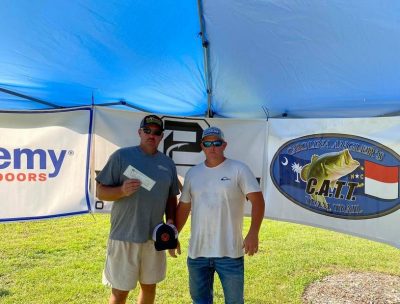 4th place went to Dusty Jackson and Mitch Garner with 13.62 lbs and also Big fish 2 with total winnings $166.00 
I want to thank everyone for coming! Look forward to seeing everyone next month at Castle Hayne for the 3rd fall qualifier.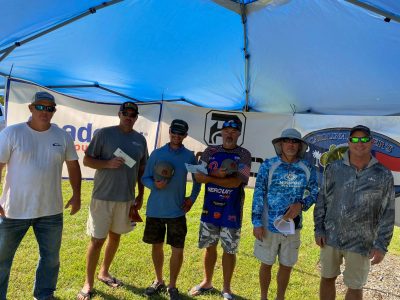 | | | | | |
| --- | --- | --- | --- | --- |
| Team | BF | Weight | Winnings | Points |
| Mike Lanier – Norman Mulinax | 4.31 | 16.20 | $1,725.00 | 110 |
| Jeremy Sullivan – Eric Blue | 5.52 | 14.08 | $454.00 | 109 |
| Jason Dew – Tom Elliott | 3.73 | 13.74 | $200.00 | 108 |
| Dusty Jackson – Mitch Garner | 4.69 | 13.62 | $166.00 | 107 |
| Benjamin Milam – Zachery Milam | 4.17 | 12.67 | | 106 |
| David Jones – Hunter Jones | 0.00 | 12.43 | | 105 |
| Jamie Milam – Michael Milam | 2.79 | 12.40 | | 104 |
| Neil Smith – Jimmy Roughton | 0.00 | 12.11 | | 103 |
| Chris Garry – Dan MaGerry | 3.60 | 11.40 | | 102 |
| Zack Rogers – Devin Cook | 3.23 | 11.05 | | 101 |
| Brent Sewell – Owen Sewell | 3.64 | 10.81 | | 100 |
| Ian Seaver – Ken Hoffman | 0.00 | 10.66 | | 99 |
| Tim Griffin – Victor Cuevas | 0.00 | 10.64 | | 98 |
| Scott Rhoades -Brent Newton | 2.29 | 10.63 | | 97 |
| Jeffrey Milligan – Wilbur Westbrook | 0.00 | 10.50 | | 96 |
| Patrick Lunsford – John Orchard | 2.98 | 10.30 | | 95 |
| Chris Prosser – Eric Hardy | 0.00 | 10.09 | | 94 |
| Jamie Pierce – Michael Long | 0.00 | 9.26 | | 93 |
| Desmond Bowen – Ray Bowen | 0.00 | 9.15 | | 92 |
| Mark Fairfax – Trey Antee | 3.02 | 8.89 | | 91 |
| Chris Hall – Jeremy Byrd | 0.00 | 5.53 | | 90 |
| Jay Abston – Justin Abston | 0.00 | 0.00 | | 80 |
Total Entrys
$1,760.00
BONUS $
$475.00
Total Paid At Ramp
$2,545.00
SENC Fall 2021 Point Fund
$100.00
SENC Fall 2021 Final Fund
$290.00
2022 CATT Championship Fund
$50.00
2021 SENC Fall Final Fund Total
$575.00
2022 CATT Championship Fund Total
$0.00