The 2018 SENC Qualifiers are done and Chris Savage & Michael Campbell took the Points and will fish the Final Free!
The Final is June 16th at the Cape Fear River Lock & Dam 1!
Jason Dew & Tom Elliott took the win with 5 bass weighing 9.69 lbs and took home a total of $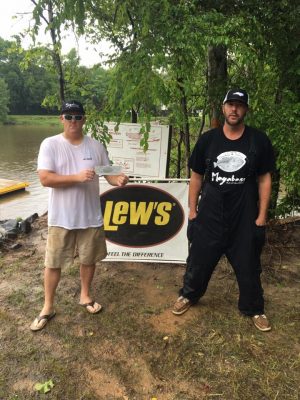 1st BF went to Jeremy Sullivan and Jeremy earned an Academy Sports Gift card!
| | | | | |
| --- | --- | --- | --- | --- |
| 8 Teams | Big | Total | Total | |
|                                    Team | Fish | Weight | Winnings | Points |
| Jason Dew – Thomas Elliot  2nd BF & BONUS $ | 2.74 | 9.69 | $464.00 | 220 |
| Roby Wyatt – Mike Prytula | 2.36 | 9.63 | $120.00 | 218 |
| Heath Pait – Daniel Davis | 0.00 | 9.17 | | 216 |
| Jeremy Sullivan   1st BF | 3.71 | 6.86 | $56.00 | 214 |
| Tony Davis – Ashley Cottrell | 2.71 | 6.27 | | 212 |
| Brad Robbins | 2.40 | 5.84 | | 210 |
| Chris Savage – Michael Campbell | 0.00 | 0.00 | | 208 |
| James Davis – Deloris Evans | 0.00 | 0.00 | | 208 |
| Total Entrys | | | $640.00 | |
| BONUS $ | | | $140.00 | |
| Total Paid At Ramp | | | $640.00 | |
| 2018 SENC Spring Final Fund | | | $115.00 | |
| 2018 CATT Championship Fund | | | $25.00 | |
| | | | | |
| 2018 SENC Spring Final Fund Total | | | $1,075.00 | |
| 2018 CATT Championship Fund Total | | | $4,790.00 | |