We wrapped up the 2022 CATT SENC trail on the Cape Fear River this past Saturday! We have the 2023 Spring and the 2023 Summer/Fall schedules posted so come on out and join us! New for 2023 the points winners will receive $500 PLUS the Final winners will receive a $500 BONUS! That cover both the Spring and Summer/Fall CATT SENC Trails in 2023!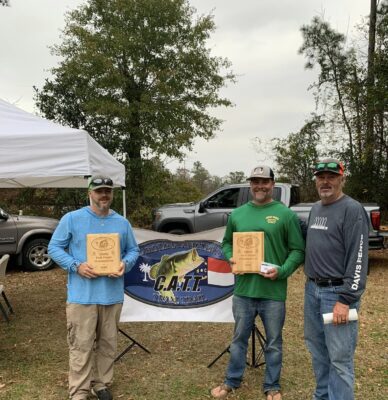 Jeremy Ives & Chris Caudill win the SENC Fall Final with 5 bass weighing 15.10 lbs PLUS they weighed in the 1st BF at 6.78 lbs and took home $1,660.00!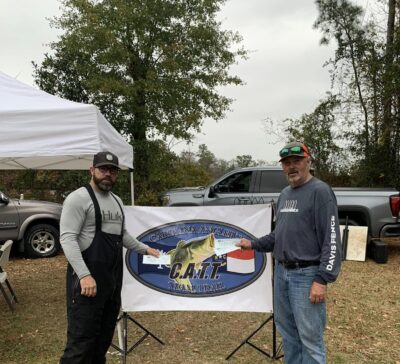 Jeremy Sullivan & Eric Buie 2nd placed with 12.44 lbs!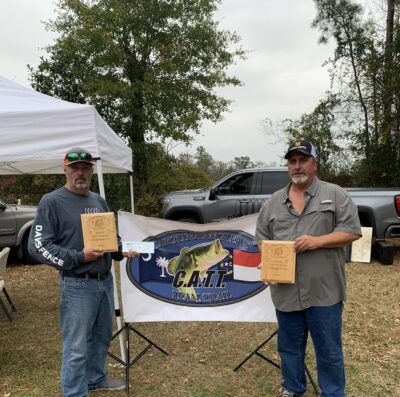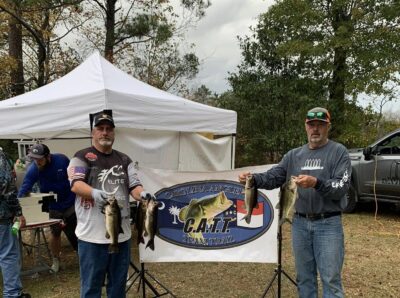 SENC Fall Point Champs & 3rd Place! Mitch Garner & Ralph McLean with 10.14 lbs!
| | | | |
| --- | --- | --- | --- |
| Team | BF | Weight | Winnings |
| Jeremy Ives – Chris Caudill | 6.78 | 15.10 | $1,660.00 |
| Jeremy Sullivan – Eric Buie | 3.41 | 12.44 | $600.00 |
| Mitch Garner – Ralph McLean | 2.41 | 10.14 | $205.00 |
| Shawn Corbett | 4.06 | 9.68 | $50.00 |
| Zach Rogers | 2.45 | 9.61 | |
| Chris Prosser | 2.02 | 9.20 | |
| David Jones | 0.00 | 8.84 | |
| Shawn Hicken | 1.86 | 8.65 | |
| Walker Mishue – Justin Mizzell | 0.00 | 8.16 | |
| David Sasser – Chris Gainey | 0.00 | 7.84 | |
| Dan McGarry – Marc Goldberg | 0.00 | 7.19 | |
| Wayne Mishue – Tim Mishue | 0.00 | 7.04 | |
| Preston Watts – Ronald Watts | 2.25 | 6.57 | |
| Dakota Foy – Dwayne Foy | 0.00 | 5.64 | |
| Chris Walton | 0.00 | 4.96 | |
| Jeremy Byrd – Chris Hall | 0.00 | 0.00 | |
| Gary Cox – Micky Bullard | 0.00 | 0.00 | |