We have well over 40 teams eligible to enter the SML Fall Final Dec 9th! We have $1,430.00 in the SML Final Fund and if we have at least 40 teams show for the SML Final we should have close to $7,000 to pay back with the BONUS $ added in! 1st Place would be in the $2,500 range! Thanks for fishing with us and a big thanks to Joey & Kevin Dawson for putting on a great show!
Also by entering 3 Fall 2018 or Spring 2019 CATT events ( you can combine the 3) you will be eligible to enter the June 1-2, 2019 CATT Academy Championship on Kerr! Last June 1st Place took home $18,000 plus $7,000 Triton Gold totaling up to $25,000!
At the Final we will be award a Lews Mach II Combo to the Big Smallmouth and Big Largemouth winners!
This was our last Qualifier and the Points are double! Tyler Farmer & Josh Dudley win the SML points and will fish the SML Final Free and blast off #$1! Thy also will receive 2 Point Winner Plaques! Tyler & Josh brought in 5 bass weighing 21.62 lbs to take the win and the 1st BONUS $. Kick in the BIG Largemouth at 5.06 lbs and they collected $1,060.00!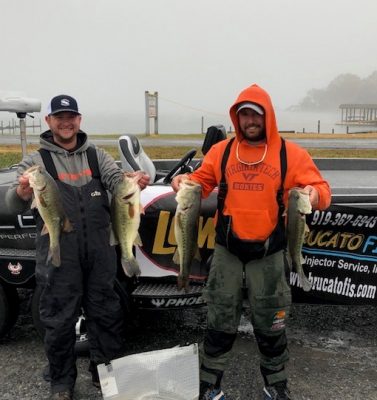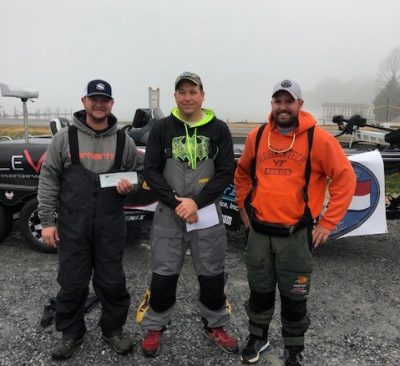 Chad Green & Johnny Martin finished 2nd with 19.57 lbs!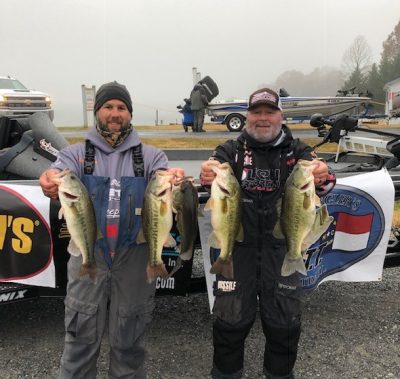 3rd went to Brandon & Ben Reynolds were 3rd with 17.91 lbs!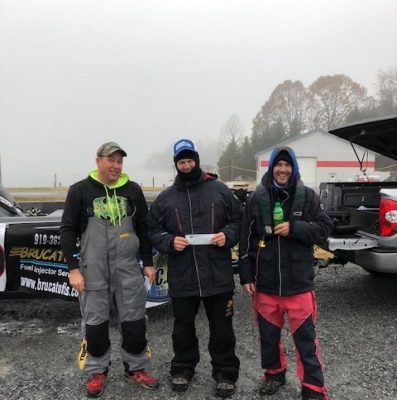 4th Place Dominic Baretta & Dennie Gilbert 16.31 lbs! BIG Smallmouth 3.85 lbs!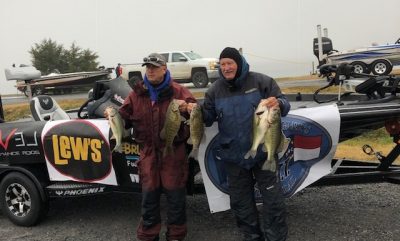 Blue -Big LM

Red

– Big SM
Big
BIG
23 TEAMS
Fish
TOTAL
Winnings
Points
TYLER FARMER/LEE NEIGHBORS
5.06
21.52
$1,060.00
220
JOHNNY MARTIN /CHAD GREEN
0.00
19.57
$580.00
218
BRANDON REYNOLDS/BEN REYNOLDS
0.00
17.91
$200.00
216
DENNIE GILBERT/DOMINIC BARETTA
3.85
16.31
$235.00
214
JOHN WOODRUFF/DENNIS STUMP
0.00
16.30
212
MATT CONNORS/VICTOR DILLARD
2.76
16.26
210
CHAD PILSON/ELLIOTT PILSON
0.00
15.27
208
DAMIEN MCMAHON/MIKE TONEY
3.54
15.13
206
STANLEY COFFER/NATHAN RAEEVES
0.00
14.04
204
JERAME EDWARDS/CHRIS DAWSON
0.00
14.00
202
BRYAN HARLOW/ERIC CATLETT
0.00
12.96
200
CHRIS ADKINS/MATT ADKINS
0.00
11.01
198
RICK TILLEY JR./RICK TILLEY SR.
2.65
7.92
196
JEREMY KENT/BRENDAN KENT
1.62
7.56
194
AARON PICKETT/JUSTIN MEDEIROS
0.00
6.40
192
ROBERT BARTON/BOBBY BARTON
3.26
6.03
190
DONNIE WYATT/DYLAN GAULDIN
0.00
0.00
188
CHASE COOPER/RICKY YOUNG
0.00
0.00
188
SCOTT STILTNER/JEFF DAVIS
0.00
0.00
188
BEN HUDSON/ROBERT HUDSON
0.00
0.00
188
MAURICE OAKES/BRYAN HUMPHREYS
0.00
0.00
188
JOEY DAWSON/KEVIN DAWSON
0.00
0.00
188
CLIFFORD BROWN/CHRIS DEHART
0.00
0.00
188
Total Entrys
$1,840.00
BONUS $
$700.00
Total Paid At Ramp
$2,070.00
SML 2018 Fall Final Fund
$420.00
2019 CATT Championship Fund
$50.00
2018 SML Fall Final Fund Total
$1,430.00
2019 CATT Championship Fund Total
$2,265.00