34 Teams gathered at Parkway Marine Sunday to chase the 5 bass they needed to come out on top! Great crowd guys! The next SML Fall Qualifier and the last is December 1st! this will be a double point event! Remember guys you only have to enter 1 SML Qualifier to be eligible to enter the Final!
Steve Woodroof & Charlie Davis took 1st Place with 5 bass weighing 18.95 lbs!
2nd went to Brandon Reynolds & Ben Reynolds with 18.69 lbs!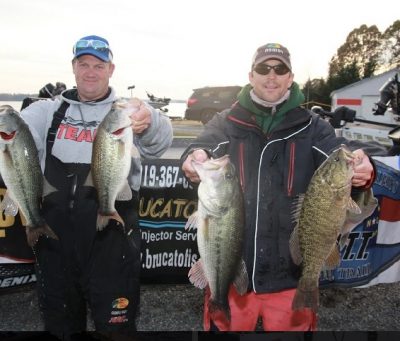 Clay & Jeff Ross 3rd with 17.74 lbs and the Big Smallmouth!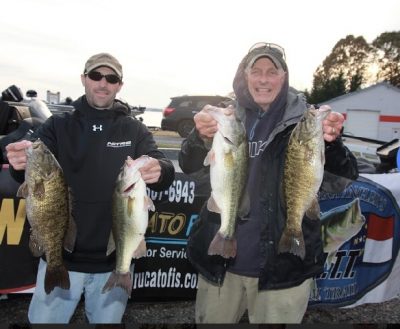 4th Donnie Wyatt & Dylan Gauldin  17.61 lbs!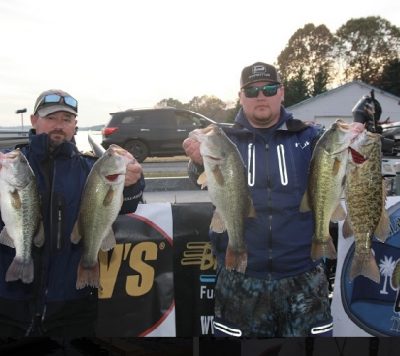 | | | | | | |
| --- | --- | --- | --- | --- | --- |
| | BIG | BIG | | | |
| 34 TEAMS | SM | LM | WT | Winnings | Points |
| STEVE WOODRUFF/CHARLIE DAVIS | 3.90 | 0.00 | 18.95 | $700.00 | 110 |
| BRANDON REYNOLDS/BEN REYNOLDS  1st Bonus | 3.74 | 5.58 | 18.69 | $920.00 | 109 |
| CLAY ROSS/JEFF ROSS  Big SM | 4.02 | 0.00 | 17.74 | $470.00 | 108 |
| DONNIE WYATT/DYLAN GAULDIN   2nd Bonus | 0.00 | 4.33 | 17.61 | $455.00 | 107 |
| TYLER FARMER/LEE NEIGHBORS   3rd Bonus | 0.00 | 4.48 | 17.33 | $265.00 | 106 |
| RICK TILLEY JR./RICK TILLEY SR. | 0.00 | 5.77 | 16.26 | $100.00 | 105 |
| MATT POWERS/JUSTIN MEDEIROS | 0.00 | 5.78 | 15.84 | | 104 |
| TYLER TRENT/JACOB LLOYD   Big LM | 0.00 | 5.80 | 15.73 | $170.00 | 103 |
| AJ LUCADAMO/BO GROSVENOR | 0.00 | 5.41 | 14.75 | | 102 |
| CRAIG WRIGHT/MICKEY BERGERON | 0.00 | 4.78 | 14.09 | | 101 |
| SCOTT STILTNER/JEFF DAVIS | 0.00 | 4.60 | 14.05 | | 100 |
| JOHN WOODRUFF/DENNIS MIDDLETON | 3.14 | 4.03 | 14.03 | | 99 |
| DAMIEN MCMAHON/MIKE TONEY | 0.00 | 3.96 | 13.92 | | 98 |
| DARRELL WYATT | 2.93 | 4.03 | 13.37 | | 97 |
| CHRIS ADKINS/MATT ADKINS | 2.43 | 4.76 | 13.01 | | 96 |
| ROBERT HOYT/SPENCER HOYT | 3.45 | 0.00 | 12.98 | | 95 |
| BRYAN HARLOW/ERIC CATLETT | 3.53 | 0.00 | 12.73 | | 94 |
| STANLEY COFFER/MATT KLUENDER | 0.00 | 2.91 | 10.92 | | 93 |
| CHRIS BRUMMETT | 3.05 | 5.18 | 8.23 | | 92 |
| DAVID MARTIN | 0.00 | 5.47 | 5.47 | | 91 |
| JEREMY KENT/BRENDAN KENT | 0.00 | 3.47 | 5.04 | | 90 |
| WAYNE NIDIFFER/TONY WALKER | 0.00 | 0.00 | | | 89 |
| MAURICE OAKES/BRYAN HUMPHREYS | 0.00 | 0.00 | | | 89 |
| CHAD PILSON/ELLIOTT PILSON | 0.00 | 0.00 | | | 89 |
| MIKE NICHOLS/MICHAEL NICHOLS | 0.00 | 0.00 | | | 89 |
| BRYAN CALLOWAY/WILLIAM HUBBARD | 0.00 | 0.00 | | | 89 |
| MATT HICKS/RICK WHITE | 0.00 | 0.00 | | | 89 |
| BEN HUDSON/ROBERT HUDSON | 0.00 | 0.00 | | | 89 |
| DAVID LEONARD/BRIAN DAVIS | 0.00 | 0.00 | | | 89 |
| ROBERT BARTON/BOBBY BARTON | 0.00 | 0.00 | | | 89 |
| LUKE NICHOLS/COLE WHITE | 0.00 | 0.00 | | | 89 |
| JOE DEHART/CHRIS DEHART | 0.00 | 0.00 | | | 89 |
| CHARLES FOCHTMAN/TREY SWITZER | 0.00 | 0.00 | | | 89 |
| JOEY DAWSON/KEVIN DAWSON | 0.00 | 0.00 | | | 89 |
| Total Entrys | | | | $2,720.00 | |
| BONUS $ | | | | $945.00 | |
| Total Paid At Ramp | | | | $3,080.00 | |
| SML 2018 Fall Final Fund | | | | $535.00 | |
| 2019 CATT Championship Fund | | | | $50.00 | |
| 2018 SML Fall Final Fund Total | | | | $1,010.00 | |
| 2019 CATT Championship Fund Total | | | | $2,215.00 | |